Women in Education Award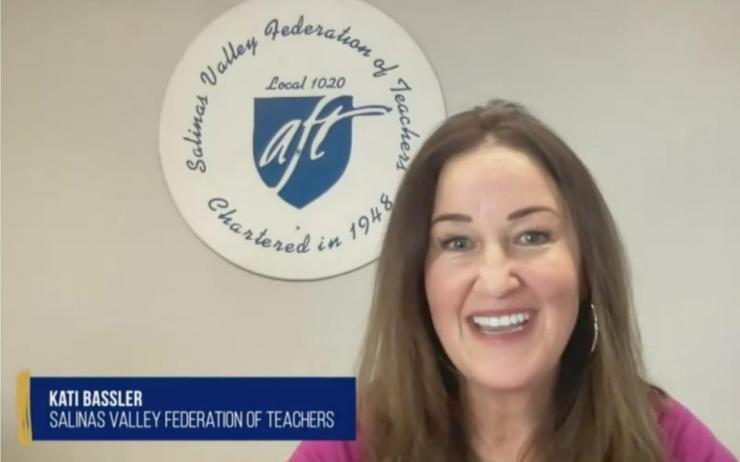 The CFT established its Women in Education Award in 1981 to honor AFT/CFT locals and individual members for promoting the rights of women and issues of gender equity within an educational workplace.
Today, the Women in Education Award honors female members who exemplify the essence of the integral and crucial roles that women play in all aspects of our union's culture, the union movement in general, and specifically the union movement within an educational setting. The award is presented at the CFT Convention.
Award Recipients
2021 Kati Bassler, Salinas Valley Federation of Teachers, Local 1020, and Linda Delp, UCLA Faculty Union, Local 1990
2019 Arlene Inouye, United Teachers Los Angeles, Local 1021
2018 Sandra Larsen, Petaluma Federation of Teachers, Local 1881
2017 Melinda Dart, Jefferson Elementary Federation of Teachers, Local 3267
2016 Gemma Abels and Theresa Sage, Morgan Hill Federation of Teachers, Local 2022
2015 Alisa Messer, San Francisco Community College District Federation of Teachers, Local 2121
2012 Velma J. Butler, AFT College Staff Guild-Los Angeles, Local 1521A
2009 Mary Valentine, California Federation of Teachers
2007 Susan St. Claire, Palmer College of Chiropractic West Faculty Federation
About Nominations
Locals are invited to submit nominations for the Women in Education Award on behalf of one or more of their deserving female unionists who have demonstrated leadership and made significant contributions in any or all of the following areas:
serving and empowering students in ways that build up the next generation of workers and unionists;
participating in campus, professional, community, and political activities that strengthen local union solidarity, capacity, and power;
engaging in efforts to improve societal understanding of the purpose and need for unions locally, statewide, or nationally.
The deadline to submit Women in Education Award nominations for Virtual Convention 2021 was January 4. To learn more, email Sarah Callahan, CFT Executive Director.