Choose Union-Made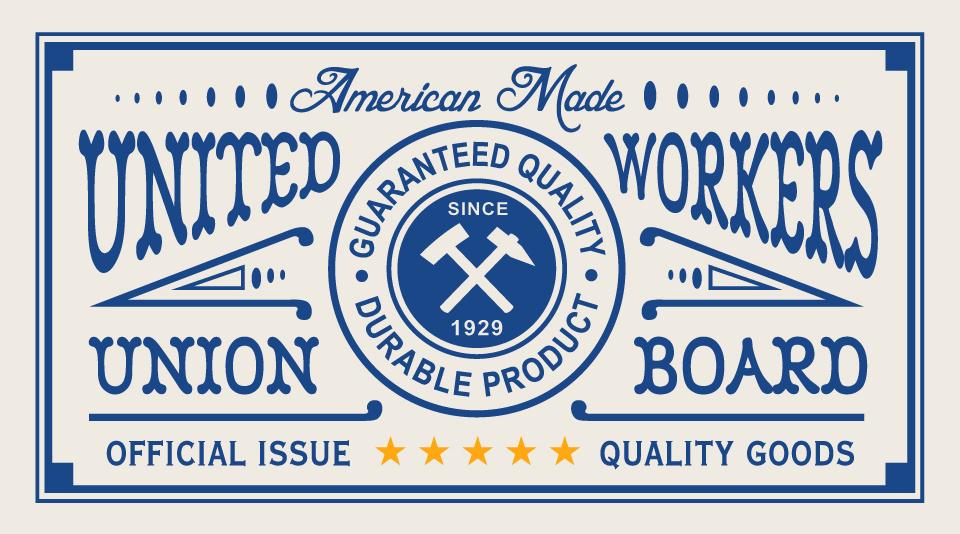 Americans are eager to support workers, but more than 80 percent say they don't know which products are union-made. Finding union products can be difficult because few are labeled as such. And now that you can find anything online, it takes extra effort to support fellow workers by buying union-made items.
Choosing union may narrow the options, but we believe it's the right choice. Buying what you need locally and in-state also supports the tax base close to our homes and schools.
As a union member, you can use your purchasing power to support good American jobs. We urge you to the take the extra steps to support union members. Choose union-made in America!
AFL-CIO Union Label Department
Find clothing and products made in the United States by U.S. manufacturers at the AFL-CIO's Union Label and Service Trades Department. It has also developed a mobile app you can download to help you find union-made products, and you can sign up to receive the Union Label newsletter.
The Union Label Trades Department was chartered by the American Federation of Labor in 1909. Its mission, which is still in place today, is to promote products and services produced in America by union members.
Labor 411: Making it Easy to Buy Union
The Los Angeles-based Labor 411 offers a comprehensive listing of union-made products and services. You can find union-made consumer guides as well as city guides Los Angeles and San Francisco, New York, Philadelphia and Washington, D.C. And sign up to get regular emails about buying union-made products including ethical back-to-school supplies.
Labor 411 believes that by choosing to spend your money on products and services that are made in our country by workers who are treated fairly, and paid living wages, you are helping to protect the middle class, strengthen our national economy and build a stronger America.
Labor 411 calls it ethical consumerism. We agree.
Powell's Books
Buy books and e-gift cards online at the best union bookstore in the world where the workers are members of ILWU, Local 5. Powell's Books, in our neighboring West Coast state of Oregon, offers new and used books, and if they don't have the title, they put your request on a wait list.
If you visit Portland, don't miss the opportunity to visit Powell's downtown brick-and-mortar store or its neighborhood branches. Hands down – bookstores don't get any better than Powell's!
Hotels Guide
You can quickly and easily find a socially responsible union hotel where UNITE HERE members are employed on the FairHotel website. You can also download the FairHotel app and have it on your device while you are on the road. Remember to check the UNITE HERE boycott list when making hotel reservations.
Printing
You and your local union have a choice when it needs printing services. Look and ask for the Allied Printing Trades Council label – the familiar "bug" – on all printed material. To legally add the union bug a shop must hold a current license authorizing its use. Each licensed shop uses a specific label and number.
We suggest finding a union printer near you. Develop a working relationship so you have someone to call on when the need arises. Insist that your printed pieces carry the union bug.
T-Shirts and Tchotchkes
You also have a choice with promotional products and the same union label standards apply. By nature these type of vendors are usually brokers and offer a wide range of products to many types of organizations. It's incumbent upon you to ask for union-made products made in America. Here are two tried and true recommendations in California.
Alliance Graphics in Berkeley is a leading union shop in Northern California. Silkscreening and much more is done on-site by skilled union craftspeople.
Remember: Even though the vendors specialize in working with unions and union-made products, they also work with a diverse clientele. Make sure to ask the vendor to specify the union-made options.
United Auto Workers Consumer Buying Guide
We all know that UAW members build cars, vans and trucks. But did you know that in a factory in Michigan, UAW members also build houses? Or that in a plant in New York, UAW members prepare and package sugar.
UAW's guide to products and services lists dozens of automotive-related products and other products made by members of the United Auto Workers. You can also download a comprehensive pdf guide to UAW-made products.
Say "No" to Non-Union Sweatshops
The CFT has long been on record in opposition to non-union sweatshops, where working conditions are often cruel and inhumane for workers. Here are some activists groups we support in this fight.
United Students Against Sweatshops is a national student labor organization fighting for workers' rights with chapters on more than 150 campuses.
Workers Rights Consortium is an independent labor rights organization that conducts investigations of working conditions in factories around the globe with the aim of combatting sweatshops and protecting the rights of workers who make apparel and other products.
Say "No" to Walmart
Learn how the corporate megastore hurts employees and communities. Walmart is owned by one of the richest families in the country but its workers still struggle with poverty wages, erratic schedules, understaffed and under-stocked stores, and mistreatment from management.
United for Respect is a multiracial movement of working people advancing a vision of an economy where corporations respect our work, recognize our humanity, and in which everyone can live and work in dignity. This includes a campaign run by the United Food and Commercial Workers International Union (UFCW) to change Walmart into a more responsible employer and to improve the lives of Walmart workers.
Walmart does take a step in the right direction on ammunition sales
After the 2019 mass shooting at a Walmart store in El Paso, Texas, AFT reached out to the chain's CEO. As a result, Walmart said it will discontinue the sale of certain short-barrel rifle ammunition and all handgun ammunition and also publicly requested that customers refrain from openly carrying firearms in stores even where state laws allow it.
The CEO said the status quo is unacceptable. AFT President Randi Weingarten called this is a huge step. "We hope Walmart continues to engage on this issue—by reconsidering its political donations and lobbying efforts, and by continuing to listen to communities that feel threatened and terrorized by guns."
"While we have issues with Walmart's labor and education practices," Weingarten said. "Let's applaud it for dramatically stepping back from gun sales and using its political clout to lobby for commonsense gun violence reform."