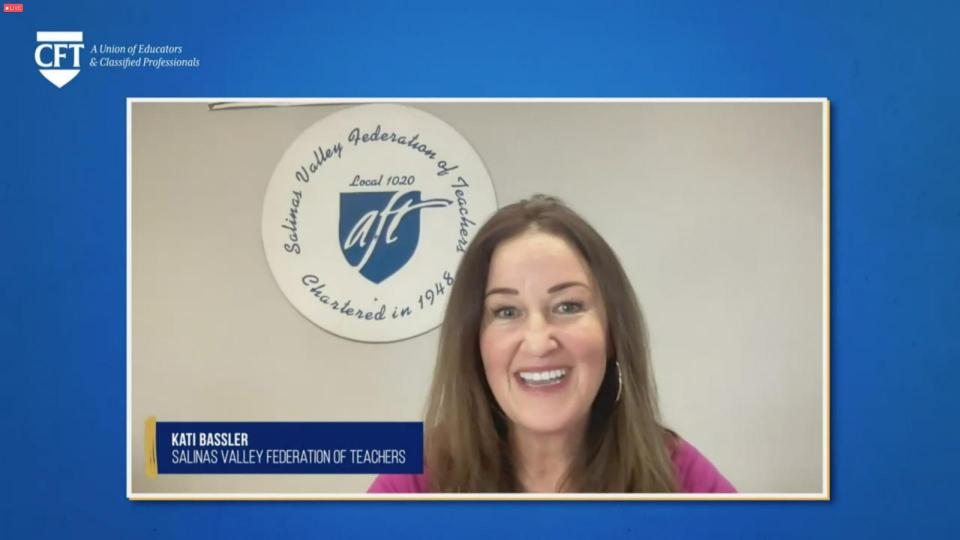 Kati Bassler, the president of Salinas Valley Federation of Teachers and Linda Delp, UCLA Faculty Union, shared this year's CFT's Women in Education Award, given for promoting the rights of women and issues of gender equity in the workplace.
Bassler's colleague Thom Carol, treasurer in her local, talked about her insight and the countless hours Bassler put in to become expert in arcane topics to improve the lives of their union members.
"Her patience is amazing," he said. "She epitomizes graciousness."
Bassler began by honoring women in her life, such as her mother. Both her parents were teachers, she said, and they decided to leave the United States to raise her and her two sisters in Oaxaca, Mexico, which she called the best gift they could give her. Her parents decided to return to the United States for the schools, but the time spent in Oaxaca was formative.
Another experience that made an impression on her was going to Belize with the Peace Corps, where Bassler joined an all-women soccer team, and she saw how women held their families and communities together along with leading the fight against climate change.
Bassler closed by saying that most mornings, she rises before the sun, grabs her golden retriever's leash, and goes running as a way to take care of herself to be ready to fight.
"This work during this time demands that we all stand strong together," she said. "Let's continue to rebuild and recover from this past year so that all of our students find their individual and collective voices because this is how we ensure change happens, and we need a more just society."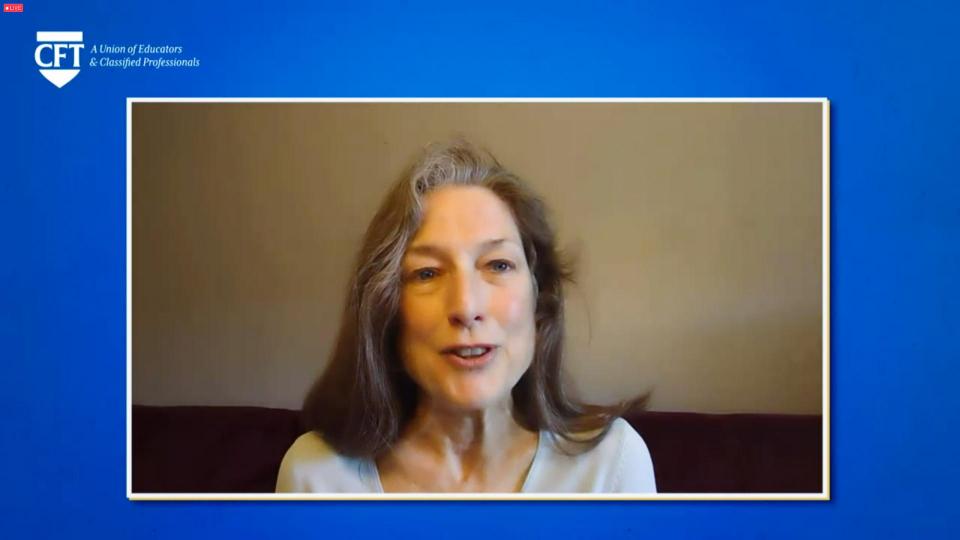 Kent Wong, director of the UCLA Labor Center and a CFT vice president, introduced Linda Delp who just retired as director of UCLA's Labor Occupational Safety and Health Program, after being on staff for more than 30 years. Wong called her a national leader for worker justice and talked about the struggle of Amazon workers in Alabama to unionize and of grocery workers to get hero pay during the pandemic.
"These are the types of fights that Linda Delp and the Labor Occupational Safety and Health Program take on every day," he said. "Linda has been a leader in popular education and the understanding that workers themselves have the educational resources and tools to achieve their own liberation."
The pandemic, which has killed more than half a million Americans, shows the importance of organizing, Delp said.
"This past year has also taught us so much about the critical important of workers, of our unions, of health and safety on the job, and of education, and its role in organizing to reclaim power," she said.
Delp wrote a book with Wong about popular education and the labor movement, and she talked about its three key principles: to start from where people are, to include critical thinking and analysis, and action.
"Education, as we know, without action will do nothing to change power dynamics," she said. "We need to take action in our schools and universities, on the picket line, and in the political sphere."