AFT+ Programs
Through the CFT, AFT and the AFL-CIO, members have access high-quality services and discounts, adding tremendous value to your union membership. As a CFT member, you are entitled to more than three dozen programs offered through AFT+ Member Benefits. You will find complete benefit information on the AFT website. Below, we've highlighted four of special interest to CFT members.
Your guide to AFT+ benefits for 2022-23
These guides to AFT+ member benefits were updated in spring 2022.
Benefits Booklet
Describes AFT+ programs with links and phone numbers.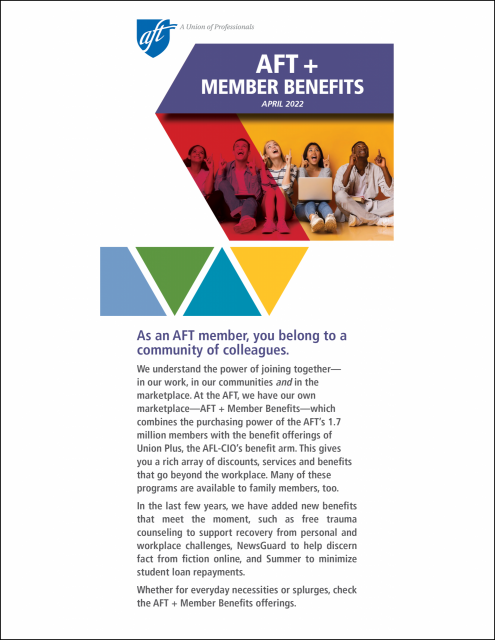 Benefits At-A-Glance
Programs at-a-glance with quick links to websites and telephone numbers.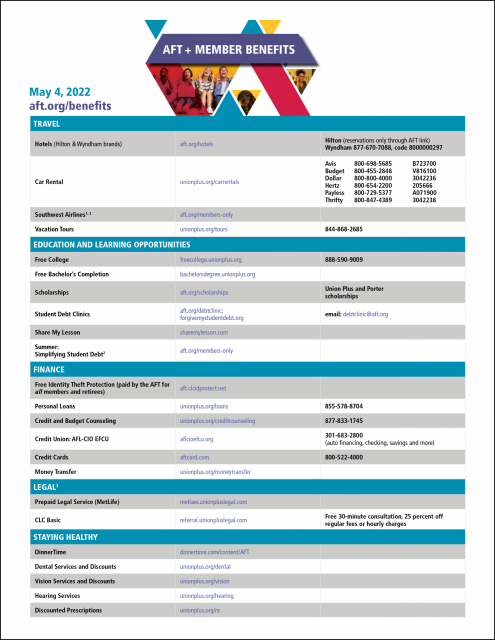 Create an account to access AFT+ programs
The AFT mails membership cards to member homes and you must validate your card on the AFT website. By validating your membership card, you will create an account that allows you to access exclusive member benefits and resources. You may log in to your account any time to learn about your benefits, ask questions, or update your address.
If you did not receive a membership card in the mail, telephone (888) 238-5646 or request one by emailing the AFT
Exclusive benefits available to AFT members
You can access these benefits by logging on to the members-only page on the AFT website. This page allows members who may not have their membership card in hand to look up their member number in order to access the page. Once in, members can print a temporary card and have easy access to the following exclusive programs:
Dansko
Dell Computers
Office Depot/Office Max
Southwest Airlines
Trauma Coverage and Trauma Coverage
Summer: Simplifying Student Debt