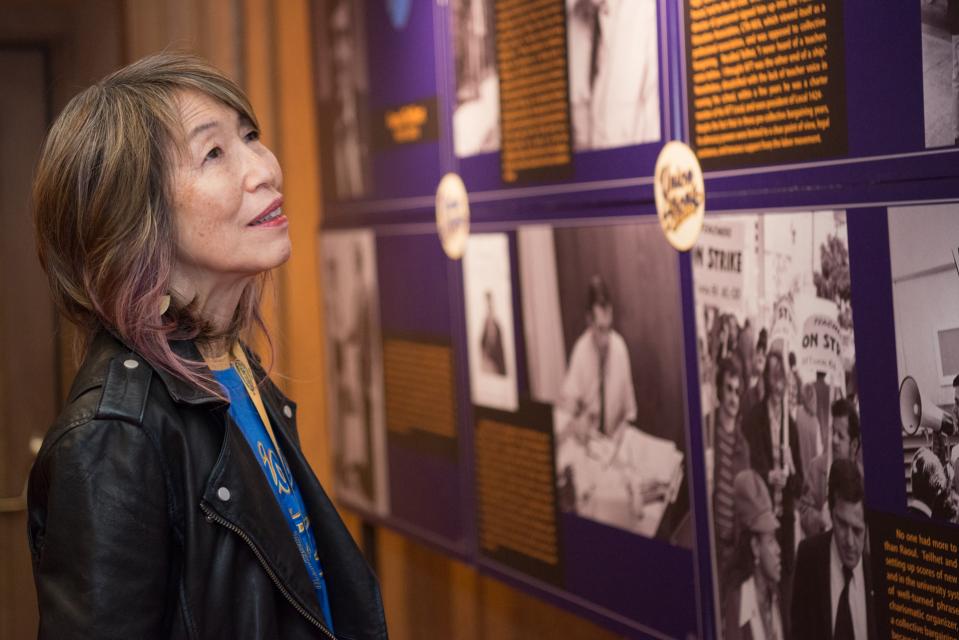 WATCH THE VIDEO: Arlene Inouye
Along with being caring and compassionate, United Teachers Los Angeles Secretary Arlene Inouye is a good listener – just as important as being a good speaker, said United Educators of San Francisco President Susan Solomon, presenting Inouye with the Women in Education Award.
Listing all of Los Angeles native Inouye's accomplishments would take way too long, Solomon said – but here are some – an activist for education reform and human rights and a long-time leader in UTLA. In the run-up to the recent L.A. strike, Inouye was key in getting members to increase their own dues by 30 percent, Solomon said, talking to members during site visits, co-chairing the negotiations team, and spending long hours meeting with the district to work out a deal.
Inouye said lots of people had come up to her to say thank you and talk about the impact the strike had on them.
"Of course I would step up!" she said. "It's been an honor and a privilege to be a union leader today and such an honor and privilege to be a woman leader today, and of course I would do this! We've been waiting for this for four years."
After thanking the team at UTLA and the CFT for their support of the strike, Inouye shared her own story. Twenty years ago, she said, she had been in a cult-like religious community – and not just a member but married to the leader. In order to extract herself, she made a pledge.
"I had to face the pain I felt inside, and the intergenerational trauma from incarceration of my family," said Inouye, whose grandparents were forcibly removed to internment camps along with 120,000 Japanese Americans, many of them citizens, in World War II. "To help, I took up karate. You go step-by-step and work through your fears and you keep building on that. I not only got a black belt, but I was doing flying kicks and sparring."
It was difficult to face some things in her past, but along with doing it for herself, she was doing it for children and the union, Inouye said.
"As women, we're survivors, but we're also warriors," she said. "These are times to grow our souls. This is a great time to be a woman in education."