Join CFT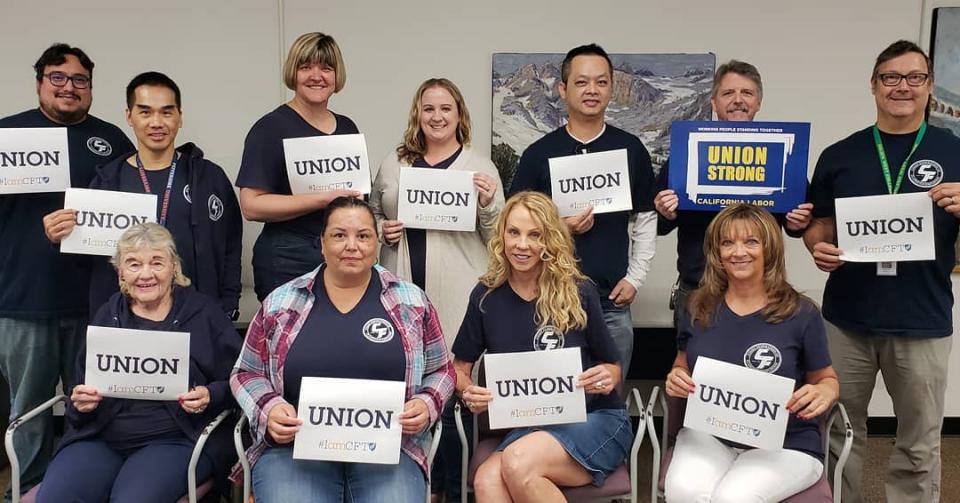 Being a union member is the single most effective path to advocating for your profession and those you educate. Every educator deserves union representation, whether you are full-time, part-time, classified or certificated, higher education or preschool, working in public education or at a private school or university.
Becoming a CFT member means that you join 120,000 educators in California who together are advocating for quality education at their workplaces, in their communities, and in the halls of the Legislature. Be a part of this important work!
What are you joining?
You are joining a Union of Educators and Classified Professionals and by so doing, you will have a reliable union to call on when you're having trouble in the workplace and good contracts backed up by strong union representation.
The CFT is proud to represent public sector and private sector education workers in their quest for dignity. All educators deserve the protection that a union contract provides.
If there is an AFT local union in your workplace…
You can join your AFT local union in just minutes! Many local unions have online membership forms for quick sign-up. Find the link for your AFT local in our Know Your Local section.
If your local union does not have an electronic membership form, and you wish to join the union, please contact your local union leaders.
You may also join the union by completing and returning our Statewide Membership Form to your local union or to the CFT Los Angeles County Office, 2550 North Hollywood Way, Suite 400, Burbank CA 91505.
Download the Statewide Membership Form
Join as a member-at-large
As a member-at-large, you will enjoy some benefits of union membership without union representation in collective bargaining. You will stay updated on professional issues by receiving CFT newsletters, have an opportunity to vote for your delegate to the CFT Convention, and be covered by the AFT Occupational Liability Insurance and a one-year Accidental Death and Dismemberment policy.
If there is no union in your workplace and you want a union…
Education workers have the right union representation, whether you are working in public education or at a private school or university.
If your workplace does not have a union and you want the benefits of unionization, you may get assistance from our Organizing Department.