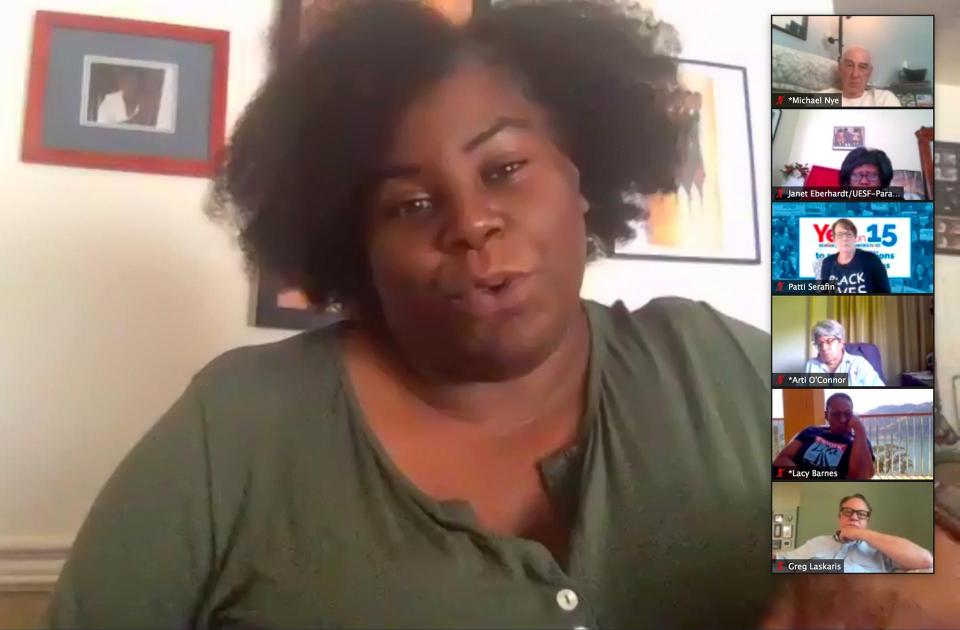 Facing the threats of COVID-19 and wildfires, local unions and districts across California are trying to figure out how school will look this semester.
Orange County was one of the first to push for in-person instruction after it had been prohibited based on the county monitoring list. At the beginning of the summer, the members in the Newport-Mesa Federation of Teachers were pretty much evenly divided about that.
"Then when the district showcased their plan and the date, September 29, those people were like, oh, we have to do something!'" said local President Tamara Fairbanks.
Fairbanks said the district had made big promises about air ventilation that didn't come through. They didn't have enough personal protective equipment and most of the nurses didn't have the N95 masks they had been promised. Officials from the Orange County Board of Education also said social distancing was unrealistic and masks were not required. Their announcement influenced community sentiment. The district, by comparison, had recommended masks for TK-2 students but had not mandated them.
"There was this accumulation of anxiety building during bargaining," Fairbanks said. "We knew we had to do something fast."
Some members proposed a car caravan, Fairbanks said. She thought that was a great idea. Within a couple hours of putting it up online, 50 people had signed up.
The mayor of Costa Mesa, Katrina Foley, as well as city council member John Stephens, expressed their support and came to the rally. They were also helped, Fairbanks says, by CFT organizers, the local retiree chapter, and the Orange County Labor Council, who all let people know about the caravan.
At the Sunday rally, more than 200 cars showed up. Fairbanks said, ending up in front of Costa Mesa High School.
"The rally itself was awesome with a positive spirit, and we got a good reception from parents and the community," Fairbanks said. "We did have some people along the parade route who were against it — this is Orange County, and it was intense. They were screaming and cussing at us."
Fairbanks says getting their message out helped them with the community. They still aren't sure what will happen with school scheduled to start so soon and are planning more actions, she says.
"Because of the rally, I think our membership is more engaged and more willing to do stuff," she said. "I think a lot of teachers are not confrontational, but because of the lack of concern for employee health, people are reaching out to the union who have never done that before. It's activated a new realm of activism."
• • •
The United Teachers of Los Angeles was one of the first education unions in the country to stand up forcefully for the safety of teachers, students, and staff to not have to be on site with cases still rising in many areas.
"We worked out an agreement with the district to allow online teaching," UTLA's AFT President Juan Ramirez said. "They wanted us to come to the schools to do virtual learning from the classrooms, and we felt that would still expose our teachers."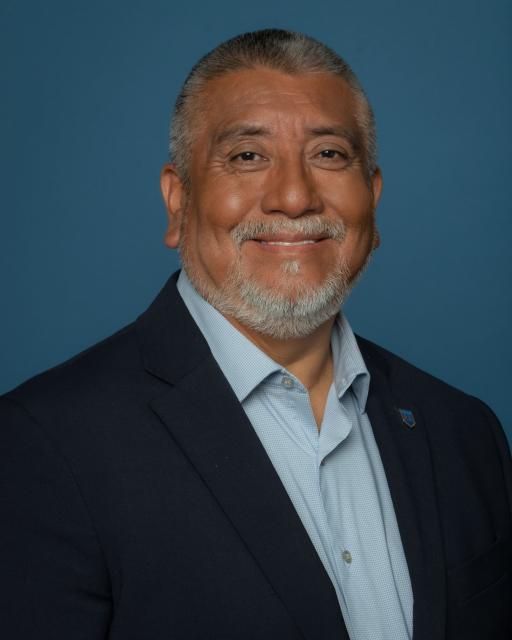 Ramirez, a CFT Vice President and newly elected national AFT Vice President, says the local is asking for protocols to be met before everyone returns to schools, with testing, tracing, cleaning and enough PPE and supplies.
"Our student population is already at risk, and in many cases, their parents are essential workers, so having the kids go to school would be giving them another opportunity to be infected," Ramirez said. "We agree they need to come back to the classroom and students need the help and that is something that is being worked out with the district."
Ramirez says UTLA has been doing a lot of work to support the Black Lives Matter movement and to be "on the right side of history." One specific thing they worked on was taking money for school police and putting it towards student services, such as counselors and psychologists, passing a resolution to cut the police budget by 35 percent.
"We think the funding priority needs to be our students," Ramirez said. "70 million was being spent for school police, and we thought it could be better used to support our students."
UTLA members are getting ready for the election in November, Ramirez says, with Proposition 15, Schools and Communities First, a priority. A few hundred members have committed to phone bank for the proposition, which would close property tax loopholes to fund schools.
• • •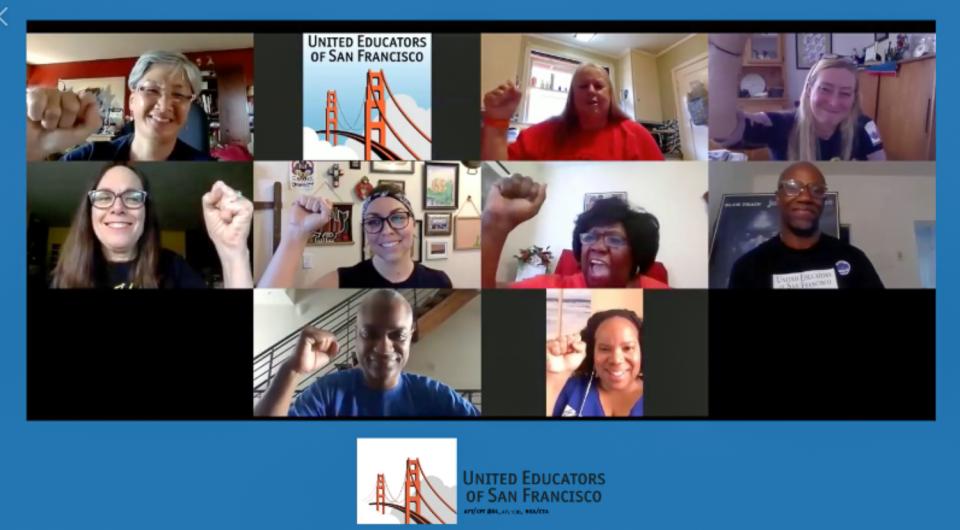 The United Educators of San Francisco will also phone bank for Proposition 15 as well as for a local parcel tax for funding schools to replace one passed in 2018, but has been challenged in court, says President Susan Solomon.
The local is creating a racial and social justice committee in response to the nationwide calls for racial equality, and a school board resolution provides the opportunity for every K-12 student to enroll in a Black Studies class by school year 2022-23.
While both parties immediately agreed to 100 percent crisis distance learning from home, UESF fought for and won the right for members who can't work from home and need to work from a classroom to do so. The MOU says teachers must work seven hours a day, and be live onscreen with students two hours a day. Solomon says this is a vast improvement over last semester and parents have expressed appreciation.
Agreeing to this took a while, Solomon says.
"At first, they were only agreeing to meet once a week for two hours," she said about the district. "We mounted a quick, successful letter-writing campaign for August 5 to urge them to stay at the virtual table until we finished. It took until almost 2 in the morning, and the last piece we agreed on at 1:30 in the morning, we would not have gotten at 1:30 in the afternoon."
• • •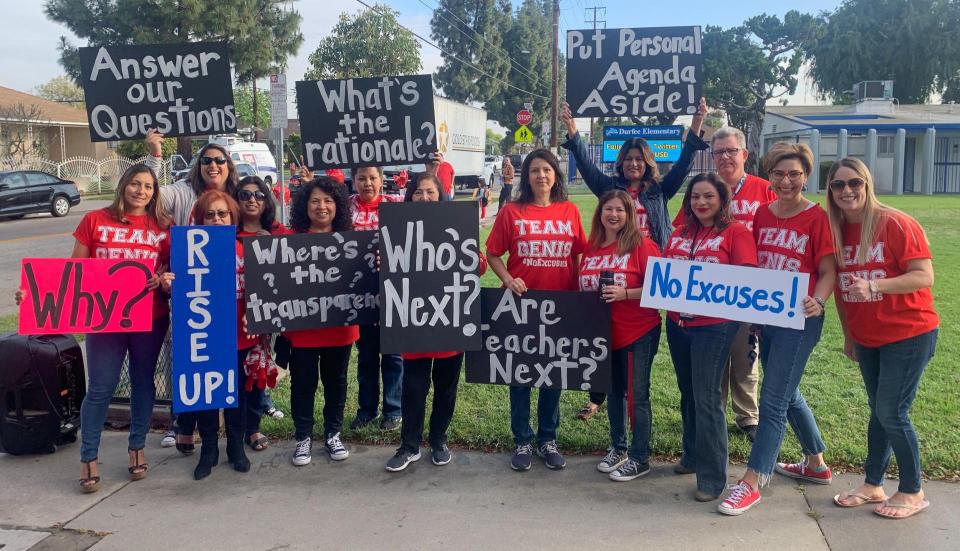 Lilia Carreon, president of El Rancho Federation of Teachers in Pico Rivera, to the east of Los Angeles, has first-hand experience of organizing effectively even during a pandemic. For more than a year and a half, she and the union have been working to recall school board members charged with corruption and ignoring concerns of teachers, staff, and parents. Often recall efforts don't make it to the ballot, but this one got 9,760 signatures, well above the 6,509 they needed.
The recalled school board members were charged with mismanaging a bond as well as laying off and threatening to demote administrators.
"They were trying to phase out administrators that they didn't like and bring in their friends who were not qualified. It was horrendous," Carreon said. "We challenged them and were very successful in mobilizing our membership. Every meeting had a packed house."
Union members walked the city to distribute fliers about the recall effort, and the local worked with different groups on the recall effort, including the El Rancho chapter of California School Employees' Association, which represents classified employees in the district.
"It was driven by the community and teachers and parents and students and retirees," Carreon said. "It was the epitome of grassroots organizing. That's how we succeeded. I know it's a cliché, but it's true."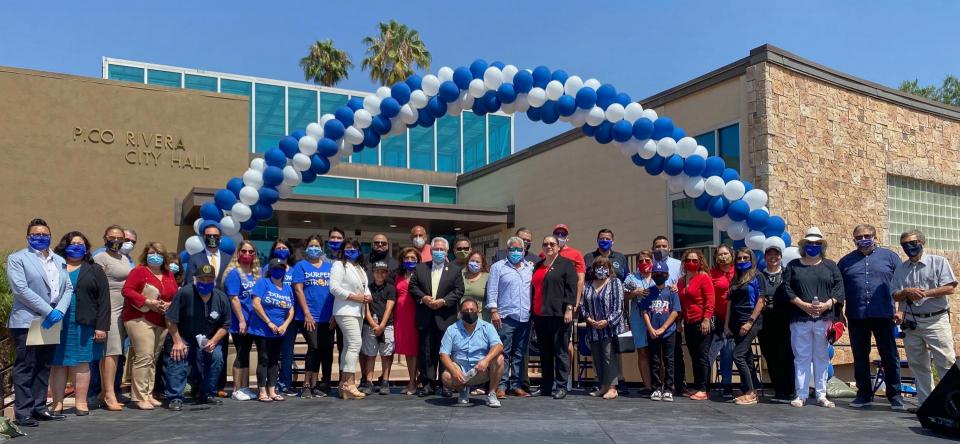 Carreon says she sometimes joins the weekly Zoom discussions organized by Rico Tamayo, the president of the EC/TK-12 Council, and they talk about how to go back to school in a pandemic and continuing to provide a good education through distance learning.
It's stressful and scary, she says, especially since there are a lot of people hard hit by the pandemic in their heavily Latino district.
"I wake up every day, and I don't know what to plan for," Carreon said. "We're strategizing the best way to reopen, and we are being proactive. We just want people to be safe."
• • •
Kati Bassler, president of Salinas Valley Federation of Teachers, knows all about things changing day to day. Their district was one of the earliest in the state to open – on August 10. The situation was changing so quickly that Bassler decided to put out what she calls a "coulda shoulda woulda" newsletter every week with what they've learned.
One of the main issues the local has experienced with distance learning is connectivity, Bassler says. In Salinas, an agricultural area, the majority of students come from farmworker families without access to reliable wifi. The wildfires have also affected them, Bassler said, with some families and members forced to evacuate although they are back in their homes now.
Many of the teachers use Google Meets, which hasn't offered a secure background yet. Because of this, students are not required to show their faces due to privacy concerns. Bassler says this means that some teachers are looking at a screen full of dark boxes with initials and teaching to a silent monitor; they are trying to work this issue out with the district.
Bassler says the contract has a strong salary formula and for now they are protected from layoffs. This semester students have three classes rather than six, and in the afternoon from 1:45 to 3:30, teachers prepare lessons and work one-on-one with students.
Given the situation due to the pandemic and in preparation for the November election, the local collected information about what members want updates on – local and national issues, for instance – so they can do targeting messaging by non-work email. Bassler says along with Proposition 15, they're working on contested school board races.
The local has built a strong relationship with the district, and Bassler appreciates district officials wanting to hear from union members, but sometimes it's a lot.
"You want a seat at the table," she said. "But when you're driving the train, the workload and the responsibility is tremendous."

— By Emily Wilson, CFT Reporter