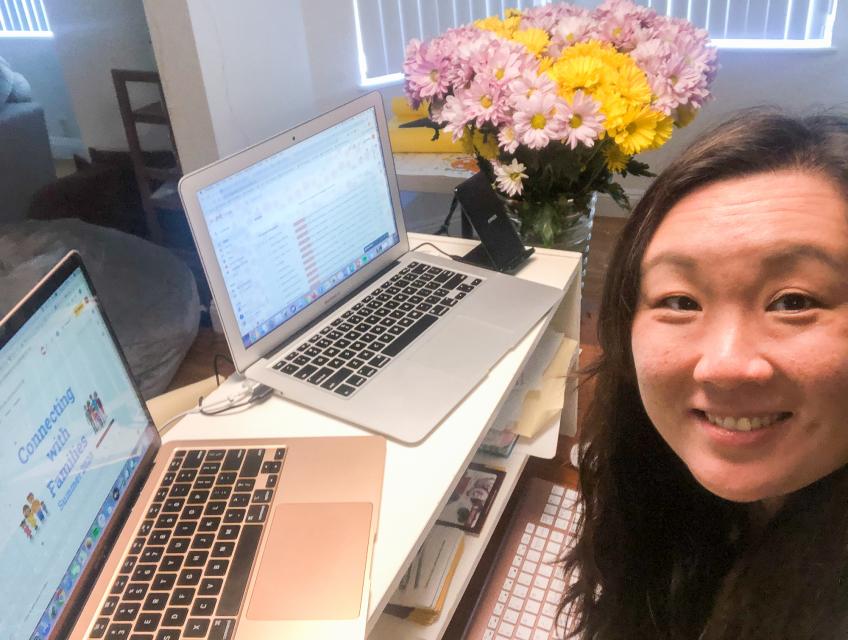 Leslie Hu, a social worker at San Francisco's Martin Luther King Jr. Middle School, thinks that during a global pandemic, when many students are seeing their communities directly affected, isn't the time for business as usual.
Right before schools were physically closed, Hu says she and her colleagues wanted to get in touch with students and their families to see what they needed. So the Thursday before it was announced that the campus would close, staff and teachers stayed at school until about 9 pm trying to get families signed up so they would receive notices from the school.
The following Tuesday, Hu and some teachers decided to reach out to all the families. They recruited everyone they could, including the PE teacher, school secretaries and the principal, to call all of the 460 families who have students at the school, and they reached about 95 percent of them.
"We called for two reasons, one of which was connection, so, 'How are you, we're here for you, we are so sad we don't get to see your kids every day,'" Hu said. "Then we also asked them, 'What do you need?'"
Through talking with the families, Hu says they found out about specific situations – an uncle who was the main breadwinner and lost his job and a family threatened with eviction, for example — and offered help through the local, United Educators of San Francisco, AFT Local 61.
"Our public schools may be the only system reaching out," Hu said. "They're not going to get a call from PG&E or Calfresh."
With a GoFundMe, they raised money to send out 200 grocery store cards. They also walked families through how to sign up for wifi, explained that there was a moratorium on evictions, and gave them information about pop up food banks. Hu has been working with the school's community partners: The Bayview Hunters Point YMCA, a green consulting firm, Woodard and Curran, and the San Francisco Public Utilities Commission, who have donated tens of thousands of dollars. With the money they've given, the school was able to give a family staying in a shelter a card to stay at an Airbnb and start a second round of grocery store cards.
Hu says she's grateful for how quickly the partners have stepped up to help. The teachers and staff have also adapted to do what's needed now, she says.
"There's a nimbleness in how people have been operating, including our students," she said. "We don't think how incredibly hard this has been on them. They're resilient, but they need support in being able to navigate this. We are in a crisis and our children need us to support them through hard times."
Hu has taken that message to the entire San Francisco Unified School District. UESF learned about her work and asked her to lead trainings. School Board trustees Faauuga Moliga, Gabriela Lopez, and Alison Collins attended one, and decided they wanted a plan like this for the entire school district. The trustees worked quickly to write a resolution, a "Coordination of Care" Plan, which "will reflect a systemwide commitment to holistic care policies and procedures for students and families." They also implemented a needs assessment for all students.
The intent behind the resolution is supporting families, students, teachers and staff during this time, Hu says.
"We're not just trying to teach — we're in the in business of love and care, starting with phone calls and asking how our students are doing," she said. "Honestly, for me it's about care and connection. Neuroscience shows us relationships and connections can heal trauma. When we're calling our families, we're just telling them we're here and we're not going anywhere when so many systems are shut down."
— By Emily Wilson, CFT Reporter