Campus Parity Week 2023
Ideas and tools for campus education and activism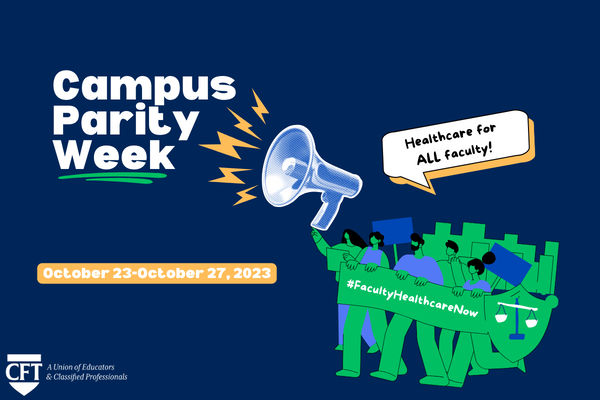 Campus Parity Week 2023
Campus Parity Week is a time of education and activism that draws attention to the working conditions of faculty working on temporary, low-paid contracts, who now constitute the majority of college instructors.
Officially, the date for Campus Parity Week is October 23-27, but what's more important is that campus communities (faculty, students, staff, and administrators) get the word out this fall about the need to secure healthcare for part-time faculty. In general, the time to plan actions is during the last two weeks of October.
This toolkit is compiled by the CFT Part-Time Faculty Committee and contains materials to plan activities in your local union. Make it happen at your campus this year.
MATERIALS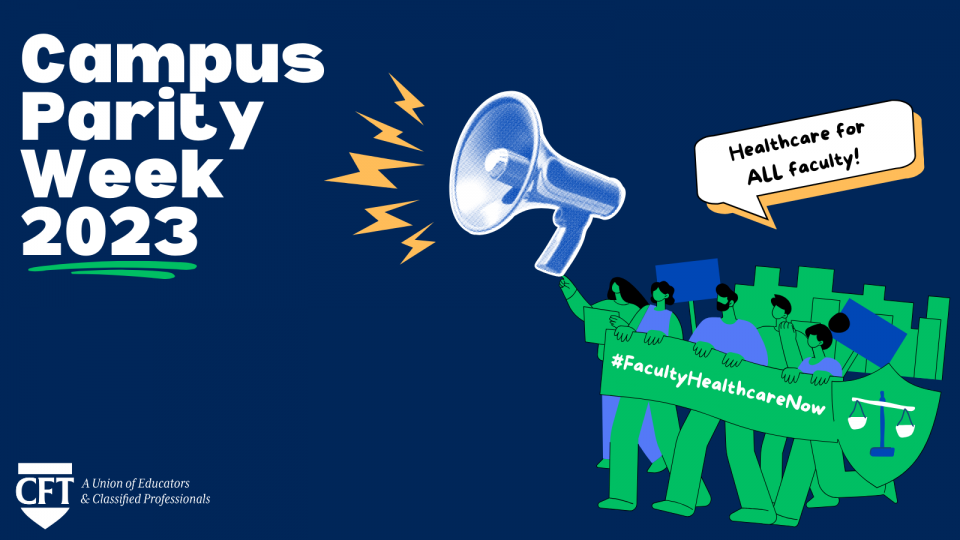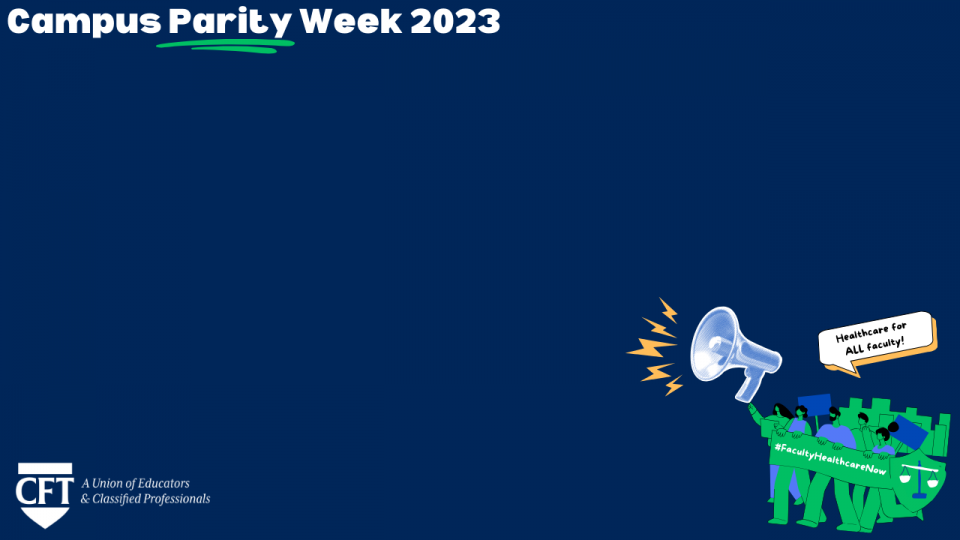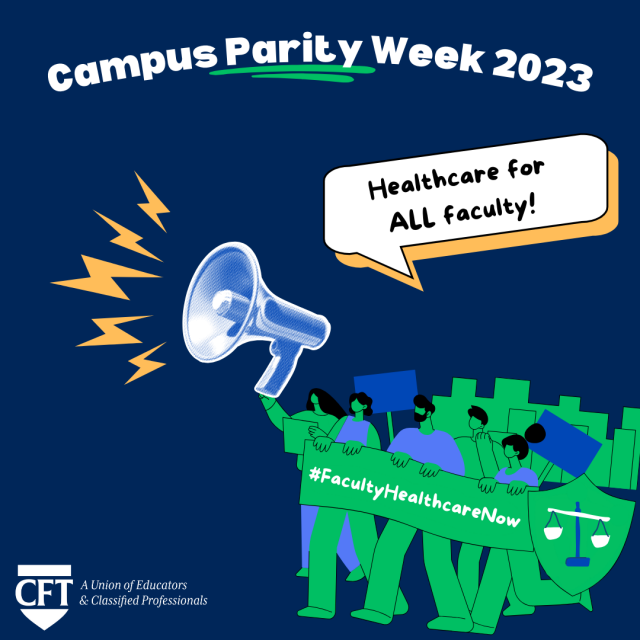 CFT CAMPAIGN
Part-Time Faculty Campaign
Everything you need to know about our campaign! During Phase 1, member action secured $200 million in ongoing state funds to finance healthcare for part-time faculty, and CFT conducted a comprehensive survey of part-time faculty in California.
Groundbreaking Survey Results Call Out Healthcare Crisis
Our survey findings shine a light on the daily struggles that part-time faculty experience when it comes to healthcare. More than 2,500 part-time faculty responded between February and April, 2022. The majority of respondents were community college faculty, representing 58 of the state's 72 districts.
• Toplines Summary
• Full Report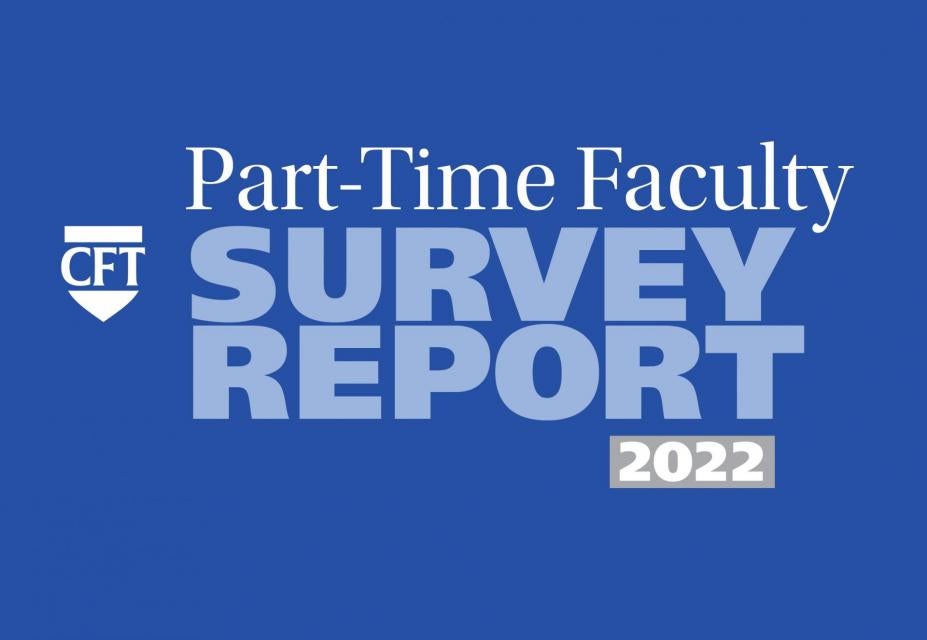 Local Contract Campaigns
Now in Phase 2, through "coordinated collective bargaining," we are working to:
• Negotiate healthcare for part-time faculty into local contracts
• Build Contract Action Teams (CATs)
• Organize member actions to support negotiations
WHERE WE STAND
KEY CFT RESOLUTIONS
Find resolutions passed by delegates to CFT governance bodies, along with our stories about the policy changes and how they affect contingent faculty.
KEY AFT RESOLUTIONS
Find resolutions passed by AFT below.
AFT REPORTS
AFT Report: A State Legislative Agenda for Higher Ed Contingent Staff
Change is happening across the country! Find examples of state legislative victories throughout the nation in this June 2022 summary from AFT. California plays large!
An Army of Temps 2022: AFT Adjunct Faculty Quality of Work/Life Report
In 2020, during the pandemic, AFT followed up its initial 2019 report with a 61-question survey completed between May 21 and August 18, 2020. The updated "Army of Temps: AFT Adjunct Faculty Quality of Work/Life Report" detailed feedback from 1,883 respondents at two-year and four-year institutions — both public and private.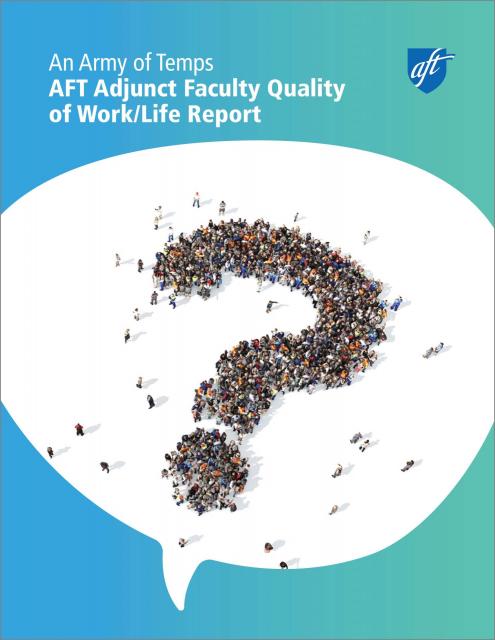 An Army of Temps 2020: AFT Adjunct Faculty Quality of Work/Life Report
In 2019, AFT conducted a nationwide survey of contingent faculty. The AFT's 52-question survey was completed by 3,076 contingent faculty—part-time faculty, full-time non-tenure track faculty, and graduate employees. AFT was able to draw some robust conclusions about the conditions faced by this new majority of college faculty in the United States.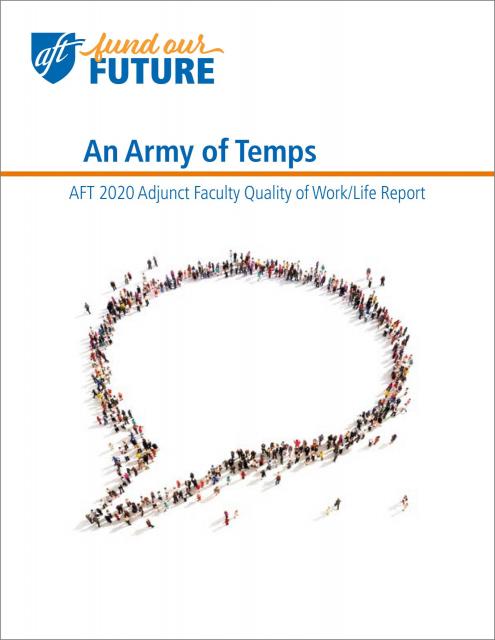 FLYER SERIES
Based on the 2019 survey results, AFT provided resources for use during campus actions including these five issue-based flyers.
Healthcare
Basic Needs and Food Security
Low Pay and Public Assistance
Lack of Job Security
Retirement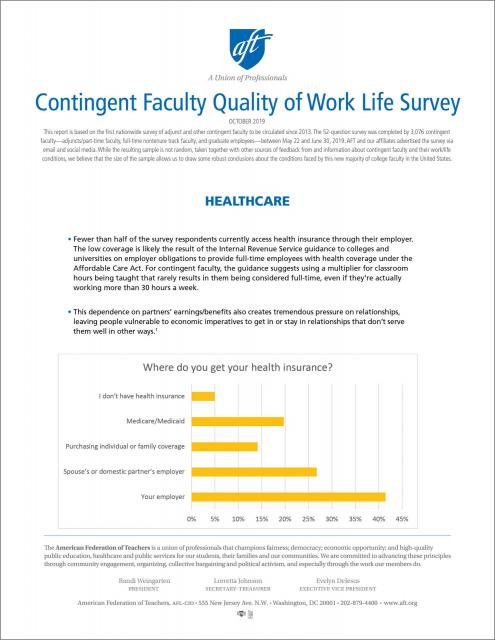 SIGNS
Four AFT message signs and one blank sign are available for campus actions. The message signs (17 in x 11 in) have a blank back for additional local messaging.
Campus Equity Now!
Fair Pay and a Union!
Free College for All!
Student Debt Cancellation Now!
Blank
NEWSROOM
CFT NEWSROOM
Some of our recent key stories are linked below. We have published dozens more articles under these tags:
---
---
GENERAL MEDIA
The general media has also taken deep dives into the two-tier system in higher ed.
---
---
MORE REPORTS
Other organizations have published reports about the over-reliance on contingent faculty.
---
---