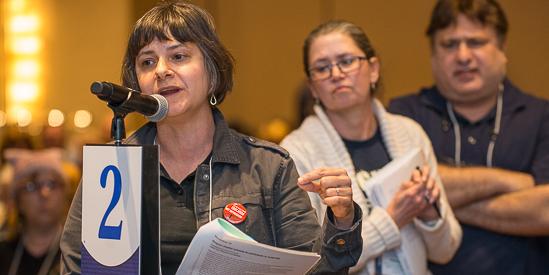 At this year's CFT Convention, delegates passed Resolution 15 calling for the CFT to support changing the workload cap in a community college district to 80 percent of a full-time equivalent load, effectively allowing part-time faculty to teach up to 12 units.
Presently, existing California law (Assembly Bill 951 passed in 2008) established that contingent or adjunct faculty can teach no more than 67 percent of a full-time equivalent load, meaning they can teach no more than 10 units per semester.
Such a load limitation, coupled with the fact that adjuncts may receive sometimes half or less of what their full-time colleagues earn proportionate to their hours in the classroom, has meant extensive travel from district to district at times over several hundred miles a week, just for part-time faculty to earn a basic living.
This basic reality, along with other factors, spurred Veronica Miranda, an adjunct instructor with the Cerritos College Faculty Federation, Local 6215, to write Resolution 15.
"As a part-time English instructor, I had an up close and personal view of the many effects the 67 percent cap workload had on me and many other fellow adjuncts."
Miranda explains that the problems caused by the cap are many, and range from limiting student-teacher interaction outside of instruction time, to leaving adjuncts disconnected from their respective campuses, to creating scheduling issues for both the adjunct faculty and their departments, as well as full-time faculty losing out on the contributions and insights of their adjunct colleagues who have the perspective that comes from teaching at other colleges and in other programs.
Another factor that Miranda and Cerritos faculty mentioned in their resolution was the curricular changes that are occurring as a result AB 705, passed last year. The legislation, as stated by the California Community Colleges Chancellor's Office, "requires community college districts to maximize the probability that a student will enter and complete transfer-level coursework in math and English within a one-year time frame."
What this has meant in a number of cases is that many pre-transfer level math and English courses have been eliminated, and that in their place, students be enrolled in transfer level courses, yet given "additional concurrent support…during the same semester that they take a transfer-level English or mathematics course."
This has resulted in many traditionally three-unit courses, being expanded to four units or more units, and in turn, it has reduced the number of classes adjuncts can teach in a district. For example, a math adjunct once able to teach three three-unit courses for a total load of nine units at one district, can now only teach two four-unit courses for a total load of eight units.
Another issue delegates brought up in CFT Convention's higher education resolution subcommittee was that the 67 percent cap has made the push for lab-lecture equity a challenge. Presently, in a number of districts, many classes, from the sciences, to nursing, to computer information systems have intensive labs which are every bit as demanding as an instructional course, yet are paid at a percentage of the instructional hourly rate, often around 83 percent.
To raise the rate higher means raising an instructor's load calculation. Many locals are reticent to raise the rate beyond the aforementioned rate as it would lead to adjunct load calculations exceeding the 67 percent cap, which would prevent adjuncts from teaching even two such courses in a district.
What both circumstances boil down to is adjuncts doing more freeway flying from one campus to another to make ends meet, and raising the cap to 80 percent of instruction would help to reduce this.
With the passage of Resolution 15, it becomes CFT policy, and down the road, the CFT Legislative Committee will work to sponsor legislation to raise the cap to 80 percent.
There are still a number of issues to consider before moving forward. Despite the CFT-sponsored adjunct rehire rights legislation, SB 1379, signed by the governor in 2016, many locals are still working to negotiate meaningful or timely seniority language in their contact.
In addition, many districts, in spite of SB 1379's intent to provide all adjuncts a path to being scheduled a maximum load of 67 percent, still prevent this from happening. As long as districts defy the mandate to allow adjuncts to reach 67 percent, the raising of the cap to 80 percent would be moot.
This said, the overwhelming passage of the resolution, and the spirited arguments made in favor of it, point to a strong desire to see the cap rise sooner rather than later.