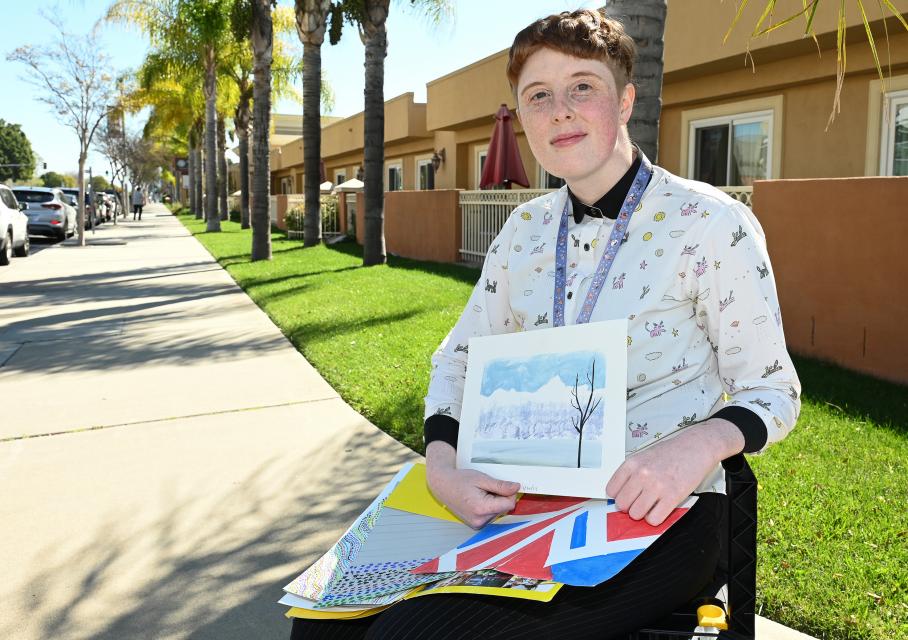 Honour Harry works two jobs — as a freelance illustrator and doing children's education at a local church — in addition to her job teaching art for the North Orange Community College District. Harry doesn't teach on campus. Instead, she goes into nursing homes, often working with people who are in memory care and who are immunocompromised.
In a recent AFT survey, the economic reality faced by adjuncts like Harry was underscored with findings that nearly four in 10 adjuncts need government assistance and almost half deal with major job insecurity. The lack of healthcare for adjuncts is a core issue for CFT. With the pandemic leading to declining enrollment and layoffs, the focus went to keeping jobs, but last fall CFT launched a statewide campaign to secure affordable stable healthcare for part-timers — an issue that almost three-fourths of members called important to them in a CFT survey.
Harry is one of those adjuncts that doesn't have healthcare through her teaching job. After spending the pandemic teaching online, creating videos and assignments for her students, she doesn't feel comfortable going into work with no health coverage, worried that she is putting her students' health at risk.
Many of her students struggle to use their hands and some don't speak English, Harry says. Along with teaching them skills, she sees the classes as a chance for the students, many with limited mobility and stuck in the same room all day, to connect. Harry also considers herself an advocate for her students, noticing, for example, that they need glasses and helping them get services.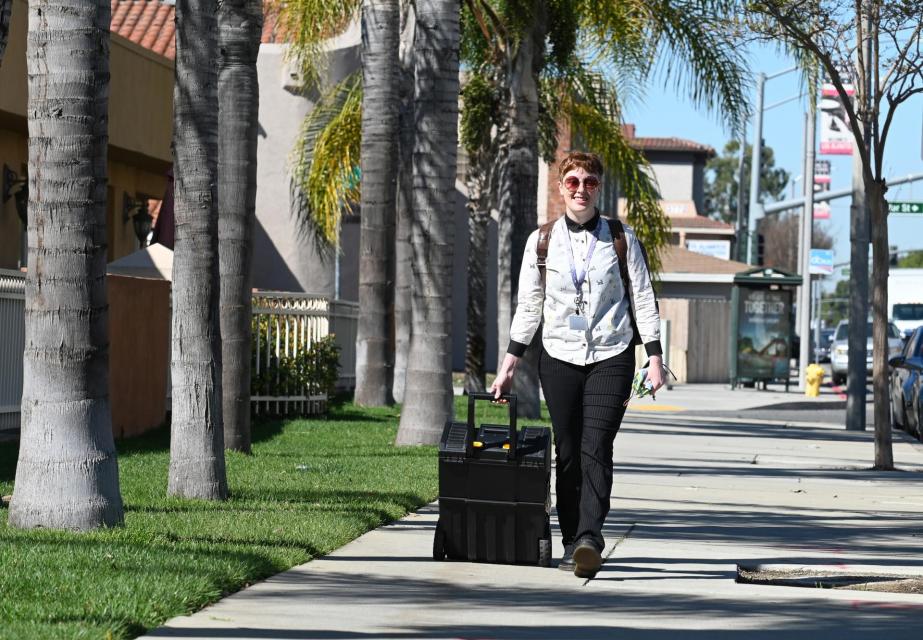 Having healthcare benefits through her teaching job would lift a huge burden, Harry says. Prepping lessons to engage the older adults takes lots of time and having healthcare coverage might mean she could give up one of her extra jobs and focus more on her classes.
"There would be a lot less stress," Harry said. "I could make sure I'm in peak form to help them get good lessons and focus on giving good content."
CFT's campaign includes a part-timer survey, writing letters to legislators, testimony at state budget hearings (including one on April 5), and a part-timer conference May 1 and 2.
Harry has been to several rallies about the issue and testified at state budget hearings last month on Zoom.
"It's encouraging to hear so many people's stories," she says. "I'm glad we're trying to take care of ourselves to make sure we can give our best to our students."
John Govsky, a Part-Time Faculty Committee co-chair and CFT Vice President who teaches digital media at Cabrillo College, has participated in this fight for part-timer healthcare for years. He's hopeful this time will be different.
After CFT-sponsored AB 375, meant to lift the cap on part time teaching to 80 to 85% sailed through the state Legislature last year without a single no vote, the governor vetoed it, saying he'd been told the cost would be $400 million, and promising a fix in the budget.
During the recent holiday break, CFT organized 1,400 members to send letters to the governor and legislators about the critical need for part-time faculty healthcare, and Newsom allocated $200 million in his state budget proposal to fund healthcare for part-timers on an ongoing basis. This is an astonishing increase of more than 400 times the former allocation of $490,000.
Now, Govsky says, CFT is organizing to keep that $200 million in the budget.
• • • • •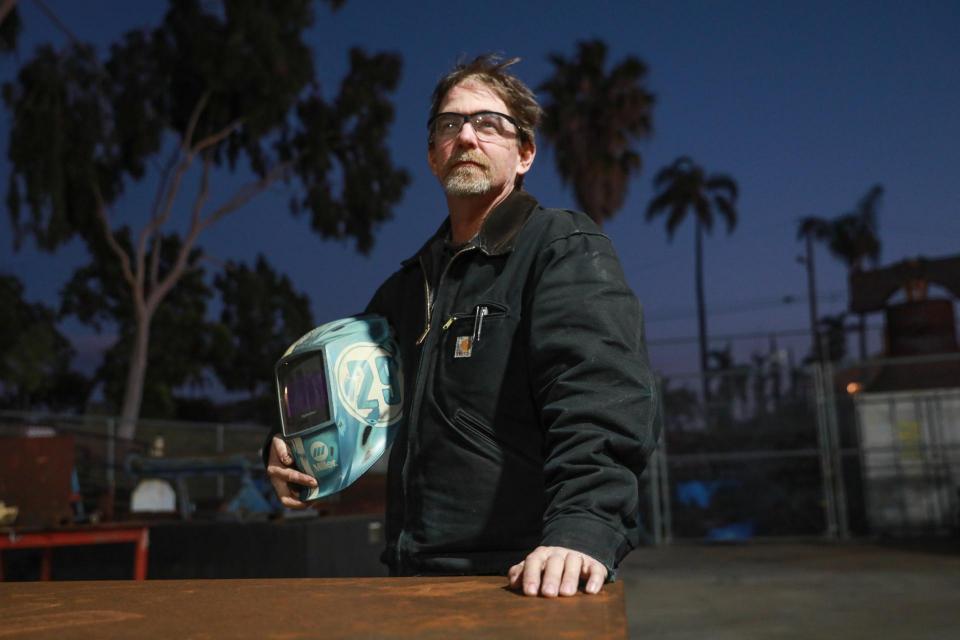 Like Harry, Mike Bradbury says having reliable healthcare would change his life. He teaches a night welding class for the San Diego Community College District, along with his day job as facilities manager at a church. His wife has lupus and has had a kidney transplant.
Bradbury, with the AFT Guild, Local 1931, had been a welder for about 20 years when he signed up for a welding class after hearing an ad on the radio saying you could earn a certificate. The next year, the night teacher took the day class instead and he offered Bradbury the job of teaching the night class. The self-described "blue-collar guy," who never thought he'd be a teacher, is committed to the work.
"What I love most is being a small piece in the puzzle of people changing their lives," he said. "I see them go from, 'I've got nothing on the horizon,' to 'I've got a career.'"
About seven years ago, and after teaching for 10 years, Bradbury was able to get on the district healthcare plan for himself and his wife and daughter. He'd had some previous coverage from his day job, but especially with his wife's medical condition, expenses got out of hand, costs for just her medication were about $800 a month. In contrast, through the insurance he got from teaching, he paid about $10 for those same medications.
But in the summer session of 2020, Bradbury lost his teaching job due to class cuts caused by the pandemic, which would have meant an immediate loss of his healthcare if his union had not negotiated an extension of coverage through the end of September. He went back to teaching when classes started again in spring of 2021, but it will take another two semesters to qualify for benefits again.
Reliable healthcare would bring peace of mind, Bradbury says, and he would be able to focus on his job.
"I started contemplating not teaching," he says. "I'm concentrating on how am I going to pay the bills next month, and everything revolves around putting food on the table."
• • • • •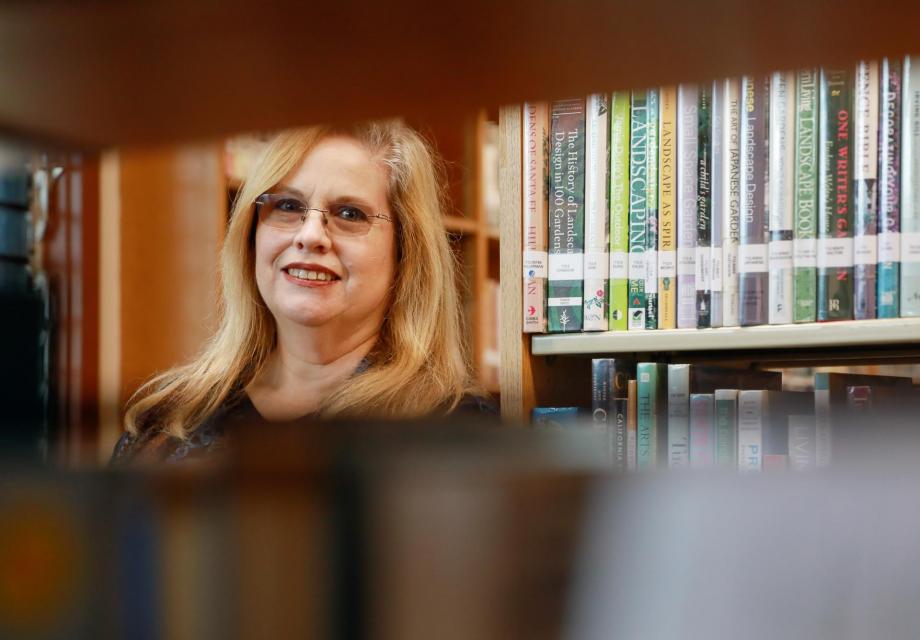 Like Bradbury, Juli Jones, a history teacher at Cuyamaca College in El Cajon, had good healthcare for a time through her adjunct teaching job. But with enrollment dropping due to the pandemic, her hours were cut and she no longer qualifies. Jones has lost her benefits twice in the last several years.
"It's a roller coaster," she said. "If they cancel it, it's like, 'Surprise, you're going to lose your health insurance by the end of September."
Jones says she and her colleagues are getting more and more desperate to have ongoing benefits.
"It would eliminate a lot of the anxiety if every few months I don't have to worry if I will get health insurance," she said. "I wouldn't have to feel guilty anymore about losing my family's healthcare. I have several ongoing health conditions and having regular healthcare is really important."
Seeing the stress this bring to all these adjuncts like Jones and Bradbury and Harry, and how it's been accelerated in the last few years, is heartbreaking, says Linda Sneed, CFT Vice President, and part-time English teacher with Los Rios College Federation of Teachers, AFT Local 2279.
"COVID has really put access to healthcare at the forefront of our minds," she said. "And it's one of the indignities for part-time faculty, so many of whom work more than a full-time job. And there's an effort to keep people ineligible because of the costs. It's pretty awful."
Like Govsky, Sneed is hopeful that the CFT campaign will succeed.
"I think we've built a consensus that something has to change and that it's going to require money," she said. "We're advocating to keep the $200 million in the budget and not have it be chipped away at, and to convince the Legislature that the issue is important, and enough people would benefit."
— By Emily Wilson, CFT Reporter