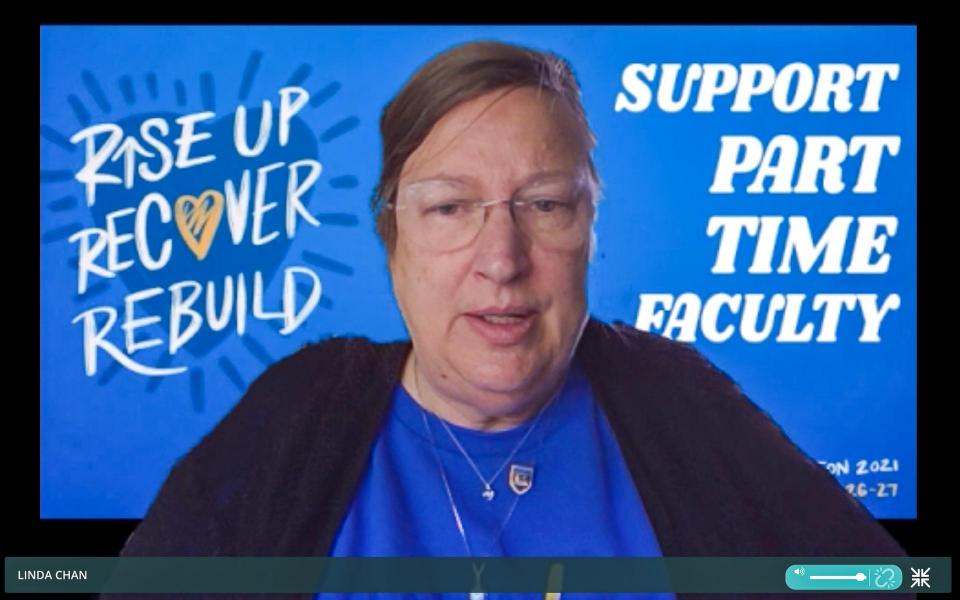 At this year's virtual CFT Convention held March 26-27, the Part-Time Faculty Committee sponsored two resolutions reflective of both the longstanding and new problems beginning to emerge in the wake of the pandemic which has impacted adjunct health and training.
The first of these resolutions was Resolution 5 — Mandate unified health benefits for part-time community college faculty. Sponsored jointly by the Higher Education and Part-Time Faculty Committees, this resolution calls for part-time faculty to be "provided access to health benefits through their employer," and for the Community College Chancellor's Office to "ensure funding for districts to provide health insurance for all part-time faculty, with a gradual increase in support…so that part-time faculty have ongoing access to healthcare benefits with decreasing cost."
The resolution states that there exists a state fund "that reimburses districts up to as much as 50% of the district expense for providing eligible adjunct faculty access to health insurance." This fund, though first established in 1996, remains underfunded, with just $400,000 available — a far cry from what's needed. The fund was in fact created with the intent of insuring "part-time community college faculty and their eligible dependents have continuous access to health insurance benefits."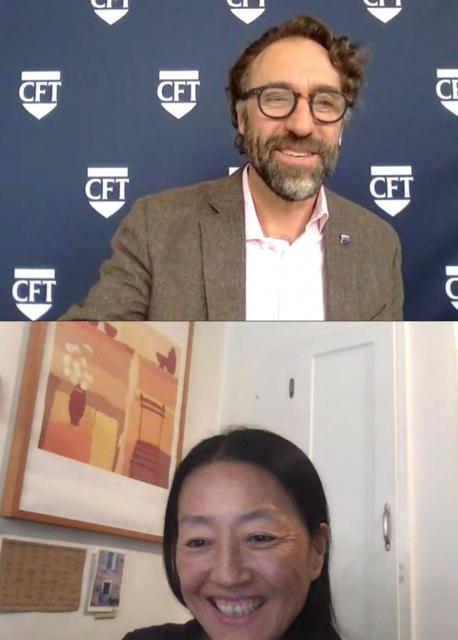 One of the most robust speakers in support of the resolution was Grace Chee, president of the West L.A. College chapter of the Los Angeles College Faculty Guild. "The UCs and CSUs both provide health insurance for their part-time faculty, but many community colleges do not …" Chee said. "Starbucks, REI, and some parts of corporate America provide health insurance for part-time workers, but higher education does not? It is a sad day when the corporations treat workers better than liberal academics. We have to take better care of our own." Delegates passed the resolution with resounding support.
Using the momentum from the resolution's passage, Chee and other part-time faculty advocates in the Guild recently worked with the local executive board to reaffirm, by a 95% vote, a 2016 motion declaring "healthcare is a human right," and calling on the Guild to "advocate for adjunct faculty on seniority to receive 100% of health insurance as a paid benefit (based on the cost of the most popular CalPERS health insurance plan)."
The second adjunct-specific resolution passed at CFT Convention addresses an increasing problem for adjuncts — having to take redundant mandatory trainings in separate districts. Resolution 7 — Support faculty training that is transferable and equitable in the community colleges — simply asks CFT to advocate at the Chancellor's Office "to ensure that any training required or recommended by the Chancellor's Office be equitable and transferable between colleges and districts." It also calls upon CFT to support legislation mandating that training be compensated equitably and be transferable between colleges and districts.
As a result of SB 778 in 2019, all faculty are effectively required to take two hours of training regarding sexual harassment training including abusive conduct. The importance and value of this training is not in question. The issue is that for adjuncts teaching in multiple districts, they will be required to repeat the same, often unpaid training, multiple times.
As an example, adjuncts teaching in the San Diego Community College District are required to do their training online through Keenan SafeColleges.com, which is in fact the same training used by Southwestern College in Chula Vista, where many San Diego adjuncts also teach. With no reciprocity agreement in place, adjuncts have to take the training twice, whereas the full-time faculty are either institution only have to complete it once.
With the prospect of potentially more mandated training on racial equity and diversity, or mandatory reporting, the prospect of adjuncts being hit with multiple redundant mandated trainings is real.
This is also an issue at Palomar College, where Barbara Baer, co-president of the Palomar Faculty Federation, reports that their local negotiating team is calling for the administration to accept equivalent mandated trainings from other schools. As Palomar already required a set number of professional development hours prior to the mandated training, the negotiating team is also arguing for mandated training to be paid.
"It is therefore in the best interests of the administration, to accept trainings done in other districts," Baer notes. "First of all, it will be easier to bring more adjunct faculty into compliance, and second, it will ultimately save on training costs to the district."

— By Geoff Johnson, assigning editor of Part-Timer newsletter, member of the CFT Part-Time Faculty Committee and the AFT Guild, San Diego and Grossmont-Cuyamaca Community Colleges