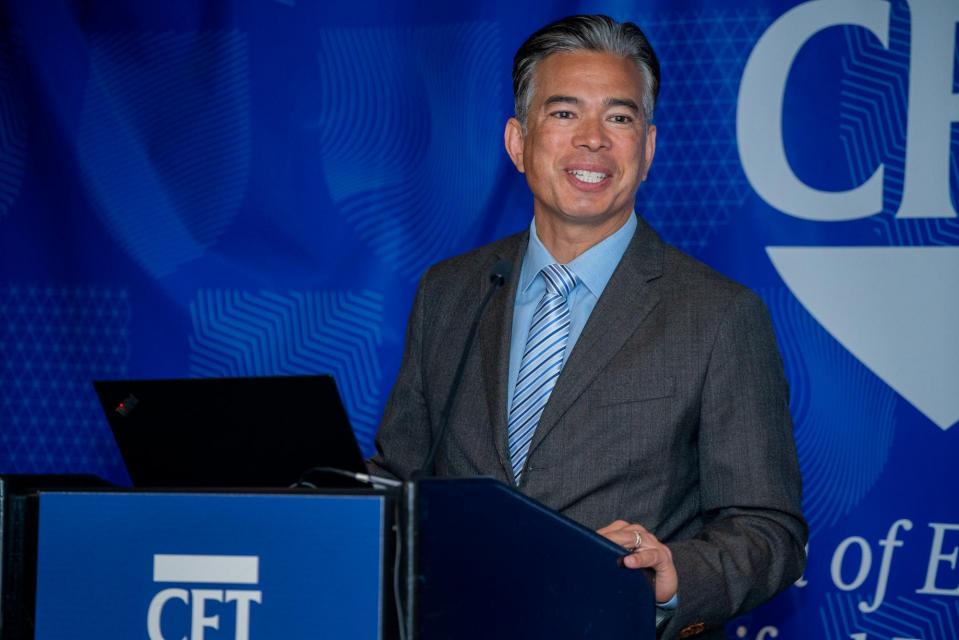 California Attorney General Rob Bonta kicked off the State Council meeting on Saturday morning, March 19. After an introduction by CFT President Jeff Freitas who talked about Bonta's commitment to going after people who use their power to harm others, demanding corporate accountability, and fighting for public education, Bonta came on stage.
He talked about how the encouragement and support of staff, coaches and teachers had made it possible for him to go to college and then to law school.
"I am a product of California public schools," he said. "That has changed my life and opened doors for me."
Bonta also said he appreciated the support of the CFT as an organization, as well as seeing personally the commitment of his two children's public school teachers.
"You have met the moment," he said. "You are going above and beyond."
Bonta told stories about his parents, who he said didn't just talk about advocating for racial and social justice, they showed him by working with the United Farm Workers. Bonta talked about how his father would get cassette tapes in the mail from a friend with recordings of a man in Alabama, talking about fairness and justice.
"My father would eagerly await the tapes and tear them open when they came," Bonta said. "It was the voice of Martin Luther King, Jr., and he felt called by that voice."
This led to his father taking a three-day Amtrak trip to join King in Selma to organize for civil rights.
Seeing his parents fight for workers made him dream of having the power to help, Bonta said. He mentioned some of the things he's done as attorney general, such as suing Walmart for illegally dumping and winning a lawsuit against the online for-profit Ashford University so they have to pay $22 million for defrauding students. His office also won a suit against the student loan servicer Navient, resulting in restitution for borrowers and the cancellation of student loan debt.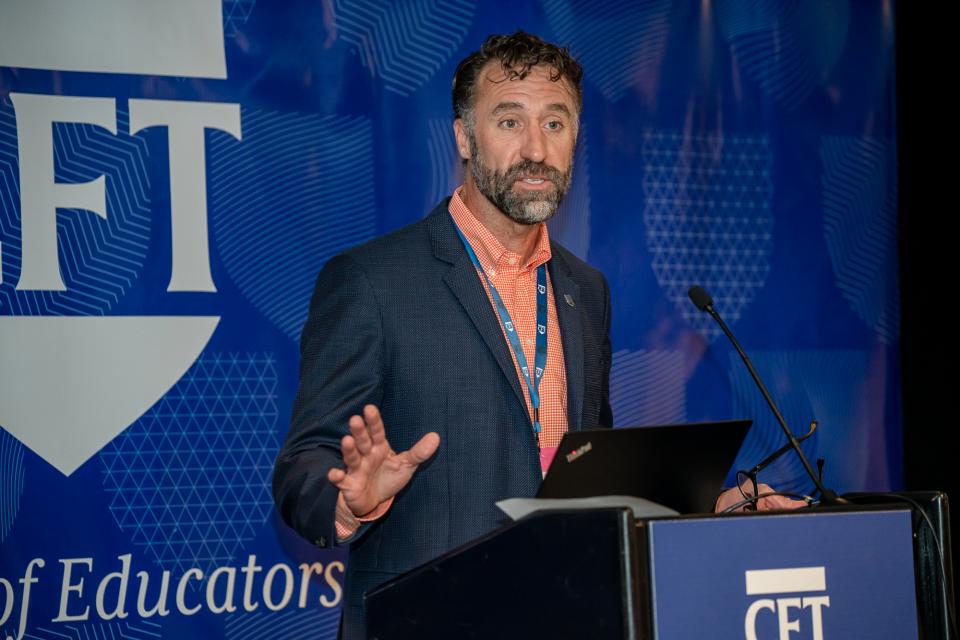 After Bonta spoke, Freitas came on stage and said California is lucky to have leaders like him and talked about the attacks on educators and the banning of books in Florida, Idaho, Tennessee, and other states.
CFT will only increase its efforts to protect students and educators as a result of these attacks, Freitas said, adding that Senior Vice President Lacy Barnes was heading up the union's Racial and Social Justice Task Force.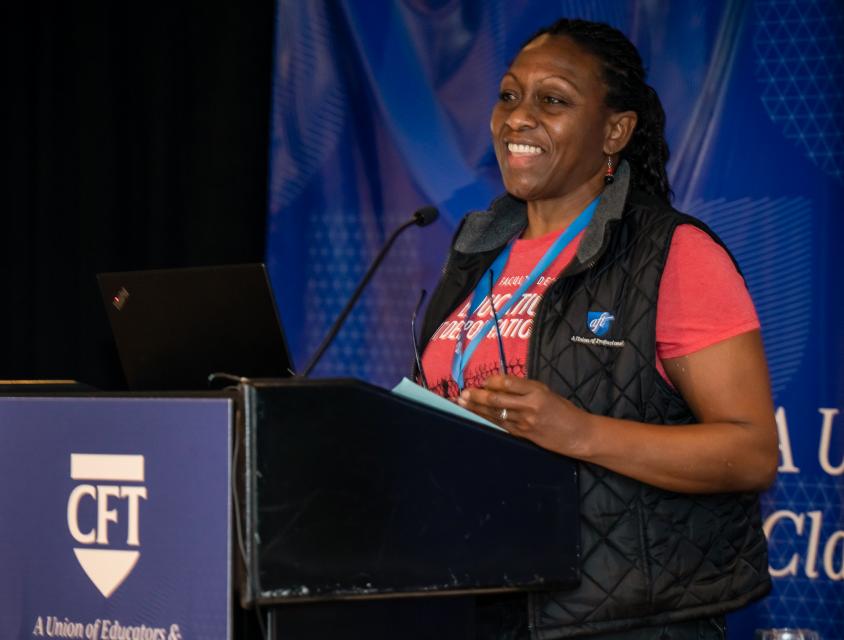 Freitas also talked about legislative efforts the CFT is sponsoring such as AB 2289, a tax on extreme wealth.
Inequity has only grown during the pandemic, Freitas said, with the number of billionaires in the state climbing from 154 in March 2020 to 189 now, a 20% increase.
A major priority for the CFT is healthcare for part-timers in community colleges, Freitas said, and to fund it, Governor Newsom recently proposed $200 million in the state budget. In previous years, that number has been less than half a million, so it's a staggering increase. (Learn more about our campaign)
The State Council delegates also passed six resolutions, most of them unanimously, with members rising in support of the resolutions.
John Govsky, CFT vice president and member of the Cabrillo Federation of Teachers, moved to pass a resolution to develop a plan to end the two-tier system in community colleges, something that's been talked about for the last 20 years, he said.
"Essentially, for decades in the community colleges, we've had a caste system for faculty," he said. "We have never really said, 'What do we want our community colleges to look like?,' so we need to do that and then figure out how to get there."
Steve McDougall, CFT vice president from the Salinas Valley Federation of Teachers, moved a resolution in support of educator recruitment and retention, seen as vital with the current shortages of all education employees. It calls for new incentives for college students to complete teacher credentialing programs and for a college loan forgiveness program for those students. It also seeks higher minimum salaries for beginning certificated employees, a living hourly wage for paraprofessionals, and expansion of para career ladders.
Tobin Keller, an art teacher from the Cabrillo Federation, moved a resolution critical for higher education to end restrictions on students in community colleges taking a class again. CFT passed a similar resolution several years ago but Tobin said it needs to be updated and refreshed. Joanne Waddell, CFT vice president from the Los Angeles College Faculty Guild, joined on Zoom to say that classes like art, music, theater, and journalism "put and keep the community in community colleges." She added that some classes can't be mastered in a single semester and the restrictions was one of the reasons for declining enrollment in community colleges.
Kelly Mayhew, from San Diego's AFT Guild, Local 1931, rose to support a resolution for not only divesting AFT members' retirement funds from fossil fuels, but reinvesting them in projects to benefit displaced workers.
"This is a moral issue," she said. "Our planet is facing a cliff."
Another resolution dealing with the climate called for implementing a carbon fee to reduce greenhouse gas admissions. Doug Orr from the Retiree Chapter of the San Francisco Community College Federation rose to speak in support. Orr said he got his doctorate in economics partly to work on environmental issues through that lens.
"If the price of polluting the environment is free, then we're going to do it," he said. "If there's a price on carbon, we'll use less of it."
The last resolution called for putting a cap on special education caseloads, which are currently at 28. (See related story)
Ingrid Gunnell, AFT Local 1021, rose to support it. "As a K-12 teacher, all of us are special ed teachers," she said. "The special ed situation is dire. Caseload caps are very important."
— By Emily Wilson, CFT Reporter