Part-Time Faculty Committee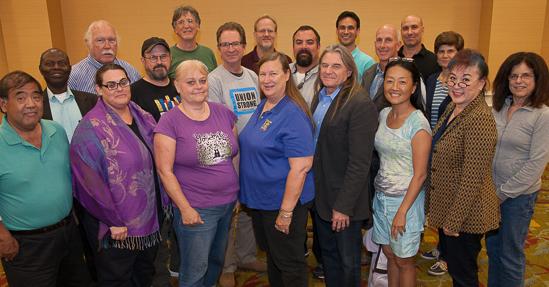 The purpose and goal of the CFT Part-time Committee is to advance, through political action and collective bargaining, the interests of contingent faculty in both public and private higher education.
COMMITTEE PROJECTS
Campus Equity Week Toolkit: Our committee has prepared a resource-rich online toolkit and guide to action for faculty and students.
Part-Timer newsletter: Advocating for the rights of part-time faculty and covering issues of relevance to part-timers.
Issue Paper on Part-Time Faculty: A single sheet summarizing the crisis of contingent labor in higher education and how we got here.
Committee members
Linda Chan, Co-Chair, Citrus College Adjuct Faculty Federation
John Govsky, Co-Chair, Cabrillo College Federation of Teachers
Barbara Baer, Palomar Faculty Federation
Brad Balukjian, Peralta Federation of Teachers
Joshua Briggs, AFT Part-Time Faculty United
Grace Chee, Los Angeles College Faculty Guild
Philip Crawford, San Jose/Evergreen Federation of Teachers
Michael Dixon, Ventura County Federation of College Teachers
Cheryl Elsmore, AFT Part-Time Faculty United
Greta Enzer, Los Angeles College Faculty Guild
Geoffery Johnson, AFT Guild, San Diego & Grossmont-Cuyamaca Community Colleges
Michelle Meyer, Los Angeles College Faculty Guild
Elaine Robinson, Yuba College Federation of Teachers
Jory Segal, San Jose/Evergreen Federation of Teachers
Seth Slater, AFT Guild, San Diego & Grossmont-Cuyamaca Community Colleges
Bobbi-Lee Smart, Cerritos College Faculty Federation
Linda Sneed, Los Rios College Federation of Teachers
Kenneth Taira, Los Angeles College Faculty Guild
Juliann Wolfgram, Glendale College Guild
Frank Oppedisano, Staff Liaison