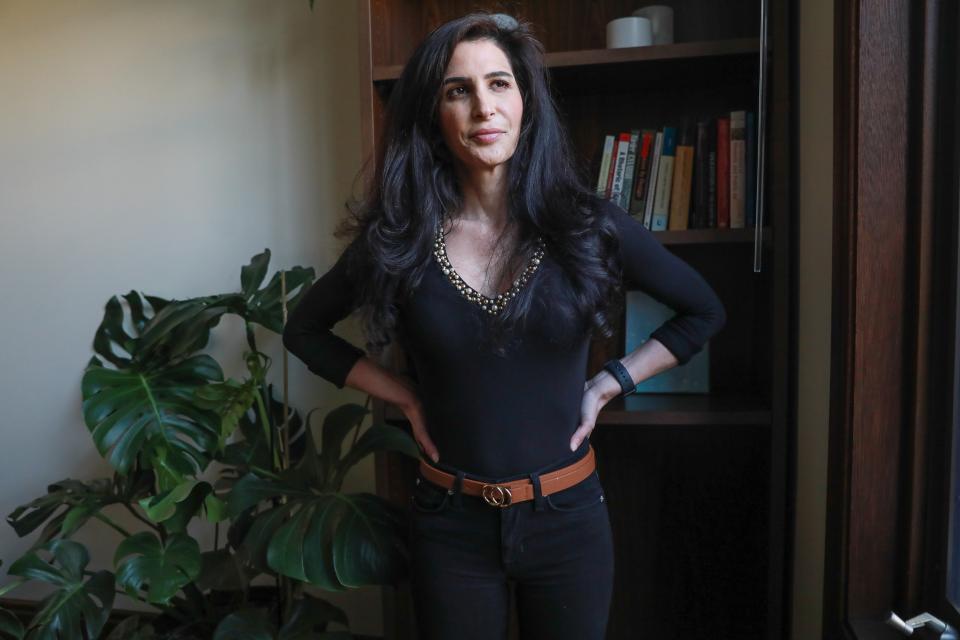 Samira Rostami has taught Communication Studies at Grossmont College since 2014, as well as at four other San Diego area higher ed institutions including the University of San Diego. Her health took a dramatic turn for the worse shortly after area campuses closed in late March 2020 due to the COVID pandemic.
After having a miscarriage, she developed a still-to-be-identified autoimmune disorder that causes excruciating stomach pain. Later Rostami found herself experiencing migraines, jaw pain, and trouble swallowing, which after multiple consultations with doctors was revealed to be a rare condition called Eagle's Syndrome.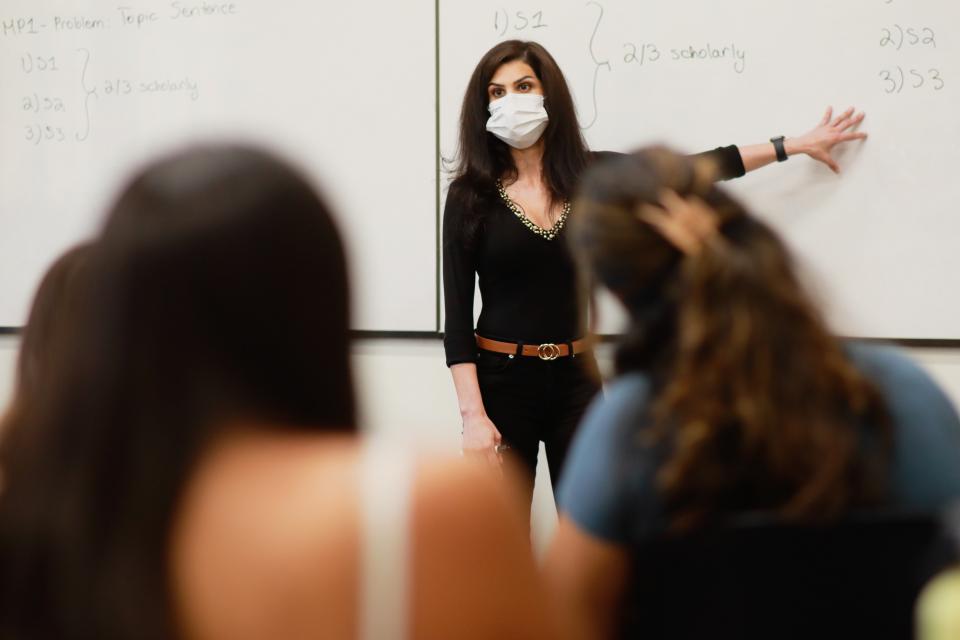 To complicate matters, Rostami suffered a spinal injury which led to her developing a rare, progressive, and generally incurable neuro-inflammatory disorder, ranked as the most painful chronic pain disorder known to doctors by the McGill Pain Index.
Rostami has a strong desire to speak out about healthcare equity because she wants part-time faculty to have access to needed healthcare so as to avoid a situation like hers. "Our working conditions affect our ability to have compassion," she said.
Rostami endures near daily doctors' visits and treatments including the direct injection of anesthetic into her neck which leaves parts of her body temporarily paralyzed. Despite this, she still teaches six classes at three different schools. Because of struggles with her primary district insurer and a later PPO she joined, Rostami has accumulated almost $80,000 in medical bills.
Ironically, her medical condition makes it difficult for her to sit for extended periods of time, making face-to-face teaching preferable at a time when face-to-face sections are limited, let alone for part-time faculty. Presently, Rostami is under the 50% teaching load threshold necessary for her to get health insurance.
Still through all the pain, Rostami wants to teach. "When I go into the classroom, no matter how hard everything is, it goes away," she says. "I'm a better person walking out than going in."
CFT is leading the way in a campaign to secure healthcare for part-time faculty. After the union organized 1,400 members to send letters to the governor and legislators about the critical need for part-time faculty healthcare, Governor Newsom proposed $200 million in his state budget to fund healthcare for part-timers. This ongoing funding is an astonishing increase of more than 400 times the former allocation of $490,000. Now CFT is organizing to keep that $200 million in the budget. Part-time faculty need affordable, quality healthcare to carry on teaching.
• • • • •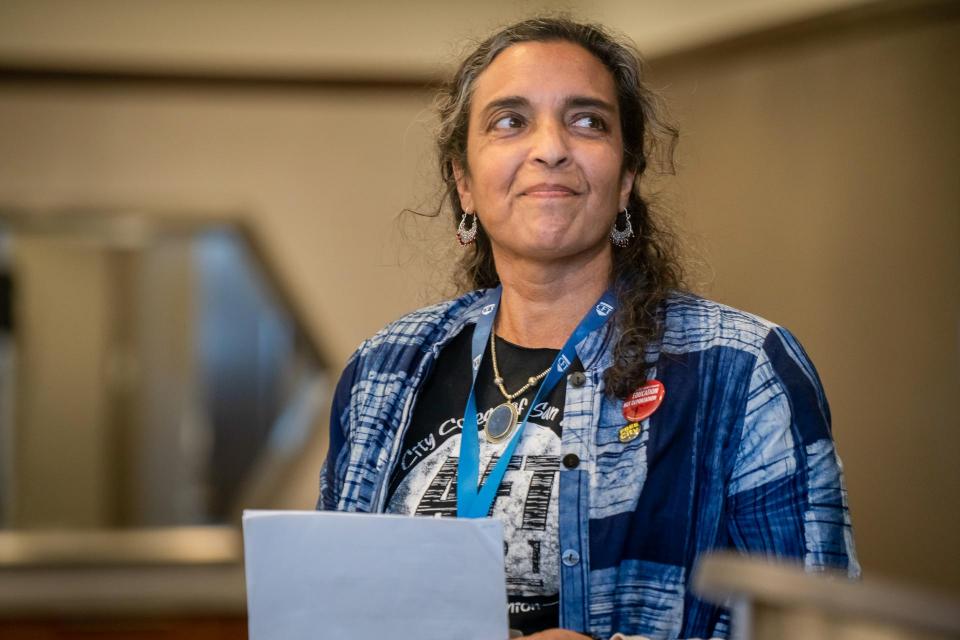 For Tehmina Khan, who teaches English and Interdisciplinary Studies part-time at San Francisco City College, the semester-to-semester fear of being dropped from district coverage is akin to "walking the tightrope." Over the past decade, the San Francisco Community College District has seen a 65% drop in student enrollment.
Presently, there are no assignments for part-timers in the English department. "What has saved me is that I teach in two disciplines and was able to pick up a two-unit lab course — this and lab tutoring and the 30% release time I pick up as a grievance officer for my union," Khan says.
The value of having coverage for Khan is significant. In 2014, she was diagnosed with dermatomyositis, an autoimmune disorder which causes severe skin and muscle irritation, meaning that even the simple act of brushing one's teeth can result in burning pain. Through her district health insurance, Khan was able to get a referral to a dermatologist, proper treatment, and the medication she needed.
Khan's husband has health coverage, but were she to lose coverage and go on his plan, it would add up to $600 to their family's monthly expenses — a double blow considering Khan's loss of coverage would be caused by a loss of assignment, which in itself is a loss of income.
Even where part-time faculty in theory have access to good healthcare coverage, such coverage is dependent on maintaining a full-time equivalent (FTE) teaching load of 50% or higher — a great challenge during these times of pandemic-related declining student enrollment.
• • • • •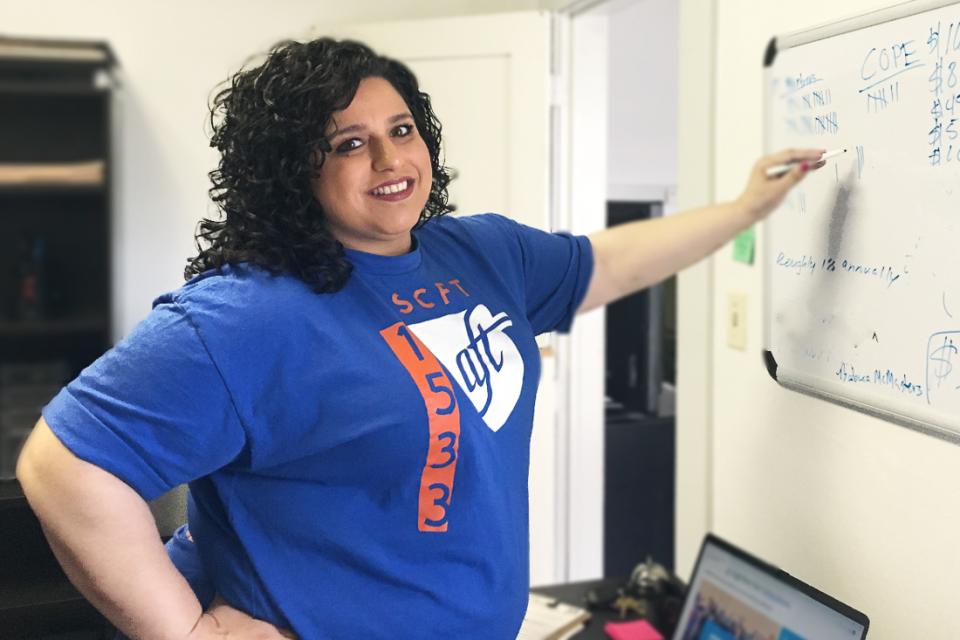 For Bernadette Moordigian, a part-time teacher of Abnormal and Biological Psychology at Fresno City College, the healthcare issue is one which goes beyond personal health concerns. Recently, Moordigian took part in the local union's "Wellness Fest" at Fresno City College, speaking directly to the issue of part-time healthcare as a part of a panel called "Dying to Teach."
During her panel presentation, Moordigian said approximately 2,000 instructors at State Center Community College come into contact with roughly 69,000 students per year, and 70% of those instructors are offered very short-term or no health insurance at all.
Moordigian, who has educational experience in clinical psychology, still has had a problem common to part-timers and hit her personally — in a district with the third lowest part-timer pay in the state, and with teachers constantly worried about classes being dropped, they can't afford to take time off.
This happened to her in 2017 with devastating consequences. "I contracted a virus that began working through my system," Moordigian explained. "I tried working during this period but the illness ultimately led to temporary paralysis."
Her subsequent treatment required months of additional therapy. "I had to learn how to type again," she said. In the end, Moordigian was left with medical bills in excess of $80,000, and while much of it was forgiven due to financial hardship, she was still left having to pay $10,000. This is on top of the $130,000 she still owes on student loans for acquiring her master's degree and doctorate. "It ruined me financially. I had to constantly move, and couldn't afford to live on my own until 2020," she said.
As an expert in mental health, Moordigian expressed overall concern with the mental health of part-time faculty in the State Center district. She cited a recent survey conducted by her union, the State Center Federation of Teachers, in which 26% of respondents expressed that healthcare concerns alone had a negative impact on their mental health. Moordigian recounted with some horror and shock the story of one anonymous part-timer who dealt with four miscarriages during her time as a part-timer.
Through all this, Moordigian has retained not only her desire to teach, but her desire to teach at Fresno. "I want to be where I am," she says. "I was born and raised here. I love the area…it has good people, and it's extremely diverse."
— By Geoff Johnson, assigning editor of Part-Timer, member of the CFT Part-Time Faculty Committee and the AFT Guild, San Diego and Grossmont-Cuyamaca Community Colleges