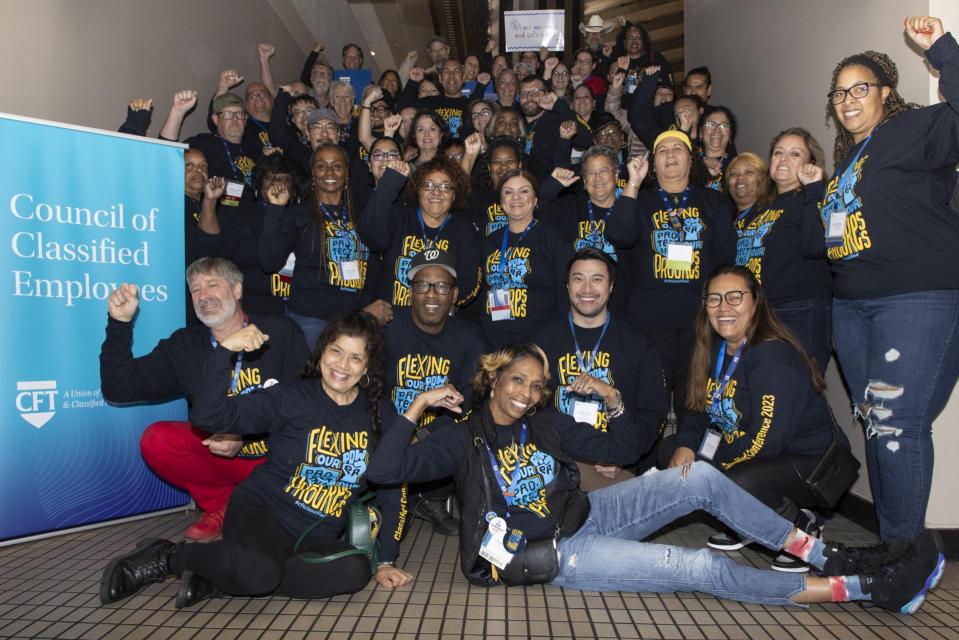 The annual Classified Council of Employees Conference took place at the Hyatt Regency in San Francisco October 27-October 29. The theme of the conference was Flexing Our Power – Protecting Our Progress. Some of the local wins over the past year that were discussed by members included a six-figure settlement for employee overtime, paraeducators getting a living wage, and bilingual employees' checks reflecting their expertise.
Another way that classified professionals are flexing their power is with the first ever rally on the steps of the state capitol for classified professionals the CFT is planning on May 21, 2024. The rally aims to raise awareness to the issues that classified workers face and legislation that would help progress working conditions.
Along with talking about wins and the fights ahead, attendees danced, mingled, participated in a game show, and bid on auction items like lunch with the president of Classified Council of Employees, Carl Williams. Classified professionals also heard from speakers, including CFT president Jeff Freitas, Assemblymember Mia Bonta, and CFT Secretary Treasurer Lacey Barnes.
Williams told his colleagues that showing off their power could break down the silos they were in and lead to great things. Freitas talked about the need for not just a living wage, but an enjoyable wage, as well as fighting for all educators and keeping kids safe. Teanna Tillery, the Vice President of Paraprofessionals at United Educators of San Francisco, blew her whistle while walking up to the stage, the same way she did when the local announced their campaign for $30 an hour for paraeducators, which they got at five in the morning on October 17.
Members heard from Mia Bonta, who represents the 18th Assembly District (which includes Emeryville, Alameda as well as a large portion of Oakland) about how classified staff members, such as a custodian, an office worker and a nurse made her feel safe when she went to school in the Bronx.
They also heard reports about the status of legislative bills, including wins such as AB 5, which will provide training to make sure LGBTQ+ pupils feel safe at school, and SB 88, which calls for private drivers transporting students to meet the requirements of school bus drivers.
Classified professionals also attended workshops on subjects like CPR and first aid training, anti-racist actions, student loan debt, and mental health awareness.
And they had a good time. A few of the attendees were talking about their sore knees and backs on Sunday morning after a night of dancing at a social event where some decked themselves out in sports attire.
On Sunday morning, Williams hosted a game show, Kahoots, as well as a silent auction and a raffle, with money raised for scholarships so members could attend CCE events like this conference.
And the date, May 21st, 2024, was mentioned more than once — maybe more than a dozen — times. It was an answer to the last Kahoots question and Bonta brought it up as well, saying she would be sure to be there on the steps of the state capital building for a rally of all classified professionals. CFT passed a resolution to fund the rally at the last convention.
Watch this video of the highlights from the conference here.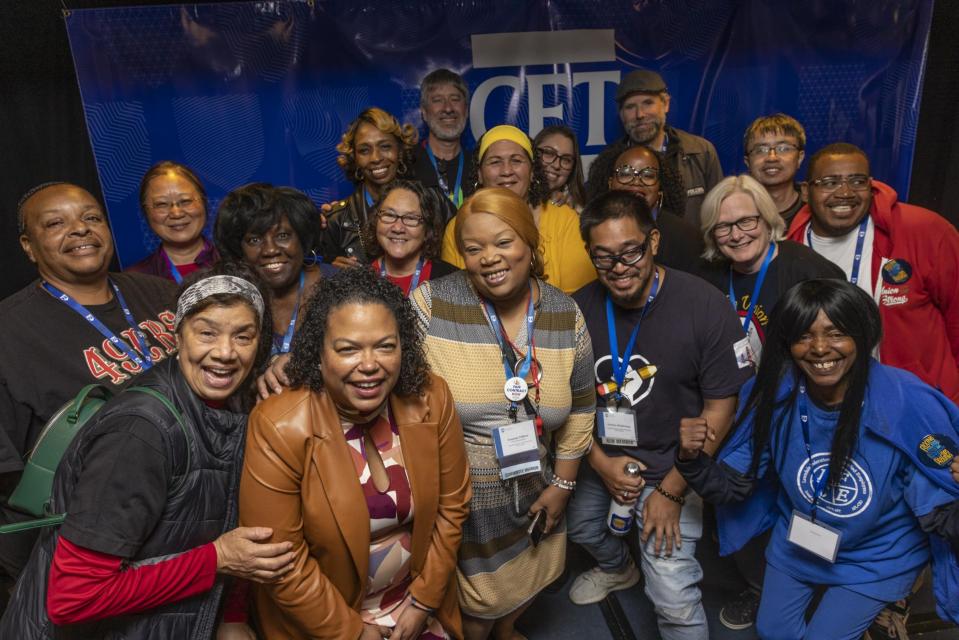 Written by Emily Wilson