Order the CFT History Book
70 Years: A History of the California Federation of Teachers, 1919-1989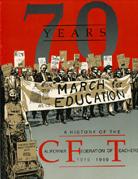 This overview history of the statewide federation also features more than 40 local histories. What do the lessons of CFT's past hold for the present? Why is the CFT a state federation, and affiliated with the AFL-CIO? Who were some of the most famous members and leaders of the CFT (example: Robert Oppenheimer).
This 128-page soft-cover book is available in hard copy only and costs $5.
The transaction will go through PayPal, but you do not need a PayPal account to make a purchase. If you have any questions, please contact the CFT Bay Area office.
COVID-19 UPDATE: Please note that our offices are closed during the pandemic and your order will be delayed.