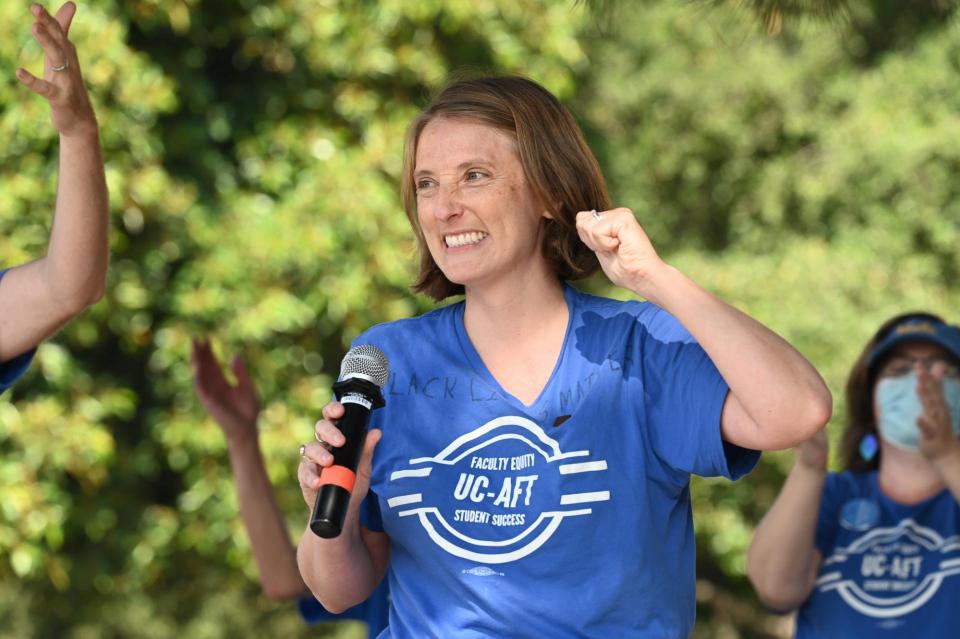 By Mia McIver, President, University Council-AFT
When I was elected president of University Council-AFT in 2017, I never could have predicted that the next five years would be as tumultuous as they turned out to be. I also could never have foreseen how our union of University of California lecturers and librarians would organize, build power, win contracts, and accomplish gains that far exceeded my hopes and expectations.
As I'm preparing now to step back from the UC-AFT Executive Board, I'm reflecting on how the story of my union leadership encompasses both of these seemingly paradoxical elements. The contradiction is only apparent, however. We organized to overcome every issue we faced. As each year brought fresh challenges, we organized before, during, and after, and in every single case grew stronger than we had been before.
In 2017, I was serving as UC-AFT's vice president for organizing, when I ran for president to put organizing at the center of all our efforts. After being trained at CFT Union Summer School in how to develop a site rep network, I brought the lessons home and shared them with other emerging UC-AFT leaders.
Building an effective organizing structure was urgently necessary in advance of the U.S. Supreme Court's decision in Janus v. AFSCME, the case that forced dues-paying union members to subsidize union representation for workers who don't pay their fair share. Today, because we remained unbowed in the face of right-wing attacks on working people, more lecturers and librarians are full-fledged UC-AFT members now than in the pre-Janus days.
The importance of talking with bargaining unit members about their work, the pride they take in it, and their wishes for change became highly apparent in 2018 and 2019 as UC-AFT librarians dug deep to fight for a fair contract. I remember traveling to each UC campus, meeting with librarians, and asking them to join our bargaining team. I cherish those conversations and the awakenings they sparked as rank-and-file members began to understand that they had the power to make a difference.
Our campaign won recognition from the UC administration of librarians' academic freedom as well as raises of at least 26% for most members over the life of the contract. Leaders from the 2018-19 campaign have remained active in our union governance since then and are now gearing up for the next round of negotiations, so stay tuned.
As librarians were settling their contract in April 2019, lecturers were just getting started. With a 38-member contract campaign committee and an ambitious set of bargaining demands aimed at overhauling the two-tier system of tenure-track and non-tenure-track faculty, we were not messing around. When life shut down because of COVID-19 in March 2020, we were out of contract and already building toward strike readiness.
COVID, of course, threw a wrench in the works, and UC management sought to leverage the disruption by forcing us to settle prematurely. We persisted, we organized, we built out our Contract Action Team, and, most importantly, we invited our entire bargaining unit into negotiations, which were happening by Zoom.
We insisted on open bargaining from the start, and many members took advantage of bargaining sessions on UC campuses to see for themselves what the administration's representatives were saying about their work (spoiler alert: it wasn't good). Open bargaining also fostered greater solidarity across different types of UC workers and different UC unions. Some tenure-track UC faculty were particularly shocked by what they heard from the Office of the President and were moved to support our cause.
Zoom bargaining during COVID made this engagement possible on an enormous scale. Some bargaining sessions were attended by 500 observers. When UC management refused to respond constructively and collaboratively to the problems we had amply documented for two years, and it was time to escalate to a strike authorization vote, our members knew what was at stake and why it was necessary.
I remember the night our contingent faculty contract campaign committee voted not just to authorize a strike but to actually walk out if UC management continued to commit unfair labor practices. It was a solemn and weighty evening. I felt an enormous responsibility to all our members who would be putting their livelihoods on the line to win a greater degree of equity. When the vote to strike was unanimous, I understood that what we had built went so far beyond me as an individual. Management caved not long after that: 30% raises, multi-year appointments, rehiring rights—a full package of reforms that would keep excellent teaching faculty in the classroom with their students instead of arbitrarily hiring and firing them with a revolving door, gig economy employment model.
There are plenty of other UC-AFT accomplishments from the past several years of which I'm extraordinarily proud. Preventing layoffs and protecting members' health and safety during the COVID-19 pandemic is at the top of the list. Unifying what used to be separate local unions into one single, more powerful UC-AFT. Also, joining with higher ed workers from around the country to build solidarity and power at a national level through coalitions such as Scholars for a New Deal for Higher Education and Higher Education Labor United.
Here in California, we revitalized UC-AFT's legislative agenda, leading to the successful passage of Assembly Bill 1550, which ensures that collective bargaining rights and contingent faculty enfranchisement in shared governance will no longer be mutually exclusive at the UC. I'm also proud of the way we've consciously and intentionally elevated our anti-racism efforts and established a member hardship fund to provide mutual aid.
Since I've been UC-AFT President, I myself have gone through multiple personal transformations. I got married; I had a baby; I got promoted into a position with more job security that courageous UC-AFT activists went on strike to win 20 years ago. I have tried to use that privilege for good, as have many of our other leaders and activists. Our recent collective bargaining agreements have been highly progressive, focused on the needs of the least advantaged members: those at the lower end of the salary scales, those with more temporary and precarious positions. Achieving these gains required real unity among members who prioritized solidarity over self-interest.
I'm stepping back as an expression of solidarity, because I believe that rotating leadership is an essential characteristic of democratic governance. It's time to pass the baton to our next leaders, to trust in them and have faith what we have built in the past five years will be the foundation for more powerfully good things to come.