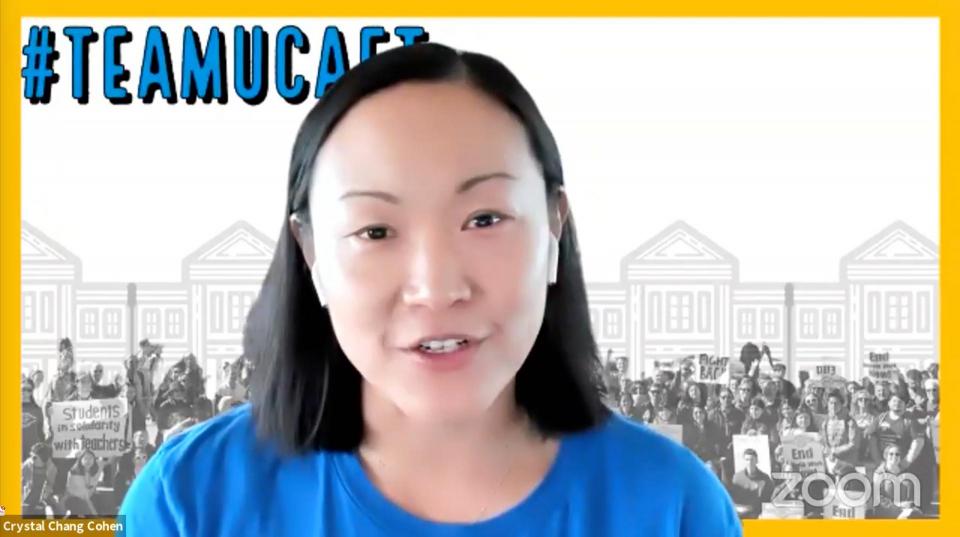 Update: On June 1, UC-AFT members voted to authorize a strike, with a "strong majority" of nearly 7,000 members turning out for the vote, and 96% voting to authorize a systemwide strike should the UC Office of the President fail to meet UC-AFT's collective bargaining demands.
When lecturers at the University of California fought in 1984 to win recognition for their union and the right to bargain, their biggest issue was job security. The university had a barbaric rule — lecturers were automatically terminated at the end of three to eight years of teaching, depending on the department. If, indeed, they lasted that long. At UC Santa Cruz, lecturer Roz Spofford proudly told her colleagues, "Our local was the first to fight the 'four year' rule. With AFT support, we were able to save the jobs of lecturers statewide."
These contingent faculty members voted for the union by an overwhelming majority in one of the first elections held under the Higher Education Employer-Employee Relations Act. They then went into negotiations. It took two years to win agreement from the university on their first contract, and its signal achievement was ending the termination rule.
Other contracts followed. After strikes on some campuses in 2002 and a three-year campaign, the union won continuing three-year appointments for lecturers who complete six years of teaching and pass an exam, jokingly called by some "passing through the eye of the needle." The university has to renew the appointments so long as classes are available the lecturer can teach.
Today, however, job security is still the most important issue for lecturers, especially for those still trying to reach the six-year goal. Only 7.8 percent of lecturers since 2003 have had continuing appointments. According to John Branstetter, president of the UC-AFT at UCLA, it is difficult for lecturers to reach continuing status, because the closer they get to the six-year goal, the likelier it is they won't be rehired.
The solution put forward by UC-AFT is a system to protect the job rights of lecturers as they continue teaching, especially their right to be rehired from one year to the next. But the unwillingness of the University of California administration to recognize job security as a key issue is preventing agreement on a new contract, although the old one expired over a year ago.
Although the administration is loath to admit it, the university has a de facto policy of churning the lecturer workforce. Forty percent of the contracts for lecturers with less than six years are not renewed for the next year. "We teach a third of all the credit hours on campus," says UC-AFT President Mia McIver. "But over half of lecturers teach one year or less, and the average length of service is less than two years. UC negotiators continually hide behind management rights, and say they shouldn't have to give a reason for not rehiring someone. What they really want is contingent employment with no evaluations and no due process."
Shannon Garland is a lecturer at UC Merced who faces this rehiring uncertainty. "I'm 39 and I still don't know if I'll have a job in another month," she says. "I have a PhD in ethnomusicology, I read scholarly texts and pick out information for my students. I've been researching and writing for 15 years. I taught at UCLA, Columbia and Fordham, and taught in Chile, Korea and New York. It's kind of ridiculous, but it really erodes your confidence."
Low pay for lecturers increases the lack of security. Median annual salary for a UC lecturer is $19,067, which, according to the Department of Housing and Urban Development, puts an educator in the low-income bracket in six of the UC campus communities.
"I think a majority of our members are freeway flyers as a result," Garland says. McIver previously taught at Loyola Marymount University in the morning and UC Irvine in the afternoon. The problem has plagued lecturers for years. In the rally that preceded voting in the original 1984 union election at UC Santa Cruz, Cesar Chavez came to show support. Lecturers are like farmworkers, he joked, "since you have to live out of your cars and travel from job to job, just as we do."
Yet the issue of job security is so important that "it rivals compensation as the top issue for our members," according to McIver. The union bargaining bulletin explains: "At least half of our current members will never see the raises management offers because they'll be disemployed when their appointments end. Living and sustaining raises are essential, but if a lecturer has lost their job, they're meaningless. We won't be distracted by dangling dollars when our members experience hunger, homelessness, loss of insurance, and mental health crises because they're dismissed for no fault of their own."
McIver says the union isn't pressing for a strict seniority system. "We're interested in high-quality teaching, so we haven't proposed automatic rehiring. But we want fair evaluations, where people are evaluated on the quality of their teaching, and the right of lecturers to continue teaching a course before the university can hire someone new."
In addition, the union wants multi-year appointments for pre-six lecturers, instead of forcing them to get rehired every year. "We want two year contracts," Garland explains, "with a new appointment at the end of each one, and an assessment after the first year using clear evaluation standards and evaluation by our peers, not just student evaluations."
University administrators, however, have been unresponsive, and negotiations have been going on for over two years. "UC uses delay as a tactic," McIver charges. "There's no UC proposal on rehiring rights or on common sense evaluations. Yet these are things that exist in the community college and state university systems."
When the UC-AFT contract for lecturers expired on January 31 last year, the administration showed its first sign of movement, she says. "Then they actually withdrew their proposals after the pandemic started. Our campaign therefore escalated when the contract ended."
Garland is the new chair of the Escalation Committee. Uncertainty, for her, was a motivator for becoming active: "I just kind of had enough," she laughs. But she'd also been in the graduate student union at UCLA, and was elected steward and recording secretary. "It's where I developed my political awareness," she recalls, "especially about the importance of workplace democracy. If you want to change the world, the workplace is where you can actually do it."
On April 1 the union adopted a strike readiness pledge — a commitment to strike if the administration doesn't respond. "We're ramping up a militant spirit, showing our power, and recruiting new members," Garland says. Adds McIver, "There's a silver lining to organizing by Zoom, which is that we're able to bring people together where we couldn't before. We've had up to 500 people in bargaining sessions. Unfortunately, a credible threat is necessary to get the university to move." She calls a strike "a short-term sacrifice for a long-term essential improvement in working conditions and teaching conditions."
Garland says the union is building support over the summer, in preparation for the resumption of classes in the fall. "Our real base of support is our students," she explains. In addition, lecturers receive their appointment letters on June 1 or July 1, depending on the campus, which will focus attention on job security.
The day after adopting the strike resolution, UC-AFT joined other unions in writing to UC President Michael Drake, supposedly brought in by the UC regents to repair the dismal relations between the administration and UC workers. Despite labor efforts that won the university over $2.2 billion in federal COVID-19 relief funding, " UC Labor Relations has not proposed any ways to meaningfully reduce lecturer turnover rates," the letter said. "Meanwhile, lecturers are suffering layoffs and arbitrary non-renewals. Our members cannot accept being asked to do more, with less, while the university receives billions of additional funding which the unions helped secure."
A Zoom rally followed, featuring speeches by CFT President Jeff Freitas and AFT President Randi Weingarten, building additional activism. UC Berkeley lecturer Crystal Chang Cohen, who chaired the event, spoke for her coworkers throughout the system: "We're fighting for a fair contract with hiring rights, job stability and a living wage. We're fighting for our livelihoods, our families, our students, a more equitable and just university, and frankly, our dignity."

— By David Bacon, CFT Reporter