Several months ago, when Congress began the budget reconciliation process, there were significant aspirations that the final bill would result in a significant uptick for higher education, including funding for free community college.
Unfortunately, many of these aspirations had to be pared back, with the provision for free community college likely to be dropped from the bill. Remaining though are the call for more Pell Grant monies for low-income students, college completion, and vocational education, with limited funding for HBCUs (Historically Black Colleges and Universities).
Still, AFT and the nation's major education unions, along with advocacy groups, are pressing forward in their efforts to improve education funding, and with them faculty and worker conditions.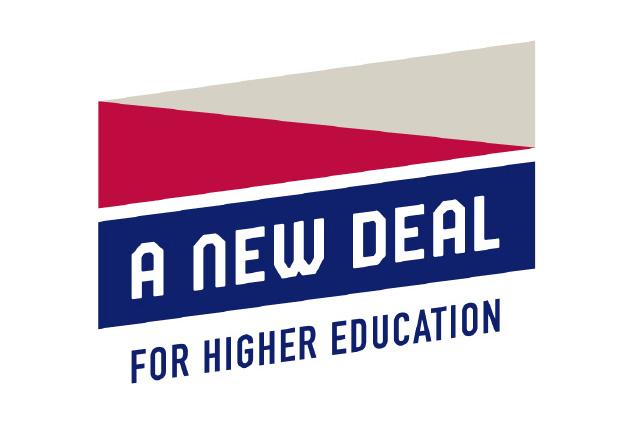 The New Deal for Higher Education is a collaborative effort of AFT and AAUP and reflective of this effort. The New Deal aims to take back higher ed from "declining state support, the erosion of tenure and shared governance, the increased use of contingent appointments, and the loss of the faculty voice that threatens the core mission of higher education in our society."
While still focused on budget reconciliation, the New Deal has always been a larger campaign fighting for a more equitable society through higher ed by promoting racial and socioeconomic justice, strengthening a democratic and civil society, and fostering knowledge and innovation. The CFT affirmed its support for the New Deal in March.
Now emerging from this campaign are new partner groups. On August 11, the six main national educational unions AFT, NEA, SEIU, CWA, AFSCME, and AAUP signed a group letter to Congress speaking to the objectives contained in the New Deal for Higher Education. Most significantly, with regard to part-time and contingent faculty, the letter stated: "Positions on college campuses should provide a guarantee of good pay, continuity of employment, and parity in wages and benefits between full- and part-time roles. Institutions should work as much as possible to convert existing short-term appointments of employees to longer term or tenure-track appointments."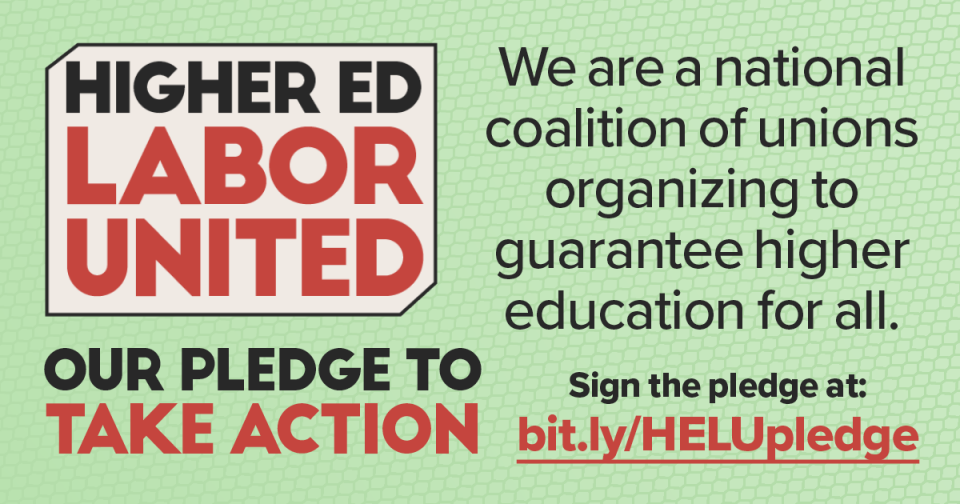 Another coalition group started in early July. Higher Education Labor United, or HELU, is a consortium of 98 higher education union locals (and growing) representing over 500,000 workers so far. HELU crafted a vision statement calling for, among other things, federal action to "improve the immediate working conditions for all contingent faculty and staff via employment standards that include job security, pay equity, healthcare and retirement benefits, caps on course loads and section sizes, caps on case management and student services loads, safe and harassment-free work environments, collective bargaining rights, and shared governance."
Niccola Walters, a Humboldt State University professor and HELU co-facilitator, said, "Higher Ed Labor United was formed because we are all saying that enough is enough."
Higher education today looks different from the image many people hold in their heads, she says. "Over the last 50 years of steady decline, higher ed workers, across categories, have been overworked, underpaid, disrespected, demoralized, denied dignity, and faced increased job insecurity.
Walters said watching the creation of HELU has been inspirational with its "unwavering commitment to what our educational institutions ought to be, and the power we are building to demand change."
Within CFT, two notable endorsees of HELU are the San Francisco Community College District Federation of Teachers, AFT Local 2121, and the AFT Guild, San Diego-Grossmont-Cuyamaca Community Colleges, AFT Local 1931. When asked about supporting HELU's statement, Guild President Jim Mahler called it a "no brainer."
CFT Senior Vice President Lacy Barnes attended HELU's Higher Education Summit in July. Barnes is a psychology instructor from the State Center Federation of Teachers who sits on the AFT steering committee for the New Deal. About HELU's efforts in the context of that campaign, she said, "Any time you can do coalition work, it's good work."
Whatever the outcome of the budget reconciliation process, the national movement to improve working conditions for adjunct faculty and other higher ed workers is growing. Efforts such as CFT's new campaign for part-time faculty healthcare and pay parity are being mirrored by other states.
In light of the struggles to gain more through reconciliation, AFT President Randi Weingarten, in a recent zoom meeting, spoke of the "need to take the fight forward to state legislatures" as a way to further the goals of the New Deal for Higher Education.
By engaging in multi-state, cross-union, and cross-labor sector coalition building, along with advocacy at the national level, the voice for higher education justice can only become stronger and more compelling.
— By Geoff Johnson, assigning editor of Part-Timer, member of the CFT Part-Time Faculty Committee and the AFT Guild, San Diego and Grossmont-Cuyamaca Community Colleges