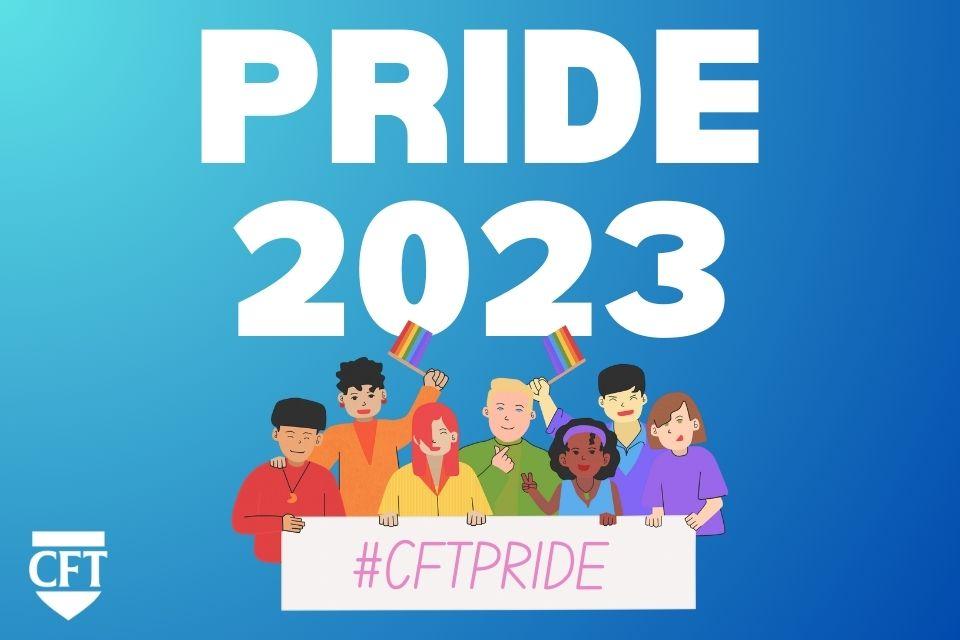 Early in the morning of June 28,1969, police raided the Stonewall Inn in New York City's Greenwich Village, a place where gay men, lesbians, bisexuals, and transgender people gathered. Police officers entered the club, roughed up patrons and arrested 13 people, including employees and people violating the state's gender-appropriate clothing statute.
Fed up with constant police harassment and social discrimination, a protest began and for the next five days, there was an uprising to resist police brutality and persecution of LGBTQ+ individuals. Though this Stonewall uprising didn't launch the gay rights movement, it was a galvanizing force for LGBTQ+ political activism. On the one-year anniversary, June 28, 1970, the first gay pride parade was held.
Celebrations for what is now known as Pride Month include parades, picnics, parties, workshops, symposia and concerts, and millions of people all over the world participate. The purpose of the commemorative month is to recognize the impact that LGBTQ+ individuals have had on history locally, nationally, and internationally.
FOR EDUCATORS
Lessons for Educators
AFT's Share My Lesson has both educator development webinars and lesson plans, including a lesson on a timeline of LGBTQ+ history, a webinar on how to use children's literature to talk about both historical and current events, and a blog on ways to support LGBTQ+ students.
Safe and Supportive Schools Report Card
The people at Equality California have a useful resource in their second Safe and Supportive Schools Report Card, released in fall 2022. The data was gathered through their survey of the state's 343 unified school districts to see what best practices and required protections the districts provide in support of LGBTQ+ student well-being on campus, looking at things like curriculum, cultural competency, and school climate. This report can be a helpful tool for teachers and support staff who are looking for guidelines when advocating for their students. Equality California also plans to develop a training for educators. (Our own CFT President Jeff Freitas sits on the Equality California Institute Board.) Download Equality California's 2022 report. 
Inclusive LGBTQ+ Curriculum Frameworks
California Department of Education
Curriculum frameworks from the California Department of Education for elementary through secondary school that support and refer to LGBT+ Americans in subjects including Health Education, U.S. History, and Principles of American Democracy.
State Data on Supporting LGBTQ+ Students
California Department of Education
The California Department of Education has also put out various research and reports on supporting LGBTQ+ students and improving the school climate for them and their families. They include best practices for creating a safe and inclusive environment, a 2019 report describing the school experiences of LGBTQ+ using data from approximately 800,000 secondary school students, and a research brief on how inclusive curriculum can positively affect LGBTQ+ student experiences in school.
Creating Welcoming Schools
The Welcoming Schools program provides resources and lesson plans to help foster equity in schools. Some of the lesson plans are on preventing bullying at schools, learning about prominent LGBTQ+ people like scientist Rachel Carson, dancers Rudolf Nureyev and Alvin Ailey, and Bessie Coleman, the first Black woman pilot. Lessons also include ways for children to be allies rather than bystanders. You can also request a training at your school or in your district.
The California LQBTQ Report (of which CFT was a sponsor) from the HRC Foundation covers a myriad of topics including the importance of family support, school climate, the need for confidentiality, and the power of student activism. This report aims to give guidelines in to create safe and welcoming schools.
LGBTQ+ Student Rights
ACLU Southern California has published information on rights for LGBTQ+ students at school such as the right to freedom of speech, laws designed to help and protect LGBTQ+ youth from harassment, and Education Codes prohibiting discrimination on the basis of gender identity and gender expression.
More Student Rights in California
This is another list of resources about rights in schools, put out by the GSA Network. GSA stands for Genders & Sexualities Alliances, student-run organizations that unite LGBTQ+ and allied youth. It includes resources about curriculum, access to activities, and protection from discrimination and harassment.
Teaching LGBTQ+ History
The FAIR Education Act went into effect in 2012, amending the California Education Code to include contributions by people with disabilities and members of the LGBTQ+ community in history and social studies curriculum. This website has ways to teach LGBTQ+ history including a timeline, video and audio resources, and lesson plans on topics like gender roles in the Gold Rush, approaches to women's suffrage, and the government response to the AIDS epidemic.
More LGBTQ+ History Lesson Plans
University of California Davis
From UC Davis, the California History-Social Science Project offers LGBTQ+ history lesson plans meant to make curriculum inclusive. Some examples include asking high school students to consider how members of their community have engaged in political activism, and having students explore how different movements for equality built on one another and worked together.
Learn History…Through a Podcast
This oral history archive turned podcast has 30 years of audio clips covering the lives of a diverse group of people such as journalist Randy Shilts, known for his book on the AIDS crisis And the Band Played On and The Life and Times of Harvey Milk, about the San Francisco supervisor. Also find podcasts about Phyllis Lyon and Del Martin, who co-founded the first lesbian organization in the United States, Daughters of Bilitis; and Bayard Rustin, a principal organizer of the March on Washington for Jobs and Freedom.
Learn History…on TikTok
This TikTok account with more than 430,000 followers, meant to provide history you might not get in school, has short videos on all kinds of topics including trans women in the music industry and lesbian and gay solidarity during the AIDS crisis. The regular host is Australian, so there is some focus on queer Australian history.
Learn About Trans History
The Digital Transgender Archive
This archive aims to preserve, centralize, and democratize access to transgender history. It's a collection of trans materials from across the world, including old photos, journals, flyers, newspaper reports, and more.
Sources to Teach Gay History
San Francisco's GLBT Historical Society
San Francisco's GLBT Historical Society, founded in 1985, is a primary resource for preserving GLBT history. With both a museum and a vast archive (which includes one of the first Pride flags hoisted at the 1978 San Francisco Gay Freedom Day Parade), the society collects and exhibits historical materials related to queer communities around the country, hosting events and educational opportunities. They have primary source sets for educators and students on topics such as Latinx Voices and Activism, HIV/AIDS, and the Gay Games. You can also look through photos, audiovisual recordings, and documents in the digital archives on the website or browse the online exhibitions, such as 50 Years of Pride.
Including LGBTQ+ Artists in the Curriculum
The Art of Education University
A teacher who wrote an article about being an ally to LGBTQ+ students talks about incorporating the work of more of those artists into the curriculum.
States Requiring Inclusive Curriculum
This article goes over the six states that have passed laws requiring K-12 instructional materials to include and represent LGBTQ+ people and identities. The article goes over the differences in how inclusion is defined in California, New Jersey, Illinois, Colorado, Oregon, and Nevada.
Additional Resources for Teens
Brooklyn Public Library joins those fighting for the rights of teens nationwide to read what they like, discover themselves, and form their own opinions. Inspired by the American Library Association's Freedom to Read Statement, BPL's Books Unbanned initiative is a response to an increasingly coordinated and effective effort to remove books tackling a wide range of topics from library shelves.
FOR HOME, FAMILY & BEYOND
Pride at Work
From the labor union representing 12.5 million working men and women, the AFL-CIO has some profiles of people at the intersection of labor and LGBTQ+ rights activism including a video from gay rights activist Cleve Jones who worked with Harvey Milk and now works as an organizer with UNITE HERE. There's also information about Pride at Work, which led campaigns to pressure Chrysler to ban anti-LGBTQ+ discrimination, for example, and continues to fight to educate the labor movement and everyone about the importance of unions.
Celebrate Pride with the Library
The Los Angeles Public Library has a list of resources to celebrate Pride Month, including gay fiction, transgender non-fiction, and blog entries, about, for example, the home of Morris Kight, a founding father of the LGBTQ+ civil rights movement. There are also events, both in person and online, such as a film club discussion of Albert Nobbs, a 2011 movie with Glenn Close. You can watch the movie film on Kanopy by using your library card.
LGBTQ+ Movies You May Not Know
The San Francisco Chronicle has a list of LGBTQ+ movies you may not have heard of, including "Breaking Fast," a romantic comedy a Muslim protagonist set during Ramadan; "Dance of the 41," a period piece set in 1901 and based on a true story of a Mexican politician; and "Funny Boy," set during the Sri Lankan civil war and following the story of Arjie from a little boy to a teenager.
Conversations with People Making a Difference
San Francisco Pride will hold in-person celebrations and a parade this year. For people not coming to the city but wanting to learn a little bit more about it, Inside Pride has a series of short video conversations between SF Pride staff and members about their work. They include professional golfers Hailey Davidson and Tadd Fujikawa, muralist Serge Gay Jr, and comedian writer and performer Marga Gomez.
Creating a Bright Future for LGBTQ+ Youth
LGBTQ+ youth are four times more likely than others to attempt suicide. In an effort to stop this, The Trevor Project has different programs, including crisis services, peer support, and one in public education, that aims to educate on relevant issues. They offer trainings for those who work with young people, one on how to be an ally and another on how to respond to a young person at risk of suicide.
Directly Support LGBTQ+ Youth
This program run by the Los Angeles LGBT Center matches adult with a youth ages 12-24, to help support them in setting goals in their education, career, home, health, and personal development. The mentor will get training to guide the youth to be their best selves. The site also offers education in both HIV and substance abuse prevention.
Help Every Child Learn
This organization, which produces PSAs, publishes a resource guide, sponsors trainings, and provides testimony to legislators on bills. They have all sorts of resources for families and educators including music, books, research, media, survey tools, and where to find Internet support.
Find All Sorts of Help…from Housing to Health Care
This website has a comprehensive list of resources, including services for finding a job, housing, and legal services for LGBTQ+ people. There are also resources for veterans, formerly incarcerated people, immigrants and refugees and hotlines to call for support and to report hate incidents.
Improving Medical Care for LGBTQ+ Patients of Color
This article from the AFT Healthcare division goes right to the source, recording the experiences LGBTQ+ people of color had with the healthcare system. It includes a brief history, terminology and concepts, and ways to understand how marginalization and discrimination have affected patients.
Online Discussion Support Groups
Gender Spectrum hosts free online discussion groups for pre-teens, teens, and parents. These groups are meant to provide support, and the opportunity to connect with others and share experiences. Participants can join by video or audio and ask question or just listen in.
Advocating for Change
Parents, Families, and Friends of Lesbians and Gays, or PFLAG, offers ways to advocate, including ways to use your voice to create equity and pass legislation. They give advice on sharing your story, building a coalition and how to lobby. It includes samples of media advisories and letters to request a legislative meeting. You can also find their Top 10 Ways to Keep Schools Safe.
Help Pass the Equality Act
The Gay, Lesbian & Straight Education Network, or GLSEN, advocates for and offers ways to create supportive school environments for everyone, regardless of sexual orientation or gender identity. This website includes a toolkit to help pass the Equality Act, which amends the Civil Rights Act of 1964 and other civil rights laws to establish explicit federal nondiscrimination protections for LGBTQ+ people. The toolkit has tips on how to research your senator, form a group, and prepare for a meeting.
Resources for Black parents, Family members, Caregivers of Black trans, non-binary youth
As transgender, non-binary, and gender-expansive youth continue to face relentless attacks, HRC Foundation has created a number of resources for parents, families and caregivers who want to affirm their transgender, non-binary, and gender-expansive youth and better understand the discrimination that their child's community faces due to the lack of inclusive policies at the local, state and federal level.