Fall 2021
Volume 12, Number 1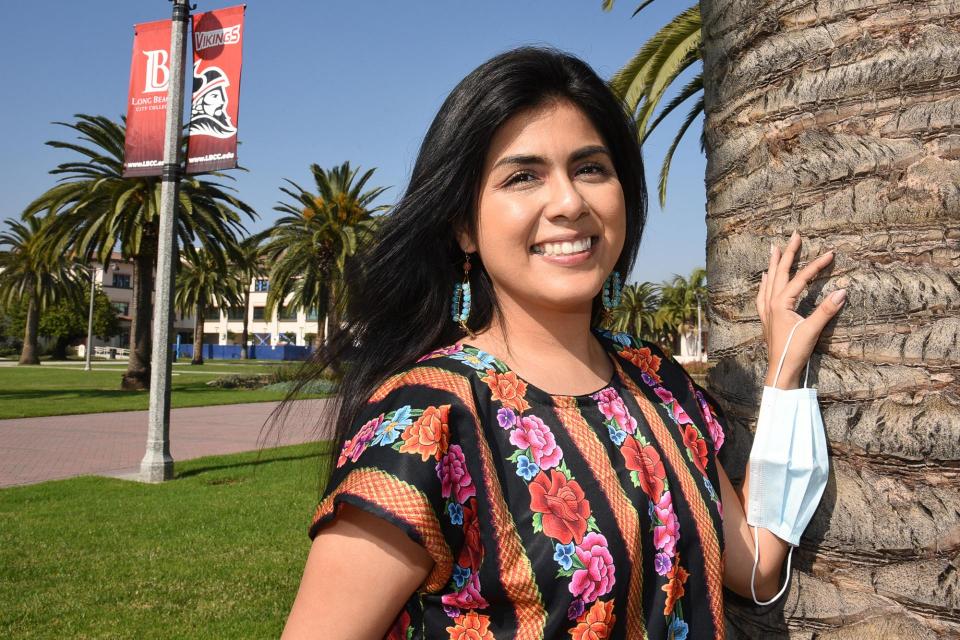 Staff working with homeless and formerly incarcerated students win statewide recognition
The California Community Colleges has recognized two dynamic and talented CFT members in the Los Angeles area for their leadership, commitment, and ethics. Learn about their inspirational work on campus.

What does classified work look like 20 months into the pandemic?
California schools reopened to a new normal. Classified staff are getting their arms around vaccine mandates and making safety protocols part of their daily routines. And nearly every district, from rural elementaries to urban community colleges, is facing labor shortages.

New law provides equity in layoff notice for classified
Classified employees will see more equity with their teacher colleagues thanks to union-sponsored bills signed by Governor Newsom. One new law provides equal treatment for classified and certificated employees during layoffs, and another aligns the probation period for community college staff in non-merit and merit districts.

History, solidarity, reunion mark Classified Conference
Nearly 125 people made the trek to Las Vegas for the annual Classified Conference. CFT's first return to an in-person conference featured a pre-pandemic style and COVID-safe protocols, with plenary sessions, workshops, and social events.

AFT archivist presents proud history of paras, classified in national union
Archivist Dan Golodner wove stories and videos into a history that illustrated AFT's growth and fight for social justice over more than 105 years, including how how classified employees and paraprofessionals gained their voice in the AFT.

YOUR UNION IN ACTION

Support your UC colleagues on strike this week!
Stopping churn — the practice in which the university encourages a high rate of turnover — is one of the key UC-AFT demands in its long struggle for a fair contract. Sign up to join the picket line on UC campuses Wednesday and Thursday.
---
Do you have a high school senior headed to college?
The CFT has awarded a whopping $2 million to children of members through its Raoul Teilhet Scholarship program. Children or dependents of CFT members in good standing are eligible for $3000 or $1000 scholarships. High school seniors may apply now; the deadline is December 15.
---

Classified feel the love during CFT Back-to-School Tour
Dozens of classified employees and paraeducators welcomed the opportunity to meet one-on-one with CFT leaders and said the personal outreach provided welcome support and encouragement for their safe return to campus.
---

Need a lifeline? Summer Assistance program could help
The Classified School Employee Summer Assistance program saw increased funding again this year. It allows classified employees in K-12 districts to withhold up to 10 percent of their monthly salary during the school year, and receive that money — matched by the state up to a dollar for dollar — during the summer. Learn how your local union can participate.
---

Student borrowers denied loan forgiveness have one year to seek waiver, thanks to AFT legal victory
After years of pressure and lawsuits from AFT and other advocates, the U.S. Department of Education recently announced sweeping changes to the Public Service Loan Forgiveness program that will make it easier to qualify and easier to achieve forgiveness.
---

Interested in becoming a teacher? Financial assistance is available
There's more money available in the Classified Employee Teacher Credentialing Program that has helped hundreds of classified employees become teachers. Learn more about this opportunity.
Vaccines — everything you need to know — union positions and government guidelines.
Governor allows retired staff and teachers to return to work within 180 days of retirement to relieve staffing shortage.
Supplemental sick leave expired September 30, but exclusion pay provisions still apply under the Cal/OSHA Emergency Temporary Standard.
Congratulations! You helped elect two CFT-supported candidates to the CalPERS Board.
New CFT identity brings more recognition to classified employees.