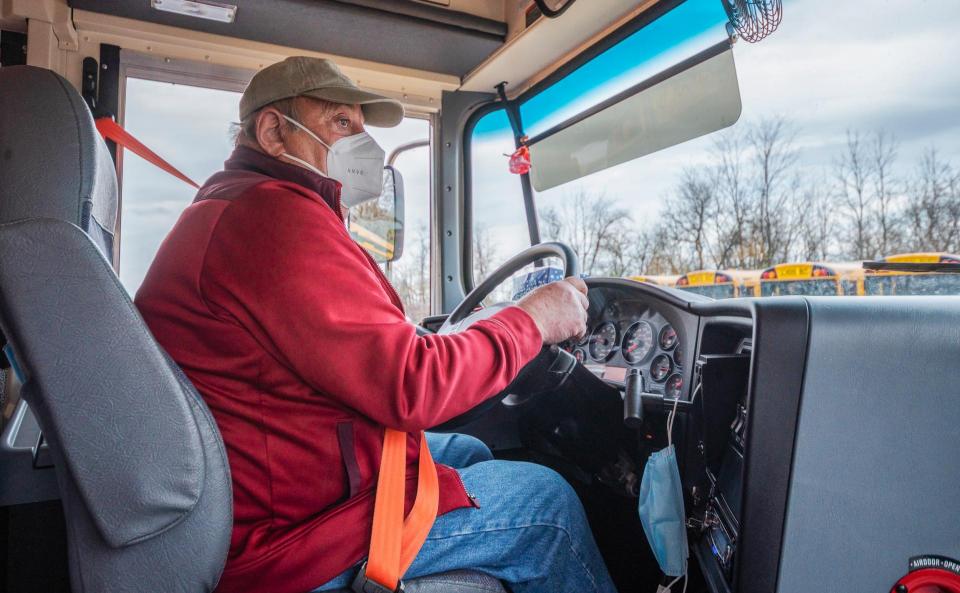 California schools reopened to a new normal. Classified staff are getting their arms around vaccine mandates and making safety protocols part of their daily routines. And nearly every district, from rural elementaries to urban community colleges, are facing serious labor shortages.
Political pundits tried to pin the "Great Resignation" on generous unemployment benefits. It's more than that. Many seasoned workers preferred to retire than work from home during the pandemic. Others found better paying jobs, often after learning new skills or earning degrees online.
The "Great Return" to in-person teaching affects all classified, whether they stayed on campus or worked remotely. Campuses like Palomar College are paying stipends to employees who get vaccinated or agree to stay in their jobs, while El Camino College agreed to a 7.2% raise for everyone in the bargaining unit. Daly City paraprofessionals worry about how much pressure COVID is putting on their students, and Lemoore bus drivers are following strict new safety protocols.
* * * * *
SAN DIEGO COUNTY
Palomar Council of Classified Employees, AFT Local 4522
Classified employees are scarce on the Palomar College campus in northern San Diego County. The staff numbered about 400 before the pandemic, but about 140 positions are now vacant.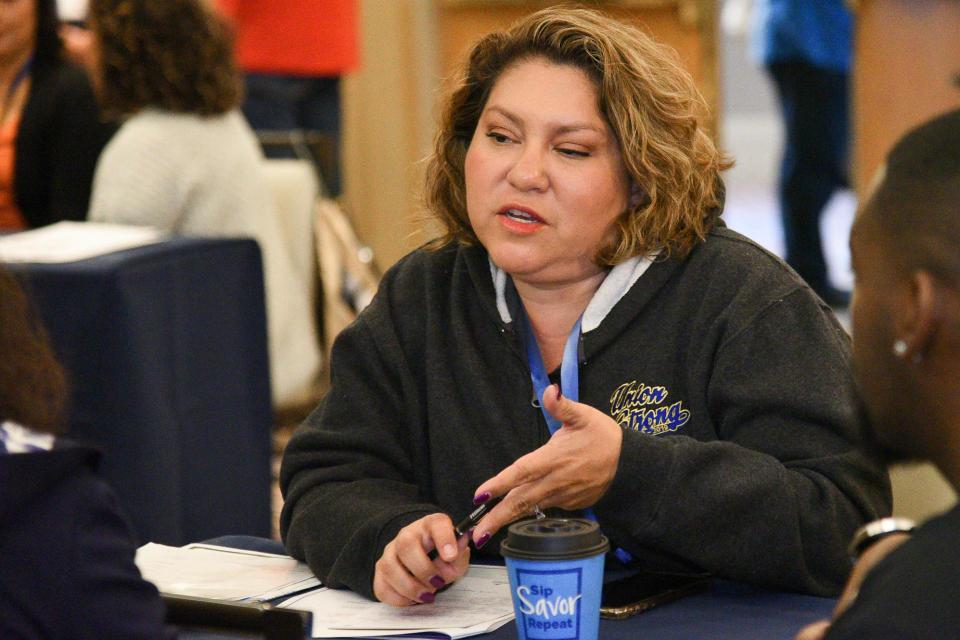 One reason is employee resistance to a vaccine mandate the school board signed in June, to be implemented when the shots were approved. The head of the Palomar Council of Classified Employees estimated that 25% of staff opposed the mandate at one point.
"The majority are going to comply, either by full vaccination or COVID testing," Anel Gonzalez said. "Winning over the rest will take education, incentives, and flexibility in granting exemptions."
About 87% have now complied, Gonzalez added, but about half the custodians are still waiting for their second shot.
Gonzalez blames Palomar's low pay for driving away many classified employees. The administration helped slow the exodus with $1,000 stipends to staff who show proof of vaccination, and $500 "retention stipends" for those who agree to stay in their jobs.
"Our facilities people are making just above poverty level," she said. "Many custodians, food service, and groundskeepers hold two jobs. They have suffered a lot through the COVID pandemic."
Palomar is also losing its fiscal staff. Gonzalez said several left for positions with a nearby K-12 school district. "We don't have anyone left to pay the bills."
The new college president, Star Rivera Lacey, shares the union's approach of putting students first, but Gonzalez said the administration is struggling to cope with the crisis.
"They're trying to build an airplane while they fly it."
* * * * *
KINGS COUNTY
Lemoore Federation of Classified Employees, AFT Local 4870
COVID has ravaged the Central Valley, hitting working families in farm towns like Lemoore hardest.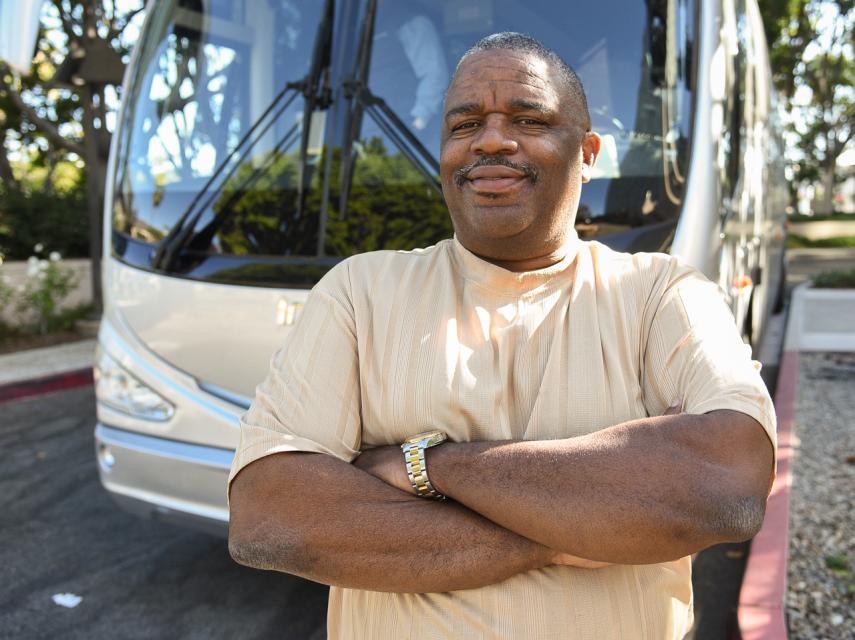 "When someone you know and love is sick or dying, you'll knock down doors to get vaccinated," said the head of the Lemoore Federation of Classified Employees.
That might explain, bus driver Bernard Benson added, why he hasn't "seen any organized anti-vax movement in Kings County."
Lemoore has about 23,000 residents. Benson and 16 fellow drivers transport about 2,000 students to five elementary schools, two middle schools and a high school, and about 2,000 students in nearby districts. Most riders are farm kids, and drivers will often travel 20 miles for one child at a rural stop.
Except for some employees on medical leave, all bus drivers serving Lemoore schools returned when in-person teaching resumed in August. Drivers discussed comprehensive safety protocols beforehand with the district's transportation director.
"There's no way to maintain social distance on a bus," Benson said. "It's not like a classroom or an auditorium, where you can space students out. We only have 30 feet of living space."
Students must get sanitized before they get on or off the bus, and everyone on board must wear a face mask.
Empty seats behind and to the right of the driver's seat provide drivers some precious social distance from the young riders.
Drivers now seat students with early stops at the front of the bus, with riders who get off later toward the back, so students avoid unnecessary contact and lower the risk of spreading the virus.
"The overwhelming majority of drivers want to get vaccinated. We're trying to build up our own herd immunity," Benson said.
"Some students may have their own opinions, but they can't get on the bus without being 100% compliant," he said, "and if they aren't, their parents will need to find another way to get them to school."
* * * * *
LOS ANGELES COUNTY
El Camino Classified Employees, AFT Local 6142
Roy Dietz and AFT Local 6142 members were fighting a hostile administration at El Camino College when COVID hit. The situation was very different when in-person teaching resumed at the Torrance campus in southwest Los Angeles County.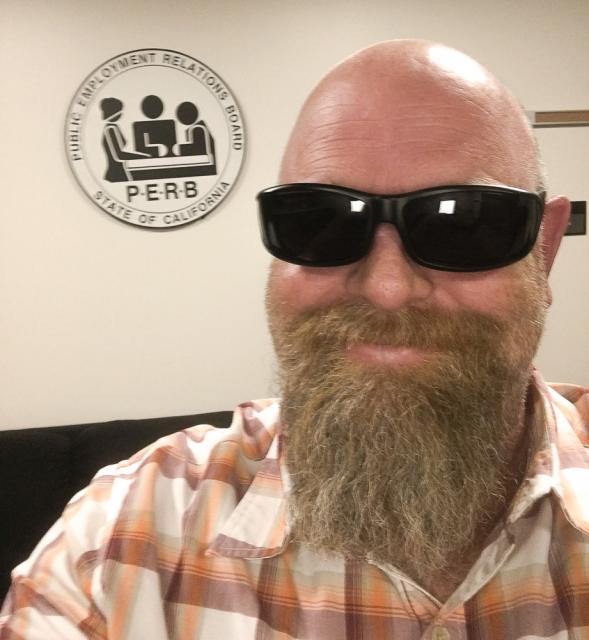 Dietz and the El Camino Classified Employees began talks with the district and a new college president, Brenda Thames, and agreed to a 7.2% pay raise that all bargaining unit members will receive on December 1.
"One of the members who has worked here for almost 30 years said it was the biggest single raise he ever saw," Dietz said.
Thames has agreed to union positions on a range of key issues. All custodians are now properly trained and earning hazard pay, and the new president called off the previous administration's attempts to end the graveyard shift. She also lowered tension by postponing a vaccine mandate from November to January.
"I'm trying to look out for everybody and keep their jobs," Dietz said. "With this mandate, they have to decide what they're going to do. I can't decide for them."
There is significant campus resistance to vaccinations. Thames agreed to create two new permanent custodial positions, but Dietz said the campus needs more, and he estimates up to a 15% reduction in the workforce if staff members refuse to get shots.
* * * * *
SAN MATEO COUNTY
Jefferson AFT Federation of Teachers, AFT Local 1481
Zari Denegri has been a paraprofessional since 2008. Denegri started working at Jefferson High School – where she graduated in 1995 – in January 2020, just as the coronavirus was spreading.
Denegri began volunteering at the school food bank, which served up to 1,200 Daly City families during surges, and is still a lifeline for about 1,000 households.
The first four weeks after members of the Jefferson AFT Federation of Teachers returned to campus were filled with adjustments. Soon a new rhythm began to flow. Denegri has been bouncing around. The special education paraprofessional is bilingual and works in English-learning classes, supporting students who may be having trouble with their IEPs, short for Individualized Education Plans.
"Students aren't so focused now, and classes are up to 80 minutes long, which makes it harder for some students to take. They need more breaks."
Denegri is one of five paras at Jefferson Union High School. She and two others worked together before the pandemic. Two are new to the school. The biggest change, she said, has been in the students.
"They look exhausted, stressed, drained," Denegri said. "Some are happy to be back at school, and will work with staff and teachers. Others are conflicted. A lot of them didn't work before, but now have jobs to help pay family bills. Many parents lost jobs during the crisis."
Denegri said she is very happy to be back on campus. "I'm really grateful to work at Jefferson, to serve our students, and to work with this staff. People are a little delicate right now, but I feel supported. We're here to help each other."
— By Steve Weingarten, CFT Reporter