Meet Our Scholarship Recipients!
Teilhet scholarships help hundreds of young adults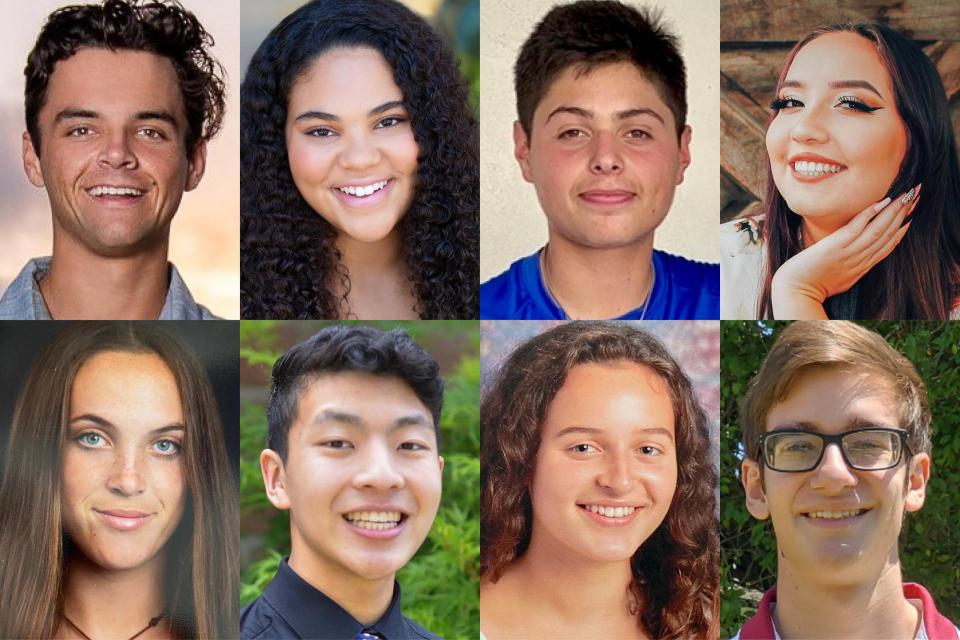 The CFT has awarded more than $2.1 million in Raoul Teilhet Scholarships to 772 children or dependents of union members
The names of students who have been awarded scholarships in recent years are listed below, along with the parent or guardian who is the AFT/CFT member and their local union. Occasionally, both parents are proud members of our Federation.
2023 High School Student Scholarship Recipients
Zele Jemine Blanco, Child of Norman Blanco, Pajaro Valley Federation of Teachers
Elizabeth Boulad, Child of Tiffany Boulad, Novato Federation of Teachers
Grace Brown, Child of Cindy Gustafson-Brown, UC-AFT
Ashwin Chapagain, Child of Yogendra Chapagain, Pajaro Valley Federation Of Teachers
Aaron Dutra, Child of Lucille Dutra, Morgan Hill Federation of Teachers
Sadie Evans, Child of Sylvie Evans, Poway Federation of Teachers
Samantha French, Child of Mary French, Pajaro Valley Federation of Teachers
Mary Healy, Child of Catherine Healy, San Rafael Federation of Teachers
Timothy McCain, Child of Mikyong-Hannah McCain, Gilroy Federation of Paraeducators
Cade Nelson, Child of Liz Nelson, Novato Federation of Teachers
Benjamin Nguyen, Child of Melanie Nguyen, Oxnard Federation of Teachers & School Employees
Basil Silver, Child of Melisa Preud'homme-Silver, Pajaro Valley Federation of Teachers
Alice Simenstad, Child of Christopher Simenstad, San Rafael Federation of Teachers
Liliana Sunga, Child of Julie Vallens, Pajaro Valley Federation of Teachers
2022 Continuing College Students
Carly Diskin, daughter of Dawn Diskin, AFT Guild, San Diego and Grossmont-Cuyamaca Community Colleges
Julian Fong, son of Diana You, United Educators of San Francisco
Diego Gonzalez-Lishman, son of Krista Lishman, Lompoc Federation of Teachers
Mara Halpern, child of Philip Halpern and Mary Patterson, Berkeley Federation of Teachers
Mia Hernandez, daughter of Gabriela Fuentes, Berkeley Federation of Teachers
Jacqueline Kamei, daughter of Richard Kamei, Glendale College Guild
Marcelo Manriquez, son of Jorge and Karen Manriquez, Pajaro Valley Federation of Teachers
Ashley Mason, daughter of Caryn Mason, Lompoc Federation of Teachers
Hana McAnally, daughter of Ikuko McAnally, AFT Guild, San Diego and Grossmont-Cuyamaca Community Colleges
Kana McAnally, daughter of Ikuko McAnally, AFT Guild, San Diego and Grossmont-Cuyamaca Community Colleges
Hali Muir, daughter of Burnne Yew, Pajaro Valley Federation of Teachers
Zoe Nauman, daughter of Lynn Baker-Nauman, Los Rios College Federation of Teachers
Adelina Rodriguez, daughter of Michelle Rodriguez, AFT Guild, San Diego and Grossmont-Cuyamaca Community Colleges
2022 High School Seniors
Sage Bassi, daughter of Sile Bassi, Ventura County Federation of College Teachers
River Burkart, daughter of Walter Kawamoto, Los Rios College Federation of Teachers
Maize Cline, daughter of Sarah Cline, Berkeley Federation of Teachers
Violet Emerson, daughter of Alyssa Emerson, Cuesta College Federation of Teachers
Ethan Garrett, son of David Garrett, AFT Guild, San Diego and Grossmont-Cuyamaca Community Colleges
John Healy, son of Catherine Healy, San Rafael Federation of Teachers
Ava Manier, daughter of David and Jennifer Manier, Pajaro Valley Federation of Teachers
Danika Marlatt, daughter of Monica Marlatt, Santa Cruz Council of Classified Employees
Nicholas Mibach, son of Arlene Monroy, Jefferson Elementary Federation of Teachers
Zachary Tyler Monighetti, son of Jamie Monighetti, Lompoc Federation of Teachers
Carlie Paskett, daughter of Bridget Paskett, Lompoc Federation of Teachers
Bennett Richards, son of Susan Richards, Lompoc Federation of Teachers
Meredith Richards, daughter of Susan Richards, Lompoc Federation of Teachers
Alexander Joseph Rodriguez, son of Rosa C. Castellanos, Oxnard Federation of Teachers and School Employees
Lindsay Scales, daughter of Lynn Scales, Rescue Union Federation of Teachers
Shannon Scales, daughter of Lynn Scales, Rescue Union Federation of Teachers
Lucia Umeki-Martinez, child of Maria Martinez, Pajaro Valley Federation of Teachers
Nineveh Winton, daughter of Matthew Winton, San Rafael Federation of Teachers
2021 Continuing College Students
Imani Bell, son of Elise Bell, Peralta Federation of Teachers
Ariel Bronstein, daughter of Valerie Bronstein-Connors, Los Rios College Federation of Teachers
Vian De La Torre, daughter of Vivien De La Torre, AFT College Staff Guild-Los Angeles
Julia Fernandez, daughter of Ralph Fernandez, Ventura County Federation of College Teachers
Christine Ha, daughter of Frances Ha, Cuesta College Federation of Teachers
Hannah Harvey, child of Tracy Tennenhouse, Ventura County Federation of College Teachers
Ella Hedekin, daughter of Anne Hedekin, AFT Guild, San Diego and Grossmont-Cuyamaca Community Colleges
Madison Logan, daughter of Kelly Logan, Poway Federation of Teachers
Christa McLellan, daughter of Billieanne McLellan, Palomar Faculty Federation
Felicia Mitchell, daughter of Rachel Mitchell, Cabrillo College Federation of Teachers
Emily Murphy, daughter of Jennifer Yossa, Poway Federation of Teachers
Ryan Murphy, son of Jennifer Yossa, Poway Federation of Teachers
Noah Valenzuela, son of Philemon Bakit, AFT Guild, San Diego and Grossmont-Cuyamaca Community Colleges
2021 High School Seniors
Caetano Abramson Ward, son of Megan Abramson Ward, Berkeley Federation of Teachers
Jordan Burkart, daughter of Tamara Cheshire and Walter Kawamoto, Los Rios College Federation of Teachers
Stephen Espinoza, son of Esther Espinoza, Lompoc Federation of Teachers
Rylee Hickey, daughter of Tiffiny Hickey, Palomar Council of Classified Employees
Julian Mancillas, son of Ruben Mancillas, ABC Federation of Teachers
Taylee Martinez, daughter of Chantal Martinez, Lompoc Federation of Teachers
Matias Mena, son of Paul Mena, UC-AFT
Isabella Ramirez, daughter of Liana Ramirez, United Educators of San Francisco
Dante Ruberto, son of Matthew Goldstein and Laura Ruberto, Peralta Federation of Teachers
Layla Ruiz, daughter of Edith Ruiz, Pajaro Valley Federation of Teachers
Elsa Simenstad, daughter of Christopher Simenstad, San Rafael Federation of Teachers
Rachel Stevenson, daughter of Jacquelyn Stevenson, Gilroy Federation of Paraeducators
Selma Sukkary, daughter of Tamir Sukkary, Los Rios College Federation of Teachers
Owen Tai, son of Shirley Tai, ABC Federation of Teachers
Gavin Townes, son of Michelle Townes, Lompoc Federation of Teachers
Dillon Walia, son of Katina Walia, Ventura County Federation of College Teachers
2020 Continuing College Students
Bryce Brewer, son of Lucy Capuano and Scott Brewer, Ventura County Federation of College Teachers
Zarah Bronstein, daughter of Valerie Bronstein, Los Rios College Federation of Teachers
Laura Fernandez, daughter of Ralph Fernandez, Ventura County Federation of College Teachers
Imran Ghasemiyeh, son of Soraya Ghasemiyeh, Los Rios College Federation of Teachers
Jonathan Hickey, son of Tiffiny Hickey, Palomar College Council of Classified Employees
Jaycee Jacobson, daughter of Tania and Daniel Jacobson, Lompoc Federation of Teachers
Ashley McClung, daughter of Beth McClung, Lompoc Federation of Teachers
Erica Medhurst, daughter of Mechelle Medhurst, Cuesta College Federation of Teachers
Christian Mibach, son of Arlene Monroy, Jefferson Elementary Federation of Teachers
Maxwell Pepperdine, son of Anthony Pepperdine, Pajaro Valley Federation of Teachers
Yuliana Rocio, daughter of Ana Chavez, Poway Federation of Teachers
Cole Spooner, son of Paul Spooner, Ventura County Federation of College Teachers
Makayla Walia, daughter of Katina Walia, Ventura County Federation of College Teachers
Angie Wu, daughter of Jenchi Wu, Ventura County Federation of College Teachers
2020 High School Seniors
Annika Arroyo, daughter of Marylinda Arroyo, Ventura County Federation of College Teachers
Drina Canjura-Kaufmann, daughter of Nancy Kaufmann, United Educators of San Francisco-Retiree Chapter
Naomi DeClerck, child of Tania and Sebastien DeClerck, Ventura County Federation of College Teachers
Julia Finnecy, daughter of Timothy Finnecy, Los Rios College Federation of Teachers
Diamond Hatten, daughter of Felecia and Jeffrey Hatten, Compton Federation of Teachers
Morgan McIntyre, daughter of Cory and Diane McIntyre, Lompoc Federation of Teachers
Daisy Navarrete, daughter of Rosa Navarrete, Oxnard Federation of Teachers and School Employees
Liana Ostojic-Gibson, daughter of Radica Ostojic-Portello, United Professors of Marin
Samantha Rapp, daughter of Kevin Rapp, Novato Federation of Teachers
Matteo Rivas, son of Carlos Patino, Pajaro Valley Federation of Teachers
Miguel Sanchez, son of Javier Sanchez, Jefferson AFT Federation of Teachers
Trinity Smet, daughter of Robert Smet, Pajaro Valley Federation of Teachers
Makenna Soliz, daughter of David Soliz, Oxnard Federation of Teachers and School Employees
Louis Tonkovich, child of Andrew Tonkovich, UC-AFT Irvine
Nathan Villalpando, son of Elizabeth Villalpando, Lompoc Federation of Teachers
Adrian Vizcarra, son of Patricia Vizcarra, Jefferson Elementary Federation of Teachers
Sophia Waxman, daughter of Robyn Waxman and William Miller, Los Rios College Federation of Teachers
2019 Continuing College Students
Hannah Beachboard, daughter of Sara Claycamp, Lompoc Federation of Teachers
Vrej Davtian, son of Anna Davtian, Los Rios College Federation of Teachers
Hannah Ezell, daughter of Jennifer Ezell, Lompoc Federation of Teachers
Mason Gatz, son of Thomas Gatz, Lompoc Federation of Teachers
Omar Hernandez, son of Gabriela Fuentes, Berkeley Federation of Teachers
Amos Karlsen, son of Jeffrey Karlsen, Los Rios College Federation of Teachers
Emily Molstad, daughter of Amy Molstad, Newport-Mesa Federation of Teachers
Danielle Pechthalt, daughter of Joshua Pechthalt, United Teachers Los Angeles-Retiree Chapter
Emily Phelps, daughter of Margaret Phelps, Ventura County Federation of College Teachers
Rachael Ryan, daughter of Kristine Ryan, Ventura County Federation of College Teachers
Monica Saltz, daughter of Gloria Saltz, Palomar College Council of Classified Employees
Tyler Thorne, son of Kathleen Thorne, Santa Paula Federation of Teachers
2019 High School Seniors
Hassan Alexander, son of Paul Alexander, AFT Guild, San Diego and Grossmont-Cuyamaca Community Colleges
Makayla Bernard, daughter of Angela Barnard, Lompoc Federation of Teachers
Logan Blanco, son of Thomas Blanco, Lompoc Federation of Teachers
Jonathan Brown, son of Cynthia Gustafson-Brown, UC-AFT San Diego
Harrison Chou, son of Hsuan-Ya Chen, San Jose/Evergreen Federation of Teachers
Owen Emerson, son of Alyssa Emerson, Cuesta College Federation of Teachers
Haley Fowler, daughter of Lisa Fowler, Lompoc Federation of Teachers
Sophia Fried, daughter of Colleen Fried, Novato Federation of Teachers
Janae Gilford, daughter of Spencer Gilford, Morgan Hill Federation of Teachers
Karly Kovach, daughter of Stephanie Ann Kovach, Lompoc Federation of Teachers
Madelyn Law, daughter of Lisa Roberts-Law, Los Rios College Federation of Teachers
Jessica Lee, daughter of Mike Lee, Los Rios College Federation of Teachers
Sasha Levy, daughter of Barney T. Levy, Greater Santa Cruz Federation of Teachers
Vanessa Luna, daughter of Pamela Kennedy-Luna, Ventura County Federation of College Teachers
Cristina McCarthy, daughter of Madtilda Merello, Berkeley Federation of Teachers
Danan Pacheco, son of Nancy Pecheco, Lompoc Federation of Teachers
Charles Parkinson, son of Luisa V. Parkinson, Lompoc Federation of Teachers
Abigail Pugh, daughter of Robin Pugh, San Francisco Community College Federation of Teachers
Samuel Ricci, son of Natalie Ricci, Lompoc Federation of Teachers
Ariana Rodriguez, daughter of Rosa Castellanos, Oxnard Federation of Teachers and School Employees
Rachel Sowyrda, daughter of Donald Sowyrda, Jefferson Elementary Federation of Teachers
Kevin Tai, son of Shirley Tai, ABC Federation of Teachers
Alec West, son of James West, Cuesta College Federation of Teachers
Marina Zellers, daughter of Juliana Zellers, Lompoc Federation of Teachers
2018 Continuing College Students
Kaitlyn Bales, daughter of Kathleen Bales, ABC Federation of Teachers
Aidan Fike, son of Barry Fike, Berkeley Federation of Teachers
Sophia Hagen, daughter of Mary and Paul Hagen, Jefferson Elementary Federation of Teachers
Vanessa Hernandez, daughter of Joanne Lichtenberg, Poway Federation of Teachers
Elena Neale-Sacks, daughter of Jennifer Neale, Los Rios College Federation of Teachers
Kyle Tripp, son of Felicia Tripp, Lompoc Federation of Teachers
Marina Vinuela Yodar, daughter of Amparo Yodar, Pajaro Valley Federation of Teachers
2018 High School Seniors
Dana Adcock, daughter of Majory Ann Adcock, Palomar College Council of Classified Employees
Abdulla Alexander, son of Paul Alexander, AFT Guild, San Diego and Grossmont-Cuyamaca Community Colleges
Kristin Bales, daughter of Kathleen Bales, ABC Federation of Teachers
Charlotte Chan, daughter of Simon Chan and Lilian Chow, Peralta Federation of Teachers
Jocelin Chen, daughter of Shao Zhen Yao, United Educators of San Francisco
Rachel Dangl, daughter of Sherrilynne Dangle, Newport Mesa Federation of Teachers
Hannah Decew, daughter of Pamela Decew Jurach and Jeffrey P. Jurach, Los Rios College Federation of Teachers
Xavier Espinoza, son of Kathleen O'Brien, Los Rios College Federation of Teachers
Elizabeth Finnecy, daughter of Timothy Finnecy, Los Rios College Federation of Teachers
Madisen Fong, daughter of Diana You, United Educators of San Francisco
Nathan Green, son of Paul Green, Poway Federation of Teachers
Rachel Grennan, daughter of John Grennan, Oxnard Federation of Teachers and School Employees
Helen Hedrick, daughter of Jennifer Lynn, UC-AFT Santa Cruz
Mary Hensley, daughter of Sena Hensley, Lompoc Federation of Teachers
William Marlatt, son of Monica Marlatt, Santa Cruz Council of Classified Employees
Abigail Massar, daughter of Roxanne Massar, Santa Paula Federation of Teachers
Lauren Maurer, daughter of Lori Maurer, Rescue Union Federation of Teachers
Danielle Morgan, daughter of Claudia Terrones, Lompoc Federation of Teachers
Sofia Natividad, daughter of Kristina Carter, Pajaro Valley Federation of Teachers
Micah Rea, daughter of Donald Rea, Jr., Oxnard Federation of Teachers and School Employees
Cameron Riefe, son of Diana Lee, United Teachers Los Angeles
Aaron Sanchez, son of Raul Sanchez, Coast Federation of Classified Employees
Jasmine Thompson, daughter of William Thompson, Salinas Valley Federation of Teachers
Casey Tripp, son of Felicia Tripp, Lompoc Federation of Teachers
Viana Valverde, daughter of Carlos Valverde, Culver City Federation of Teachers
2017 Continuing College Students
Holden Arquilevich, son of Gabriel Arquilevich, Ventura County Federation of College Teachers
Deveena Banerjee, daughter of Deboleena Roy, Los Rios College Federation of Teachers
Andrew Finnecy, son of Timothy J. Finnecy, Los Rios College Federation of Teachers
Jessie Loucks, daughter of Stuart Loucks, Los Rios College Federation of Teachers
Madeline Marlatt, daughter of Monica Marlatt, Santa Cruz Council of Classified Employees
Madeline Pease, daughter of Dyan Pease, Los Rios College Federation of Teachers
Madulan Pyles, daughter of Cathy Pyles, Los Angeles College Faculty Guild
Hannah Sturhann, daughter of Monica Sturhann, Poway Federation of Teachers
Erika Wang, daughter of Christy Zheng, United Educators of San Francisco
2017 High School Students
Irianna Agnew, daughter of Marisa Alviar-Agnew, Los Rios College Federation of Teachers
Rylee Arnott, daughter of Michele Arnott, Los Rios College Federation of Teachers
Cuauhtemoc Collazo-Muñoz, son of Antonia Collazo, Pajaro Valley Federation of Teachers
Hannah Davis, daughter of Hilary Davis, Jefferson Elementary Federation of Teachers
Nathan Fillingim-Selk, son of Jeff and Cherene Fillingim-Selk, Berkeley Federation of Teachers
Amanda Fowler, daughter of Lisa Fowler, Lompoc Federation of Teachers
Valerie Laufer, daughter of Alice Laufer, Lompoc Federation of Teachers
Kristen Lee, daughter of Michael Lee, Los Rios College Federation of Teachers
Christina Li, daughter of Dejun Li, Cerritos College Faculty Federation
Daphne Lun, daughter of Monica Lun, United Educators of San Francisco
Alma Moreno, daughter of Daniel Moreno, Pajaro Valley Federation of Teachers
Eva Polanco Gruszynski, daughter of Victoria Doll-Polanco, United Educators of San Francisco
Kyle Reif, son of Mitch Reif and Leslie Laurence, United Educators of San Francisco
Anna Repetto, daughter of Deanne Repetto, Los Rios College Federation of Teachers
Devin Romines, son of Terrie Romines, Oxnard Federation of Teachers and School Employees
Rachel Sjostedt, daughter of Ronald Sjostedt, Morgan Hill Federation of Teachers
Arden Tanner, daughter of William D. Tanner, Oxnard Federation of Teachers and School Employees
Elena Torres-Pepito, daughter of Gabriel S. Torres, Los Rios College Federation of Teachers
Benjamin Tucker, son of Tiffany Tucker, Poway Federation of Teachers
Bryan Wintermantel, son of Ann Statler Wintermantel, Salinas Valley Federation of Teachers
Natalie Wright, daughter of Suzanne Wright, Berkeley Federation of Teachers
2016 Continuing College Students
Matthew Briggs, son of Joshua Briggs, AFT Part-Time Faculty United
Kaitlin Campbell, daughter of Janna Campbell, Lompoc Federation of Teachers
Jacob Hagen, son of Paul and Mary Hagen, Jefferson Elementary Federation of Teachers
Talya Klinger, daughter of Alisa Klinger, United Professors of Marin
Delaney Malta, son of Judith Malta, Lompoc Federation of Teachers
Max Lopez, son of Leslie Lopez, UC-AFT Santa Cruz
JoeAnna McDonald, daughter of Patrick McDonald, Los Rios College Federation of Teachers
Tristan Moore, daughter of Felicity Moore, Carpinteria Association of United School Employees
Sidney Pidgeon, daughter of Diane Pidgeon, Poway Federation of Teachers
Maurice Roberson, son of Maisha Jones, Los Angeles College Faculty Guild
Mitchell Sturhann, son of Monica Sturhann, Poway Federation of Teachers
Amanda Visco, daughter of Darlene Renee Richarte, AFT College Staff Guild-Los Angeles
Damaya Wallace, daughter of Michele Whiting, El Camino Classified Employees
Yi Yan, son of Xiao Wang, UC-AFT San Diego
Alejandra Zelaya, daughter of Elizabeth Zelaya, Poway Federation of Teachers
2016 High School Students
Kim Adam, daughter of Monika Adam, Santa Cruz Council of Classified Employees

Henry Agnew, son of Marisa Alviar-Agnew, Los Rios College Federation of Teachers

Makena Blanco, daughter of Thomas Blanco, Lompoc Federation of Teachers

Gema Collazo-Muñoz, daughter of Antonia Collazo, Pajaro Valley Federation of Teachers

Aliyah Flores, daughter of Debra Flores, Lompoc Federation of Teachers

Katie Gallagher, daughter of Kevin Gallagher, Evergreen Federation of Teachers

Jack Fong Gougoutas, son of Anne Gougoutas, San Francisco Community College District Federation of Teachers

Melissa Grennan, daughter of John Grennan, Oxnard Federation of Teachers and School Employees
Maya Haruyama, daughter of Akemi Hamai, Berkeley Federation of Teachers

Margaret Hedrick, daughter of Charles Hedrick, Jr. and Jennifer Lynn, UC-AFT Santa Cruz

Tanar Hernandez-Wroblewski, son of David Wroblewski, AFT Guild, San Diego and Grossmont-Cuyamaca Community Colleges

Leroy Jackson, son of Rayne Lardie, San Francisco Community College District Federation of Teachers

Holden Kenedy, son of Donald Kenedy, Ventura County Federation of College Teachers

Charlotte Lenz, daughter of Kristen Lenz, Greater Santa Cruz Federation of Teachers

Aliah McCord, daughter of Shannon McCord, Pajaro Valley Federation of Teachers

Melinda McMonigle, daughter of Catherine McMonigle, Jefferson Elementary Federation of Teachers

Flora Namala, daughter of Solomon Namala, Cerritos College Faculty Federation

Sienna Pallesen, daughter of Leif Pallesen, San Jose/Evergreen Federation of Teachers

Mariela Pizarro, daughter of Ruben Pizarro, Salinas Valley Federation of Teachers

Rachel Posteraro, daughter of Jay and Lisa Posteraro, Poway Federation of Teachers

Melissa Rosales, daughter of Susan Rosales, Culver City Federation of Teachers

Samantha Soliz, daughter of David Soliz, Oxnard Federation of Teachers and School Employees

Victoria Solkovits, daughter of Lucia Arias and Gregg Solkovits, United Teachers Los Angeles

Daniel Tchiprout, son of Alain and Sandra Tchiprout, Oxnard Federation of Teachers and School Employees

Summer Solstice Thomas, daughter of Mark Thomas, Greater Santa Cruz Federation of Teachers
2015 Continuing College Students
Kyra Bowser, daughter of Carol Kuefner Bowser, Jefferson Elementary Federation of Teachers
Samantha Carroll, daughter of Michelle Carroll, Lompoc Federation of Teachers
Robert Durazzo, son of Margaret (Peg) Scott, Los Rios College Federation of Teachers
Emily Gallagher, daughter of Kevin Gallagher, Evergreen Federation of Teachers
Leo Goldstein, son of Daniel Goldstein, UC-AFT Davis
Providencia Gonzalez, daughter of Maria F. Limon de Gonzalez, Palomar Council of Classified Employees
Katharina Sakamoto-Steidl, daughter of Daphne Sakamoto, Pajaro Valley Federation 
of Teachers
Alejandro Santana, daughter of Rebeca Mauleón-Santana, San Francisco Community College District Federation of Teachers
Julie Voorhes, daughter of Gail Voorhes, Palomar Faculty Federation
2015 High School Students
Zarahi Alcantar, daughter of Juan Alcantar, Pajaro Valley Federation of Teachers
Taylor Binney, daughter of Anna Binney, Oxnard Federation of Teachers and School Employees
Chris Chan, son of Simon Ying-Yin Chan and Lilian Chow, Peralta Federation of Teachers
Ayush Chapagain, son of Yogendra Chapagain, Pajaro Valley Federation of Teachers
Rachel Connally, daughter of Daniel Connally, UC-AFT Santa Barbara
Jose David Garay, son of Jose Garay, United Teachers Los Angeles
Kenisha Johnson, daughter of Jeanie Wallace, Morgan Hill Federation of Teachers
Jessica Lee, daughter of Jade Lau, United Educators of San Francisco
Dawson Lewis, son of Howard Lewis, Los Rios Federation of Teachers
Sydney Leung-Thomas, daughter of Maggie Leung, Morgan Hill Federation of Teachers
Madison MacLeod, daughter of Devon MacLeod, Galt Federation of Classified and Certificated Employees
Jacob Madden, son of Robin Madden, Lompoc Federation of Teachers
Kenneth Malunay, son of Geraldine Malunay, Jefferson Elementary Federation of Teachers
Charlotte Mitchell, daughter of Daisy Martin, UC-AFT Santa Cruz
Mayra Muñoz-Garcia, daughter of Antonia Collazo, Pajaro Valley Federation of Teachers
Jessica Ninberg, daughter of Ann Ninberg, Poway Federation of Teachers
Nico Pacheco, son of Nancy Pacheco, Lompoc Federation of Teachers
Julius Page, son of Shirley Page, AFT College Staff Guild-Los Angeles
Tyler Perkins, son of Susan Perkins, Jefferson Elementary Federation of Teachers
Olivia Philyaw, daughter of Jennifer Philyaw, Poway Federation of Teachers
Zoey Reif, daughter of Mitch Reif, United Educators of San Francisco
Rylie Sanders, daughter of Susan Yates, State Center Federation of Teachers
Sydney Townes, daughter of Michelle Townes, Lompoc Federation of Teachers
Kathleen Wear, daughter of Nancy Wear, Lompoc Federation of Teachers
Michael Wintermantel, son of Ann Statler Wintermantel, Salinas Valley Federation of Teachers
Cameron Wrout, son of Jeffrey Wrout, Oxnard Federation of Teachers and School Employees
2014 Continuing College Students
Kelly Daulton, son of Anna Maria Daulton, Gilroy Federation of Paraeducators
Jessica Fenley, daughter of Patrick Fenley, Oxnard Federation of Teachers and School Employees
Courtney Hernandez, daughter of Lynne Glickstein-Hernandez, AFT Part-Time Faculty Federation
Chrissa Karagiannis, daughter of Mary Karagiannis, Jefferson Elementary Federation of Teachers
John Kazanjian, son of Wendy Coffelt and Phillip Kazanjian, Glendale College Guild
Allison Molstad, daughter of Amy Molstad, Newport-Mesa Federation of Teachers
Kathryn Oertel, daughter of Thomas Oertel, AFT Guild, San Diego and Grossmont-Cuyamaca Community Colleges
2014 High School Seniors
Noelle Alaimo, daughter of Gail Alaimo, Greater Santa Cruz Federation of Teachers
Hailey Baker, daughter of Randy Baker, San Rafael Federation of Teachers
Eric Casteñeda, son of Federico Castañeda, Pajaro Valley Federation of Teachers
Katelynne Dangl, daughter of Sherrilyne Dangl, Newport-Mesa Federation of Teachers
Emil De Guzman, son of Magdelena De Guzman, United Educators of San Francisco
Emily Flores, daughter of Joel Flores, Newport-Mesa Federation of Teachers
Danna Friedman, daughter of Debra Leiter-Weldy, Carpinteria Federation of Teachers
Kyle Huizinga, son of Erin Huizinga, Oxnard Federation of Teachers
Shyla Jackson, daughter of Rayne Lardie, San Francisco Community College District Federation of Teachers
Charitey Lee, daughter of Anastasia Lee, ABC Federation of Teachers
Miguelina Manriquez, daughter of Jorge and Karen Manriquez, Pajaro Valley Federation of Teachers
Jamie McCain, daughter of Mikyong-Hannah Cho McCain, Gilroy Federation of Teachers and Paraprofessionals
Harrison McDonough, son of Shane McDonough, Salinas Valley Federation of Teachers
Madalyn McDougall, daughter of Catherine McDougall, Greater Santa Cruz Federation of Teachers
Vikram Melkote, son of Neeta Sharma, Peralta Federation of Teachers
Samantha Muñoz, daughter of Jacqueline Muñoz, Lompoc Federation of Teachers
Caitlin Naasz, daughter of Harlow Naasz, Newport-Mesa Federation of Teachers
Enya O'Kane, daughter of Yvonne O'Kane, Ventura County Federation of School Employees
Raphael Palefsky-Smith, son of Leslie Smith, Pajaro Valley Federation of Teachers
Emily Seckington, daughter of Kathleen Seckington, Poway Federation of Teachers
Michael Wagenveld, son of Mike Wagenveld, Poway Federation of Teachers
Christopher Szarek, son of Bruce Hubschmitt, Poway Federation of Teachers
2013 Continuing College Students
Simone Aldredge, daughter of Teresa Aldredge, Los Rios College Federation of Teachers
Mariana Allis, daughter of Maria Allis, United Professors of Marin
Chelsea Beyries, daughter of Viona Epperson-Beyries, United Professors of Marin
Julia Cratty, daughter of Pamela Goolsby Cratty, Petaluma Federation of Teachers
Hannah Daniels, daughter of Laura Daniels, AFT College Guild
Jacy Eickemeyer, daughter of James Eickemeyer, Cuesta College Federation of Teachers
Reavey Fike, daughter of Barry Fike, Berkeley Federation of Teachers
Isaac Goldstein, son of Daniel Goldstein, UC-AFT Davis
Joia Hansen, son of Claudine Desiree, Greater Santa Cruz Federation of Teachers
Andrew Juhasz, son of Nita Juhasz, Early Childhood Federation of Teachers
John Kazanjian, son of Phillip and Wendy Kazanjian, Glendale College Guild
Samuel May, son of Alexander and Virginia May, Los Rios College Federation of Teachers
Elizabeth Pyle, daughter of Robert Pyle, Poway Federation of Teachers
Jennifer Reynolds, daughter of Linda Reynolds, Los Rios College Federation of Teachers
Angelica Rodriguez, daughter of Irma Rodriguez, Los Rios College Federation of Teachers
Jack Sehres, son of William Sehres, United Teachers Los Angeles
Yannis Tsagarakis, son of Barbara Tsagarakis, Jefferson Elementary Federation of Teachers
2013 High School Seniors
Simone Aldredge, daughter of Teresa Aldredge, Los Rios College Federation of Teachers
Mariana Allis, daughter of Maria Allis, United Professors of Marin
Chelsea Beyries, daughter of Viona Epperson-Beyries, United Professors of Marin
Julia Cratty, daughter of Pamela Goolsby Cratty, Petaluma Federation of Teachers
Hannah Daniels, daughter of Laura Daniels, AFT College Guild
Jacy Eickemeyer, daughter of James Eickemeyer, Cuesta College Federation of Teachers
Reavey Fike, daughter of Barry Fike, Berkeley Federation of Teachers
Isaac Goldstein, son of Daniel Goldstein, UC-AFT Davis
Joia Hansen, son of Claudine Desiree, Greater Santa Cruz Federation of Teachers
Andrew Juhasz, son of Nita Juhasz, Early Childhood Federation of Teachers
John Kazanjian, son of Phillip and Wendy Kazanjian, Glendale College Guild
Samuel May, son of Alexander and Virginia May, Los Rios College Federation of Teachers
Elizabeth Pyle, daughter of Robert Pyle, Poway Federation of Teachers
Jennifer Reynolds, daughter of Linda Reynolds, Los Rios College Federation of Teachers
Angelica Rodriguez, daughter of Irma Rodriguez, Los Rios College Federation of Teachers
Jack Sehres, son of William Sehres, United Teachers Los Angeles
Yannis Tsagarakis, son of Barbara Tsagarakis, Jefferson Elementary Federation of Teachers
Mona Abutouk, daughter of Fatima Abutouk, United Teachers Los Angeles
Robert Adelson, son of Evan Adelson, AFT Guild, San Diego and Grossmont-Cuyamaca Community Colleges
Natalie Andersen, daughter of Allen Andersen, AFT Guild, San Diego and Grossmont-Cuyamaca Community Colleges
Rio Barrere-Cain, daughter of Crispin Barrere and Martha Cain, Berkeley Federation of Teachers
Tara Clark, daughter of Ellen Clark, Gilroy Federation of Teachers and Paraprofessionals
Shane Gillespie, son of Steven Gillespie, Oxnard Federation of Teachers and School Employees
Michael Helson, son of Kathryn Helson, Poway Federation of Teachers
Kolter Knapp, son of Rand Knapp, Poway Federation of Teachers
Grace Kumaishi, daughter of Stuart Kumaishi, Greater Santa Cruz Federation of Teachers
Robert Lopez, son of Susan Carrasco, Oxnard Federation of Teachers and School Employees
Sierra MacLeod, daughter of Devon MacLeod, Galt Federation of Certificated and Classified Employees
Zack Maddren, son of Chauncey and Cyndi Maddren, AFT College Staff Guild
Saige Manier, daughter of David and Jennifer Manier, Pajaro Valley Federation of Teachers
Graham McAlpine, son of Kathy McAlpine, Ojai Federation of Teachers
Hannah McCrory, daughter of Eileen McCrory, AFT Guild, San Diego and Grossmont-Cuyamaca Community Colleges
Kelsey McDonald, daughter of Susan McDonald, Oxnard Federation of Teachers and School Employees
Sienna Mok-Reader, daughter of YingPing Lily Mok, United Educators of San Francisco
Lacey Mortensen, daughter of Heidi Mortensen, Novato Federation of Teachers
Oksana Moscoso, daughter of Glenda Moscoso, Cuesta College Federation of Teachers
Katherine Phillips, daughter of David Phillips, Rescue Union Federation of Teachers
Katherine Shelby, daughter of Chris Shelby, AFT Part-Time Faculty Federation, Victorville
Paul Smith III, son of Lorraine Smith, State Center Federation of Teachers
Angela Tsagarakis, daughter of Sophia Tsagarakis, Jefferson Elementary Federation of Teachers
2012 Continuing College Students
Sabrina Bedell, daughter of Janna Bedell, Greater Santa Cruz Federation of Teachers
Sven Beer, son of Barbara Bonander, United Professors of Marin
Jennifer Biancalana, daughter of Paula Biancalana, Petaluma Federation of Teachers
Tara Funk, daughter of Wendy Funk, Petaluma Federation of Teachers
Dustin Goerlitz, son of Laura Goerlitz, Gilroy Federation of Teachers and Paraprofessionals
Keith Goerlitz, son of Laura Goerlitz, Gilroy Federation of Teachers and Paraprofessionals
Belen Herrera, daughter of Beatriz Herrera, Ventura County Federation of College Teachers
Conner Lachenbruch, son of Cathy Carr, Poway Federation of Teachers
Daniel Rykert, son of Matthias Rykert, United Teachers Los Angeles
Chad Thompson, son of Wendy Thompson, Greater Santa Cruz Federation of Teachers
2012 High School Seniors
Brittany Carter, daughter of Lorraine Carter, Poway Federation of Teachers
Christopher Coleman, son of James Coleman, United Teachers of Los Angeles
Sinead Coleman, daughter of James Coleman, United Teachers of Los Angeles
Michael Dekovich, son of Eugenia Sumnik-Levins, Los Angeles College Faculty Guild
Breanna Duncan, daughter of Gray and Janis Duncan, Ojai Federation of Teachers
Cami Eickemeyer, daughter of James Eickemeyer, Cuesta College Federation of Teachers
Andrew Emard, son of Paulette Emard, Oxnard Federation of Teachers and School Employees
Lawrence Huang, son of Ansha Qian, El Camino College Federation of Teachers
Julia Maier, daughter of Mark Maier, Glendale College Guild
Joshua McCoy, son of Ilo McCoy, Greater Santa Cruz Federation of Teachers
Keith Olguin, son of Francisca Wentworth, Jefferson AFT Federation of Teachers
Sarah Palmer, daughter of Richard Palmer, State Center Federation of Teachers
Evan Reid, son of John and Terry Reid, Victor Valley Part-Time Faculty United
Sarah Seniuk, daughter of Vicki Fabbri, Cabrillo College Federation of Teachers
Lily Skeel, daughter of Brian Skeel, Pajaro Valley Federation of Teachers
Lauren Stewart, daughter of Robin Stewart, Gilroy Federation of Teachers and Paraprofessionals
Charity Walden, daughter of Carla Walden, Jefferson Elementary Federation of Teachers
Brian Webb Almanza, son of Jeri Webb, Poway Federation of Teachers
Katelynn Wiley, daughter of Peggy Wiley, Petaluma Federation of Teachers
2011 Continuing College Students
Zoe Altenberg, daughter of Edward D. Altenberg, Pajaro Valley Federation of Teachers
Allen Colborn, son of Isaline Colborn, Ojai Federation of Teachers
Melody Dahlgren, daughter of Susan Dahlgren, Santa Cruz Council of Classified Employees
Alexandria Fredsholm, daughter of Katherine Wallace, Lompoc Federation of Teachers
Natalie Girshman, daughter of Helen Ogilvie, Jefferson AFT Federation of Teachers
Clara Hartman, daughter of Miriam Kaplan, Greater Santa Cruz Federation of Teachers
Glynis Kincaid, daughter of Shelly Kincaid, Petaluma Federation of Teachers
Mark Lutgen, son of Daniel and Jayne Lutgen, Poway Federation of Teachers
Gabriel Michaels, son of Stacy Michaels, United Teachers of Los Angeles
Marika Miner, daughter Tom Miner, Los Rios College Federation of Teachers
Khalif Moore-Stevenson, son of Chanita Stevenson, Berkeley Council of Classified Employees
Alyssa Neumann, daughter of Genevieve Neumann, Galt Federation of Certificated and Classified Employees
Nicholas Perkins, son of Magda Noffal-Perkins, Ojai Federation of Teachers
Alyssa Petersen, daughter of Lorri Petersen, Evergreen Federation of Teachers
Alexi Pyles, daughter of Cathy Pyles, Los Angeles College Faculty Guild
Isabel Reeder, daughter of Marla Burg, Ventura County Federation of College Teachers
Emily Schefke, daughter of Judith Schefke, United Teachers of Los Angeles
Janae Stewart, daughter of Beverly Stewart, San Jose/Evergreen Faculty Association
Camille Stout, daughter of Lori Stout, Carpinteria Association of United School Employees
Lev Tauz, son of Elena Tauz, AFT College Staff Guild-Los Angeles
Megan Veach, daughter of Robert Veach, North Monterey Federation of Teachers
Kortney Whaley, daughter of Jody Whaley, Santa Paula Federation of High School Teachers
Tanner Wrout, son of Jeffrey and Lori Wrout, Oxnard Federation of Teachers and School Employees
2011 High School Seniors
Kiley Aldridge, daughter of Diana Aldridge, Lompoc Federation of Teachers
Taylor Brown, daughter of Lee Brown Jr., State Center Federation of Teachers
Tucker Chopp, son of Jay Chopp, Rescue Union Federation of Teachers
Noah Connally, son of Daniel Connally, UC-AFT Santa Barbara
Shawna Gillespie, daughter of Sharon Gillespie, Oxnard Federation of Teachers and School Employees
Gabriel Gonzales, son of Christa Gonzales, Oxnard Federation of Teachers and School Employees
Thomas Kilkenny, son of Sherri Ann Kilkenny, Greater Santa Cruz Federation of Teachers
Jenna King, daughter of Dennis and Beth King, Oxnard Federation of Teachers and School Employees
Aaron Kirschen, son of Barry Kirschen, Greater Santa Cruz Federation of Teachers
David Knight, son of Thomas Knight, Pajaro Valley Federation of Teachers
Kai Kopecky, son of Christine Kopecky, Pajaro Valley Federation of Teachers
Kristen Kumagai, daughter of Jeanne Kumagai, ABC Federation of Teachers
Megan Liska, daughter of Mark and Donna Liska, Poway Federation of Teachers
Anand Lodha, son of Madhu Lodha, Cabrillo College Federation of Teachers
Zoe Lulla, daughter of Danny Lulla, Gold Trail Federation of Educators
Shamik Mascharak, son of Nandini Bhattacharya, Faculty of UC Santa Cruz
Emily Morrison, daughter of David Morrison, United Educators of San Francisco
Grace Nelson-Barer, daughter of Deborah Barer, Berkeley Federation of Teachers
Cecilia Peña-Govea, daughter of Susan Peña, Jefferson AFT Federation of Teachers
Kaitlyn Phillips, daughter of Tracy Phillips, Lompoc Federation of Teachers
Sarah Ruderman, daughter of Ann McMurdo, Peralta Federation of Teachers
Crystal Scherr, daughter of Mildred Scherr, Berkeley Council of Classified Employees
Nicole Seymour, daughter of Elena Urbina, Pajaro Valley Federation of Teachers
Rene Siqueiros, son of Lynne Siqueiros, Pajaro Valley Federation of Teachers
Mary Smith, daughter of Lorraine Smith, State Center Federation of Teachers