The annual Classified Conference was held October 15-17 with nearly 125 people making the trek to Las Vegas for CFT's first in-person conference and a pre-pandemic style but COVID-safe program with plenary sessions, workshops, and social events.
Classified staff and paraprofessionals were happy to see each other again after nearly 19 months of pandemic isolation, and a virtual conference last year. They joined together under the theme "Classified Professionals — The Heart of Education."
Attendee Pamela Ford summed it up best: "This conference was like a much needed drink of water. It was rejuvenating!" Ford, who is president of the Antelope Valley Federation of Classified Employees in Lancaster, continued, "It was wonderful having such a diverse group in attendance, all taking in the information, meeting new people, and enjoying one another's company, after that long drought of absence due to COVID."
On Friday night attendees were treated to a special presentation by AFT archivist and historian Dan Golodner covering "How PSRPs Gained a Voice and Became the Heart of the AFT Story."
Golodner told the history through stories and videos. The AFT has been in existence for 105 years and Paraprofessionals and School-Related Personnel (PSRPs) have been part of that history for more than 50 years. In California, PSRPs include classified employees and paraeducators working in public schools and colleges and support staff in private schools.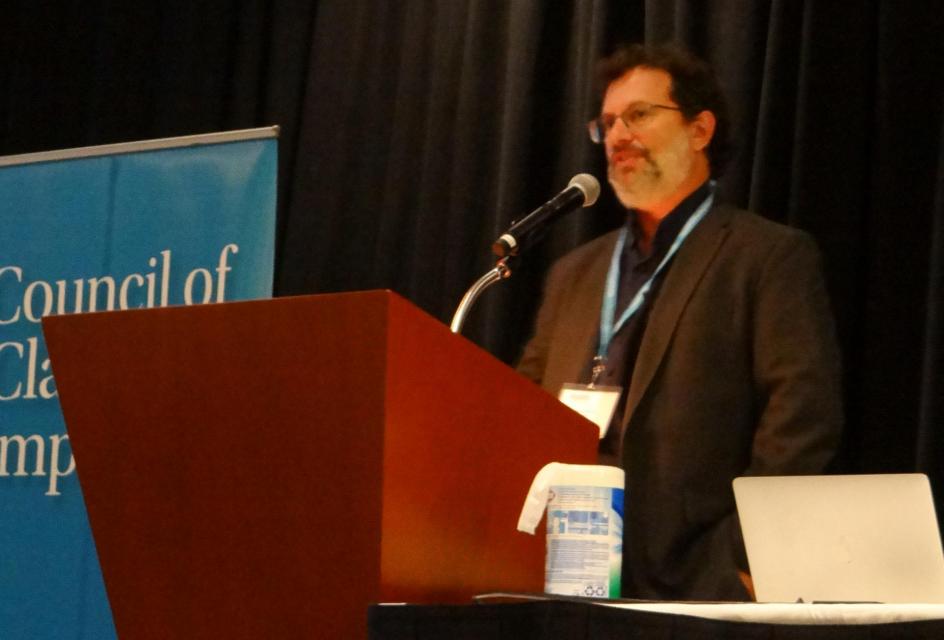 On Sunday morning, CFT Secretary Treasurer Luukia Smith followed up with a short history of classified in the state federation and specifically what led to the CFT rebranding "A Union of Educators and Classified Professionals." The nearly two-decade attempt to give classified employees more visibility in the CFT came to fruition this year.
On Saturday morning CFT President Jeff Freitas gave attendees the opportunity to share the most pressing issues in their local unions and suggest solutions. Based on the impromptu response, locals and members definitely share similar struggles. Here were the top six issues.
Vacancies in the workplace are common and the solution is simple — hire more workers.
Districts are trying to save money by increasing the hiring of hourly and student workers — those jobs should be converted to classified service positions.
Lack of upward mobility. For example, in a merit district, classified professionals cannot promote beyond 3% of their current salary — a promotion is worth more than 3%.
Safety officers are being contradicted by administrators — there should be standard rules for all to follow.
Low enrollment caused by charter schools and the pandemic — we need to work together to ensure public schools continue to be places of high-quality learning and community support.
And lastly, a bit of humor, but with truth: Make human resources more human.
Throughout the day, members had the opportunity to attend workshops, with topics ranging from safety at work to race and diversity.
In a workshop about the merit system, a team from the California School Personnel Commissioners Association reviewed the policies and procedures of a personal commission. They explained in detail how commissioners are appointed, their roles and responsibilities, and answered questions from members that shed light on how a commission works. In addition, a role play with members illustrated how the process really works. The presenting team reviewed how members can file an appeal and ask for assistance, and announced that a Merit Academy will be held in March that members can attend for a fee.
Another workshop "Putting Your Best Foot Forward: Advancing in Your District Career," addressed a common member concern and discussed applying for a new job or seeking a promotion within your district. Presenters Carl Williams, Veronika Huntsberry, and Hazel Alonzo shared their experiences as interview panelists and passed on tips to ensure a winning interview. Presenters shared helpful resources, online and in print, and raffled books on how to write a cover letter and resumé and how to have a successful interview.
A panel discussion capped the Saturday plenary session. "Organizing for Success" was moderated by CCE Southern Vice President Tina Solórzano Fletcher, herself a veteran organizer with San Diego's AFT Guild. Each panelist talked about how their local has used new technologies —electronic membership forms and text messaging — combined with tried-and-true techniques to increase membership and union activism during the pandemic.
Lisa Agcaoili, first vice president of the Lawndale Federation of Classified Employees, said Local 4529 used text messaging app Hustle to sign up non-members by texting them a link to the online membership form. They texted all members reminders to attend union events and meetings.
Nancy Rolfe Bynum, a bargaining team member for the Treasure Island Jobs Corps Workers Union, said Local 6319 was forced to re-sign members and negotiate a new contract when a different subcontractor took over administration of the private training center in San Francisco. The local "Hustled" and phone banked to sign up over 90 members, turn them out for Zoom negotiations and sign a petition in support of high-quality healthcare benefits.
Gloria Garcia, president of the Early Childhood Federation in Los Angeles, said Local 1475 Hustled and phone banked to turn out folks for union membership meetings and employer board meetings. This pressure halted an attempt by Plaza de La Raza, a private Headstart, to subcontract its kitchen service and saved 10 members' jobs.
Jim Mahler, president of the AFT Guild, San Diego and Grossmont-Cuyamaca Community Colleges, learned that the tried-and-true method of one-on-one communication works best, with Local 1931 phone banks successfully signing up new members during the pandemic.
Mildred Scherr, site representative for the Berkeley Council of Classified Employees, said Local 6192 phone banked and Hustled to sign up more than 100 new members since last March and turn out members for meetings and actions resulting in the Berkeley Unified district agreeing to in-person work stipends.