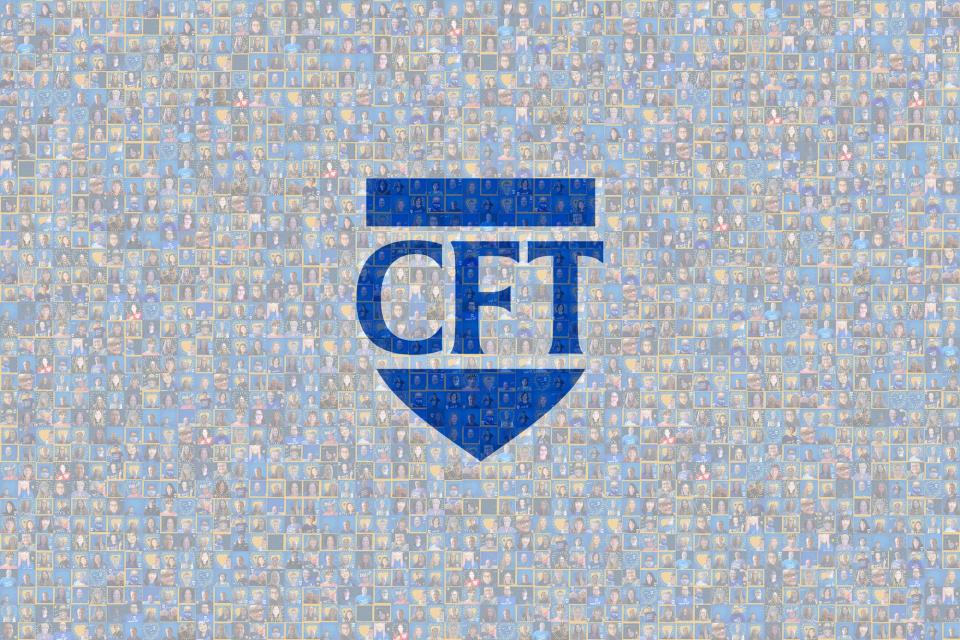 This spring, CFT launched a new identity in recognition of its diverse membership. A primary goal of the rebrand was to integrate the tagline A Union of Educators and Classified Professionals to acknowledge that CFT represents more than teachers and faculty members.
Our diverse union also represents dozens of job classifications for classified employees and support staff, paraprofessionals, as well as certificated librarians, psychologists, speech pathologists, and many others, all of whom contribute to the success of our students' education.
This rebrand came after a working committee examined numerous possibilities and presented alternatives. The organization's final recommendation was crafted into a resolution and passed by delegates to the CFT Convention in 2019.
As part of the rebrand, CFT developed its first unique-to-CFT logo. The logo retains the iconic blue shield of the AFT logo to build upon the collective strength and unity of our national union and all its affiliates across the nation. CFT, however, presents the shield in a stylized treatment with clean contemporary lines, well suited to our digital world.
Find answers to more questions about the rebranding below.
Why did CFT (formerly California Federation of Teachers) rebrand itself?
CFT has always been proud to stand for our schools, our students, and our communities, but our previous name didn't reflect the sum of our parts. CFT is an inclusive union that represents teachers, bus drivers, faculty members, cafeteria workers, counselors, custodians, librarians, paraeducators, school nurses, and more. Every CFT member, regardless of their sector or workplace, works hard to ensure students receive the quality education they deserve. CFT recognizes and celebrates every role played by its members in educational settings and in our union; our name should reflect who we are.
What does the rebrand represent?
CFT is a union of educators and classified professionals — we are all CFT. Our rebranding reflects our commitment to inclusivity and demarginalization. It reaffirms diversity as our biggest strength.
What does the new logo represent?
CFT's new logo emphasizes unity. It recognizes the unique roles our members play in welcoming California students to and through their educational journeys. The shield symbolizes our national AFT connection, strength, and dedication to our schools, students, and professions.
What does the rebrand mean for me day-to-day?
CFT will continue to face challenges in protecting and strengthening our educational systems and communities we serve. The rebrand embraces our diversity and highlights our commitment to valuing each other and standing together to successfully meet these challenges. Our shield binds us together stronger through our collective efforts.
Who should join CFT?
Every educational worker who wants to be a part of a progressive union committed to full access to quality education, workplace rights, and academic freedom should join. We represent, value and honor all members, and fight to achieve dignity and respect in the workplace, decent lives for workers and their families, economic and social justice, and security in retirement.