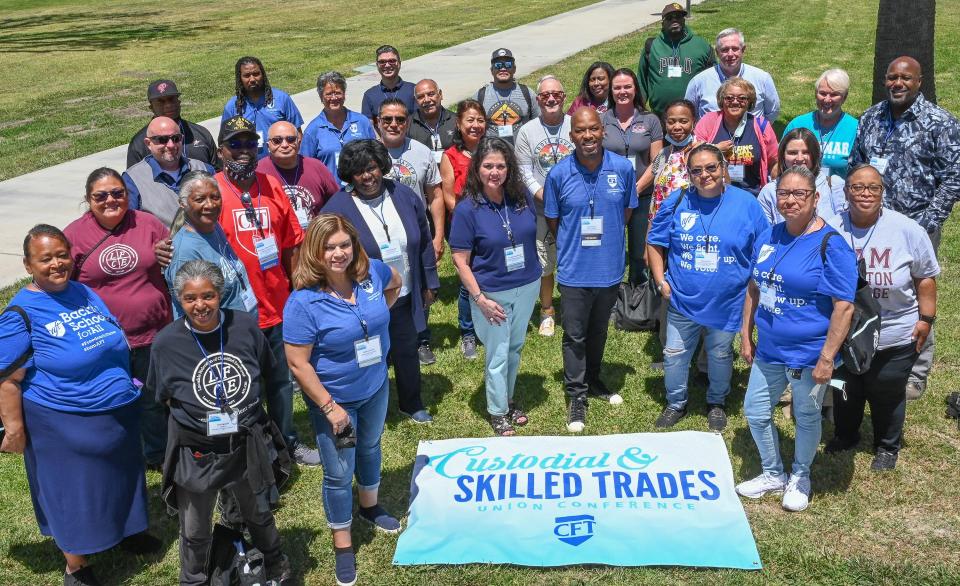 Dozens of classified members from locals up and down California recently met at Compton College for the first Custodial and Skilled Trades Conference hosted by the CFT Council of Classified Employees.
"We have talked about this for years, and put it off for two years because of COVID, but here we are," said a buoyant CCE President Carl Williams.
CFT President Jeff Freitas welcomed participants by Zoom in the morning, and Mac McKinzie, president of the Compton Community College Federation – Classified, welcomed them to the campus.
The mood was upbeat, but the sessions were sobering. Three of four workshops probed on-the-job challenges that have become deadly tragedies — powerful chemicals, extreme weather, and rampaging shooters — and a panel explored how the pandemic has transformed custodial work.
"We hoped to show our custodians and skilled trades members their importance within the council and create a safe space to share experiences," said CCE Southern Vice President Tina Solórzano Fletcher. "I think it was a huge success. Our workshops were well attended and we had great participation."
How COVID changed our working lives
Northern Vice President Janet Eberhardt moderated a panel during lunch about how COVID changed working lives over the past two years.
"When the pandemic began," Eberhardt recalled, "custodians were the first people that administrators wanted to get rid of. They said custodians didn't have anything to do. I can only imagine what our campuses would look like if they were gone."
Sasha Craig of San Diego County's Palomar College and Armando Gomez of Orange County's Golden West College described the tangible and emotional changes at work.
"Before COVID, deep cleaning was for floors. Now it's furniture, keyboards — everything from floor to ceiling," Craig said.
Gomez described an "unaddressed anger-management issue" in his department after 30% of his coworkers were infected, including several who died.
"This is a mental health issue," Eberhardt added. "We say 'anger management,' but what we're really talking about is depression."
Climate-related dangers on the job escalate
California was the first state to order employers to protect workers during heat waves. Three others — Oregon, Washington, and Minnesota — have since passed similar laws.
Cal/OSHA heat standards have two trigger points. When temperatures hit 80 degrees, employers must provide water, shade, and rest. At 95 degrees and above, management must maintain special communications, monitor symptoms, and provide water. Health experts recommend drinking four cups of water per hour when working in extreme heat.
The most common violations that Cal/OSHA cites are employers that lack a heat plan, lack a training program, and lack of drinking water. The standards only apply to outdoor workers. The agency is currently developing indoor standards.
Human bodies respond differently to high heat. Symptoms may include confusion, vomiting, and convulsions. New employees need to acclimatize, starting with short shifts in the heat and slowly increasing their exposure.
Sasha Craig filed a grievance last summer because Palomar's air conditioning system was programmed to turn off nightly at 10 pm, shortly after her shift began.
"It was so sweaty," she said, "that I wound up with a heat rash and my coworker had heat stroke."
Extreme heat isn't the only climate-related change that affects classified staff. Drought and 100-degree days can spark wildfires with choking smoke. Custodians described campuses covered in ash from the nearby blazes of wildfires.
Cal/OSHA requires employers to offer N95 masks or other respirators to employees if the Air Quality Index reaches 151 points.
Active shooters on campus
A person has only three options if a raging gunman is loose in their workplace: Run, hide, or fight.
Sadly, more Americans than ever are being forced to make that bleak choice. So far in 2022, there have been an average of 10 mass shootings each week, and that doesn't count incidents with fewer than four victims.
None of the workshop participants had confronted a gun-wielding attacker on campus, although Armando Gomez did face a sword-wielding intruder outside the Student Services building at Golden West College.
And while none of the participants had received active shooter training or knew what their school's plans are, Palomar's Sasha Craig has served in the U.S. Navy and naval reserves for 11 years. "We train for that every year," she said.
Dealing with toxic chemicals safely
The workplace is awash with thousands of powerful chemicals, from disinfectants to weed killers. In many cases they are out of control. Workers suffer more than 190,000 illnesses and 50,000 deaths every year from exposure to regulated and unregulated toxins.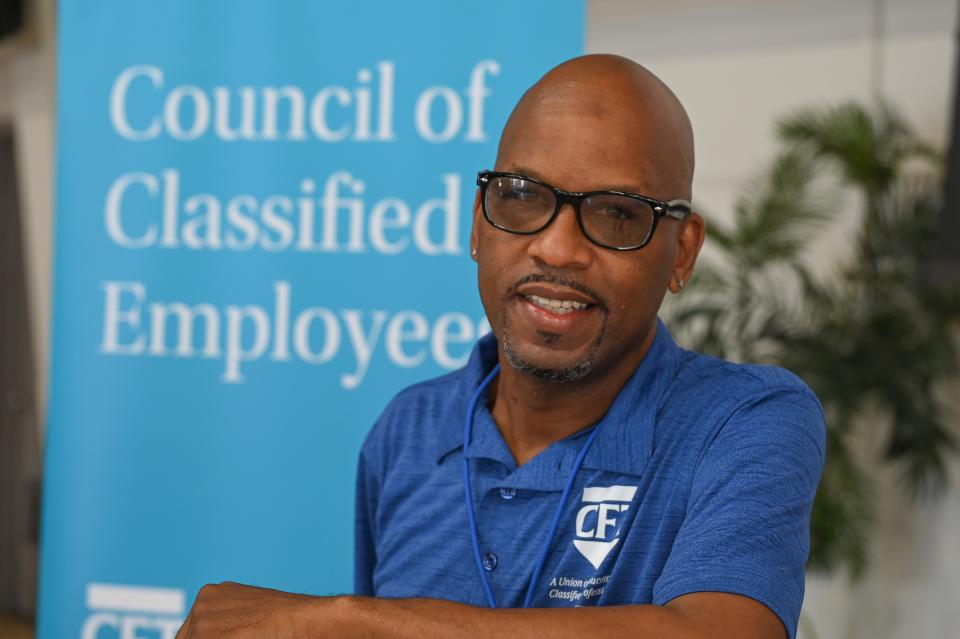 "Everyone has chemicals on their worksite, but not everyone knows how to handle them safely," Carl Williams said. "We didn't want to give our members 'How to Wash a Carpet.' We wanted to be real here."
Armando Gomez said he was impressed by the positive approach participants took in the workshops.
"When you add the numbers up it's shocking to see how serious and widespread these problems are," Gomez said. "People at this conference were looking clearly at the situations we face and coming up with concrete steps we can take."
Tina Solórzano Fletcher and the CCE officers are looking forward.
"This was the first time many classified members attended a CFT event, and they were glad they came," she said. "We committed to presenting a group of workshops especially for custodians and skilled trades workers at our annual conference in October. "
— By Steve Weingarten, CFT Reporter