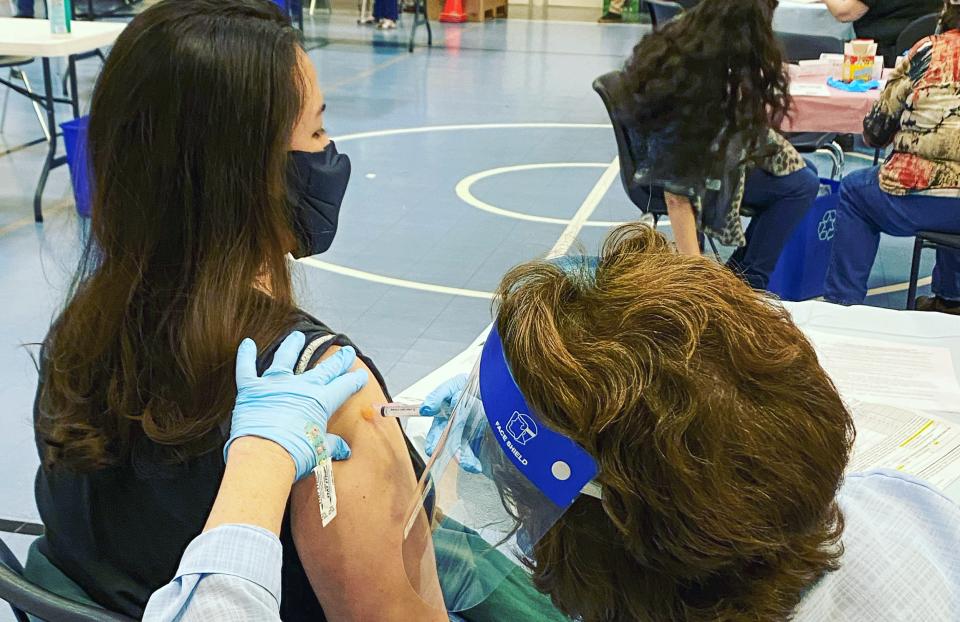 Throughout the COVID pandemic, CFT members from early childhood centers to community colleges have shown how essential classified employees are. During the past 15 months, techs helped power an overnight transition to online learning, custodians learned how to hit back at the coronavirus, and health aides are now on the front lines of reopening schools.
Getting shots in members' arms
The Biden administration has rolled out an aggressive national vaccination drive, but communities of color and lower income households have been among the hardest to reach. CFT stepped up to help inoculate hundreds of union members who work and live in hard-hit neighborhoods.
"One union member told me that helping members get vaccinated might be the best benefit we ever offered," said Carl Williams, president of the CFT Council of Classified Employees. "I wouldn't go that far, but given what's happening in the world, this is what people really care about."
CFT staff scheduled more than 100 appointments, and members began getting vaccinated the following day at Cal State University Los Angeles.
"Members felt a sense of relief, like a burden was released," said President Gloria Garcia of AFT Local 1475, the Early Childhood Federation. "They tried the longest time to get them through regular channels. They were so proud of the union. We received so many grateful calls and texts and messages."
The Early Childhood Federation represents educators in public and private schools and nonprofits around Los Angeles. Last October, Garcia said, a Local 1475 member died from COVID at Plaza de la Raza, a nonprofit arts center on the Eastside. Diane Millan fought for about six weeks, including two weeks on a ventilator. Plaza's board of directors didn't even recognize her death, and the director has since resigned.
Fingers on the pandemic's pulse
Kristia Groves McTyer, a health aide at Jane Adams Middle School in Lawndale, was concerned last spring when information about COVID started circulating. "Several students with some of those symptoms had been in my office, and we were in close contact."
McTyer began working from home in December. The distance learning system marks students absent if they don't log in for a class. Her job was calling homes to find out why they missed. Medical problems, wifi glitches and oversleeping are the most common reasons.
McTyer received her first dose of Pfizer vaccine in January, and her second shot the next month. She refers parents who don't have medical coverage to take their children to the nearest Los Angeles County Health Department facility.
She thinks the Lawndale School District is handling the crisis well. "They seem dedicated to following CDC guidelines and providing the right PPE to everyone who needs it — employees and students."
The district changed out the air vents and filters, and upgraded the system. "Now the AC will stay on even if you open a window or leave a door open so the air continues to circulate."
McTyer has also attended several trainings on effective techniques for sanitizing classrooms and offices. "For example, we learned what the proper 'dwell time' is for different products. A chemical can take 5 to 15 minutes to work, and if you wipe it off too soon it may not be clean."
She dodged the virus and her husband and son also remained healthy. The Lawndale school community, however, mourned the loss of Fred Garcia, an elementary teacher. Garcia's sister is a classified employee.
Students began returning to Adams in April, but only about 120 — one seventh of total enrollment — are now on campus. June 11 is the last day of the school year.
Protocols have changed: In most cases, students do not come to the health office. Teachers call McTyer if a student with non-COVID symptoms needs attention, and she will visit the classroom to address the problem.
If a student shows signs of COVID, McTyer will escort them to the isolation room and arrange for their pickup. After the student leaves, the room is sanitized and closed for 24 hours. The school has a pop-up tent for a back-up isolation room.
Custodians of a ghost town
Robert Wilmer never stopped scrubbing San Diego City College. Few students are taking in-person classes, making the campus feel like a ghost town, but custodians and others have worked throughout the pandemic.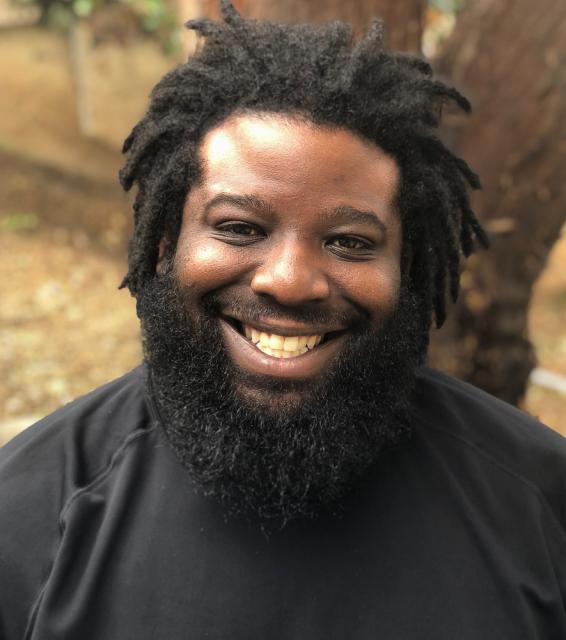 Crews now work three 8-hour shifts a week. Wilmer works Wednesday, Thursday and Friday nights, although "graveyard" is now 5 p.m. to 1:30 a.m. (It was 10 p.m. to 6 a.m.)
"It only makes sense because of COVID," Wilmer said. "You can do what you need to do and get out because there aren't many people. It's much harder to clean while students are on campus."
Wilmer faced the H1N1 and hepatitis C emergencies during more than 16 years as a custodian at San Diego City College, but the coronavirus has been a different kind of serious.
"I knew this was different when people were being quarantined and schools were shut down. We never had to do that before."
Wilmer, an executive council member of AFT Local 1931, said custodians receive proper training, PPE and other resources, and follow safety protocols. All shifts begin with a temperature check, and crew members text supervisors and each other to maintain social distance.
The nearly abandoned campus attracts caterpillars, spiders, crickets and other insects from nearby Balboa Park. "We do a lot of dusting and scrubbing because of all the critters."
With the pandemic, he said, "you realize who the good people are, and who are the bad ones. The anti-maskers and anti-vaxxers only think about themselves."
Classified employees on many campuses describe a spirit of cooperation with administrators. Not at El Camino College, where management hasn't replaced six custodians who have retired or resigned since the onset of the COVID pandemic.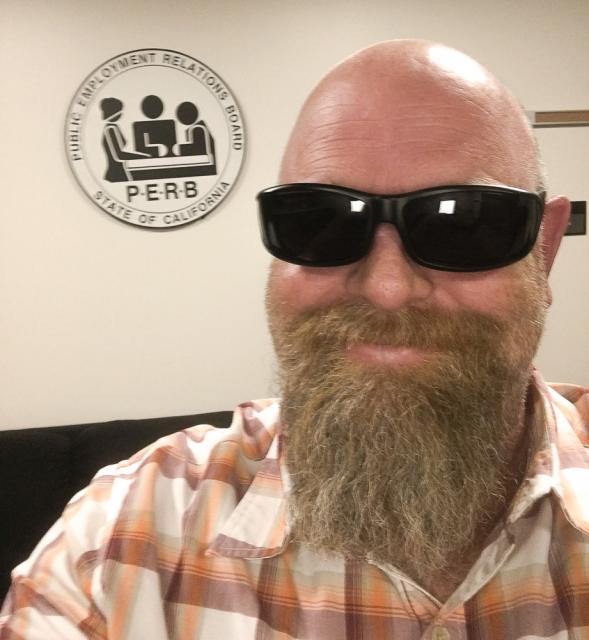 "Other districts may be bulking up," said AFT Local 6142 President Roy Dietz, "but El Camino is bulking down."
Dietz filed about 50 grievances during nine years as the local's senior grievance officer and vice president of employee-employer relations. He has filed 156 since becoming president 15 months ago.
"The current work environment is hostile and has staff in fear of retaliation, bullying, intimidation, belittlement, threats, and lack of correction for upper management," Dietz wrote in a blistering letter to the El Camino College Board of Trustees.
He described administrators disciplining workers for not wearing masks as they dug holes in the middle of fields, calling employees back to work before finishing quarantine, contracting out custodial work, and failure to train or provide proper PPE to staff.
"We're not asking for unreasonable things," Dietz said, "but management has done nothing, not even replace staff that has left, much less add personnel to get ahead of the pandemic."
Local unions negotiate the new normal
AFT Local 1521A is negotiating their entire collective bargaining agreement with the Los Angeles Community College District. The College Staff Guild is also discussing a June return to work, and recently signed an MOU providing $1,000 stipends to members.
AFT Local 4522 continues to co-host monthly community food distributions with the Palomar College faculty and unions across San Diego County. The local reached a tentative agreement for paid leave to get vaccinated, and is negotiating reimbursements for supplies, internet fees, and other pandemic-related costs.
AFT Local 6084 members were all told to report to their campus or district office when Santa Cruz schools began reopening in April. Working at home is now only allowed for medical reasons. The district upgraded ventilation systems, provided PPE to all, and offered vaccines to all who wanted a shot. Contract talks center on salary, including a new step increase at 25 years (which teachers already receive).
AFT Local 6108 members are slowly returning to Long Beach Community College campuses for two to three days a week, beginning with study areas and computer labs. The district is aiming at 40 percent of capacity this fall, with a full return by next spring.
AFT Local 6109 officers walked every Menifee school when campuses began to reopen in late March. The district and Walgreens held three vaccination dates leading up to the big event. The local is also negotiating a summer school MOU with a salary increase, which the district has already negotiated with teachers.

— By Steve Weingarten, CFT Reporter