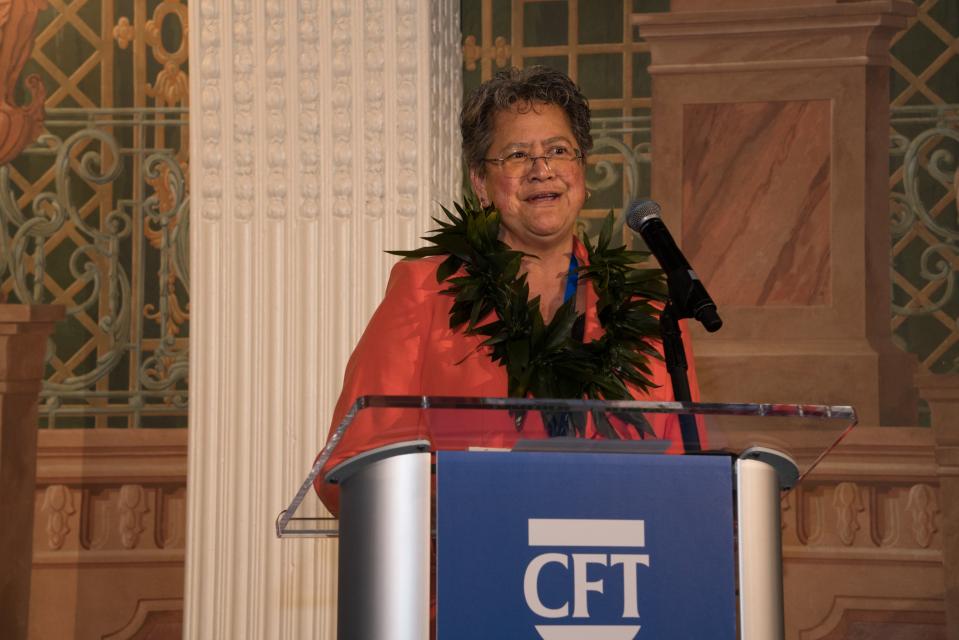 First came the pandemic protocols. About 100 participants from 15 AFT locals across California had to test negative for COVID before entering the Council of Classified Employees conference area.
Then came the fireworks. "We need to march in the Capitol for the next Classified Appreciation Week. If they don't want to recognize the work we do, we need to toot our own horn," CCE President Carl Williams roared in his welcoming speech. Williams drilled down on "Aspiration to Action," the conference theme.
"Everyone has ideas and plans, but how do we move from ideas to action, from perception to reality? It takes more than creating a wish list."
Williams pointed to several successful campaigns that delivered concrete results for union members.
"The Jefferson AFT Federation in Daly City moved a plan to build staff housing from aspiration to action in only four years. The district workforce is 60% certificated and 40% classified, and the housing they built has the same 60-40 split," he said. "Clap for that, brothers and sisters."
He also pointed to a new groundswell of union activity across the country.
"Everybody is organizing today—Trader Joe's, Amazon, even Medieval Times. Are we going to get in the game, or are we going to sit on the sidelines?"
Williams accepted that many members don't have the resources to mobilize.
"Low benefits and low wages make it hard for us to reach our goals, but the challenges we face today have been happening forever. We were underpaid, overworked and disrespected long before the pandemic."
The CFT has 43 local unions with classified members, he added. "You don't need to face challenges alone. You have brothers and sisters who know we are essential, and we have resources."
When he isn't leading the CCE, Williams serves as president of AFT Local 5429, the Lawndale Federation of Classified Employees. He is also an AFT vice president and co-chairs the Policy and Program Council for AFT's Paraprofessionals and School Related Personnel division.
"I don't take any of my appointments lightly," he said. "This is the honor of my life. This is my life's work."
The CCE also presented the first annual "Aspiration to Action Award" to the classified unit of the Compton Community College Federation of Employees. AFT Local 3486A hosted the CCE's first Custodial and Skilled Trades Conference on their campus earlier this year.
"The council talked about holding a trades conference for years," Williams said, "but we didn't get rolling until Compton stepped up. That's what we mean—again—about moving from aspiration to action."
Also speaking was Lori Woodley, founder of All It Takes. The Simi Valley-based nonprofit's goal is to equip youth and educators with the emotional intelligence skills to successfully navigate their lives and support their communities.
"We teach young people at critical life stages to practice empathy, compassion, initiative, responsibility and purpose," Woodley said.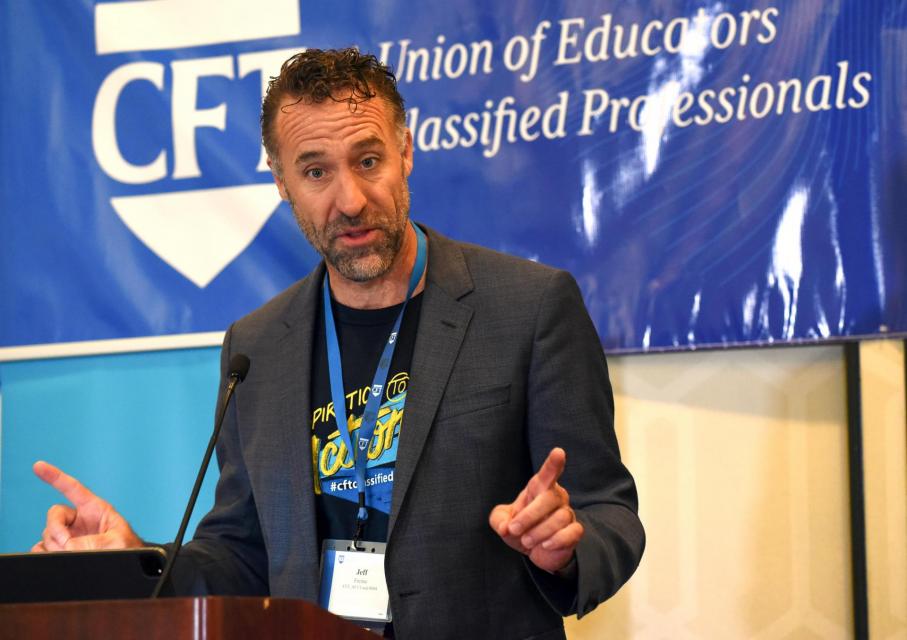 "Everyone has personal dreams," CFT President Jeff Freitas said, "but we're activists and advocates. We do things collectively. Our visions are for union members and students."
One of the highest profile actions the CFT has taken collectively, Freitas said, was changing the union's brand.
"We are 'a union of educators and classified professionals,'" he said, reading from a banner behind him. "Every time I see the word 'teacher' by itself in our branding I erase it. We are bigger than that."
Freitas and CFT officers are currently taking the pulse of members and drafting a new strategic plan. They polled members in May, and went on a "back to school" tour this fall to see what members think about teaching and the union.
The working title for the campaign is "United for Justice, United for Education." Salaries top the list of grievances.
"I worked at Taco Bell when I was young," Freitas said. "There's nothing wrong with that and I have no regrets. But we have a problem when school employees today are paid the same as Taco Bell employees."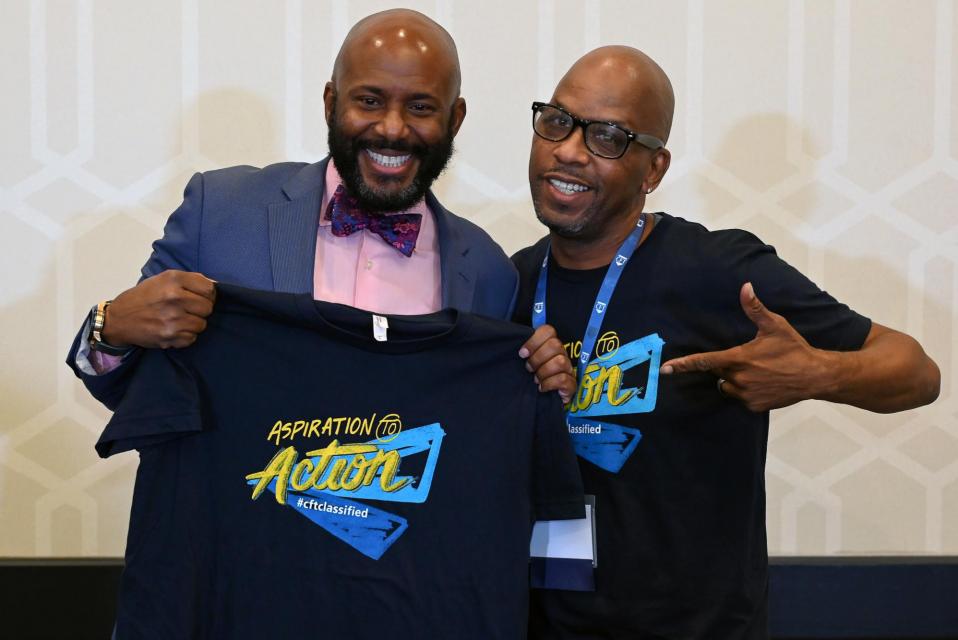 "When I came in this room," said Assemblyman Mike Gipson, the guest speaker at lunch, "I felt the energy."
Gipson was the driving force behind AB 2359, which will begin to restore Compton Community College's Personnel Commission after nearly 20 years. The commission had been dormant since the college's accreditation was first threatened in 2006 by the rogue Accrediting Commission for Community and Junior Colleges. (CFT went on to win a significant victory in a lawsuit against the ACCJC).
"We really appreciate your work to get Compton College back," said Felecia Hatten, treasurer of AFT Local 3486A, the classified union on campus.
"Thank you for being on the front lines and making a difference," Gipson responded.
Gipson knows the turf. He was born and raised in South Los Angeles and attended Compton College. His Assembly district includes Watts, Willowbrook, Compton, Gardena and North Long Beach. His son was shot twice here in 2018.
"I grew up on the rough side of the mountain," he said.
Workshops are a mainstay of conferences, and CCE organizers didn't disappoint. Most of the sessions followed the conference theme of moving members to take action, especially in the workplace.
"I heard very positive feedback in the hallways," said CCE Southern California Vice President Tina Solórzano Fletcher. "They thought the workshops were relevant and timely."
The most sobering session was torn from today's headlines: AVERT was a three-part, day-long training on surviving an active shooter incident at work. It was presented by the AFT Health Issues Division and UCLA's Labor Occupational Safety and Health program. AVERT—Active Violence Emergency Response Training—is a certified training and participants received certificates of completion. (See our full story about AVERT)
Solórzano and AFT Associate Director of Member Benefits Mary Pascale co-chaired a morning workshop on the broad range of AFT+ benefits available to members, from student loan relief and mortgages, to medical care and trauma counseling. They also covered two important voluntary benefits available to local unions for purchase—Accidental Death and Dismemberment and Occupational Liability Insurance.
Other trainings delved into grievance handling, strategic research for contract and organizing campaigns, and interview skills for landing your next job.
— By Steve Weingarten, CFT Reporter