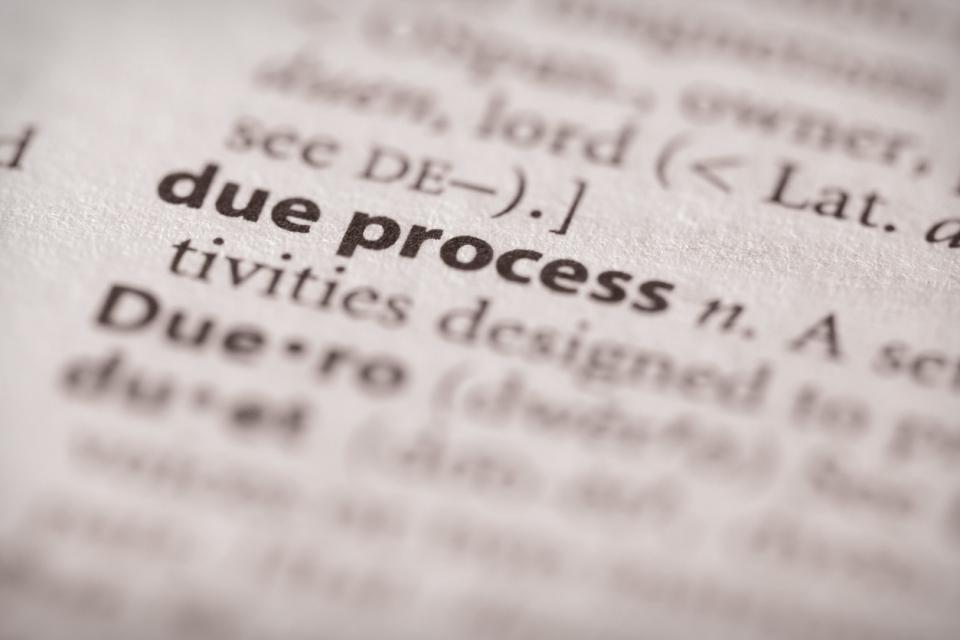 Governor Newsom capped the 2020-22 legislative session by signing a flurry of bills that CFT sponsored, co-sponsored or supported. Senate and Assembly bills with strong bearing on classified employees ranged from due process during workplace appeals, to a fair repayment plan for accidentally overpaid wages.
Following are the new laws CFT fought to win for classified employees and paraprofessionals.
Classified employees to remain in paid status during appeals
CFT-sponsored AB 2413 (Carrillo, D-Los Angeles) allows classified employees disciplined at a "Skelly Hearing" to remain in paid status while they appeal the decision to their district governing board.
"Due process," the legislative analysis said, "also applies to permanent public employees to protect their employment rights, including those relating to discipline."
The new law puts staff on an even footing with faculty, and applies to TK-12 and community college districts. Employees will not remain in paid status if they are in clear violation of law, have habitual violations of district policy, or committed acts that harm students, staff or property.
Juneteenth becomes an official state holiday
AB 1655 (Jones-Sawyer, D-Los Angeles) adds June 19 to the list of official state and school holidays. This comes on the heels of President Biden establishing Juneteenth as a new federal holiday in 2021.
Juneteenth is the oldest nationally celebrated commemoration of the ending of slavery in the United States. Dating back to 1865, it was on June 19 that the Union soldiers landed at Galveston, Texas with news that the war had ended and that the enslaved were now free. Today Juneteenth celebrates African American freedom and achievement, while encouraging continuous self-development and respect for all cultures.
Compton College Personnel Commission on road to restoration
AB 2359 (Gipson, D-Gardena) puts the Compton Community College Personnel Commission back on track. Personnel commissions are an integral part of every merit system district, but Compton's has been dormant since the college's accreditation was first threatened in 2006 by the rogue Accrediting Commission for Community and Junior Colleges. (CFT went on to win a significant victory in a lawsuit against the ACCJC).
Gipson, who himself attended Compton College, carried the CFT bill that restores the commission in an advisory capacity once the college repays debts to the state, and restores its full legal authority the following year.
The classified unit of the Compton College Federation of Employees, AFT Local 3486A, expressed its gratitude to Gipson for helping return this oversight body for classified staff.
Classified Employee Summer Assistance Program expands this fall to include community college staff
Additional policies that CFT advocated were addressed in the budget trailer bill AB 185. It provides $90 million to continue the Classified Employee Summer Assistance Program for TK-12 classified—and in a significant expansion—includes $10 million to launch a program for community college staff. The Chancellors Office announced on October 27 that the community college program will begin this fall. Find the timelines for both systems in our Summer Assistance Program toolkit. The bill also redefines a "month" to include four-day weeks and holidays to ensure staff have full coverage.
Fair repayment plan for wage overpayment
AB 185 also requires an employer that accidentally overpaid wages to notify affected employees and create an agreement to repay overpayments in cash, installments, adjustments of leave, or paid time off.
The new law was inspired by Carl Williams, president of the CFT Council of Classified Employees, who reported that members who had been overpaid were being harassed by bill collectors.
Budget trailer bills also provided:
an extension of COVID paid sick leave through December 2022;
a refundable tax credit of $100 for union dues starting in 2024;
$200 million in ongoing annuals funding to expand healthcare coverage for part-time faculty in the community colleges (Learn more about the CFT campaign); and
various programs to expand green school priorities.
School transportation funding
Sen. Nancy Skinner (D-Berkeley) introduced SB 878 to provide a free ride to school for every child who needs one. Her "Road to Success" failed, but the legislative debate primed the pump for a major increase in funding for school buses.
The 2022-23 state budget added $637 million in ongoing funds to TK-12 districts and county offices for home-to-school transportation.
The budget also creates a Green School Bus Program, with $1.125 billion to support zero-emission school buses and $375 million for related charging infrastructure. Funds will be available for five years, starting in 2023-24.
Studies show a strong relationship between access to transportation and improved school attendance, especially among younger schoolchildren. Department of Education data for 2020 pointed to lack of transportation to school as one of the most common reasons why students miss class.
"The research is clear," said Skinner. "Students with school-provided transportation miss far fewer days and are more likely to graduate. Getting to and from school should never be a barrier to student success."