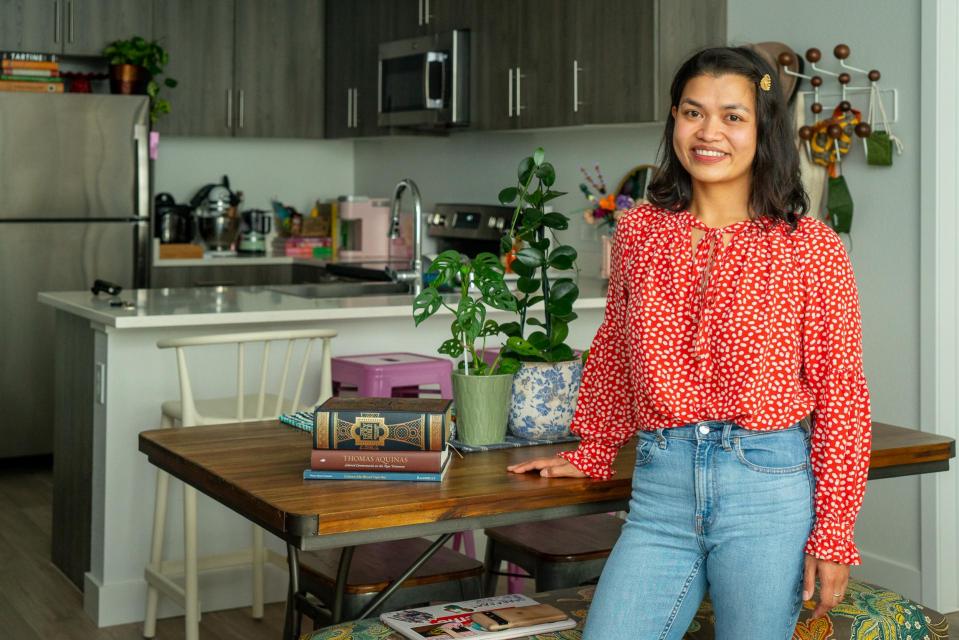 The Jefferson Union High School District knew it had a problem holding onto staff. The district was losing about 25% of its certificated and classified employees yearly, and a survey showed that many were leaving the Daly City school district because of the high cost of housing.
Jefferson Union followed a handful of districts around the nation with an innovative approach to attracting and retaining staff: Provide affordable staff housing. The school district, only minutes south of San Francisco, comprises three suburban high schools in Daly City and two more in the neighboring coastal city of Pacifica.
Though other wealthier school districts like Los Angeles and Santa Clara might lead the way on educator housing, this small district built a $75 million, 122-unit apartment building that has made believers out of beginning and experienced employees.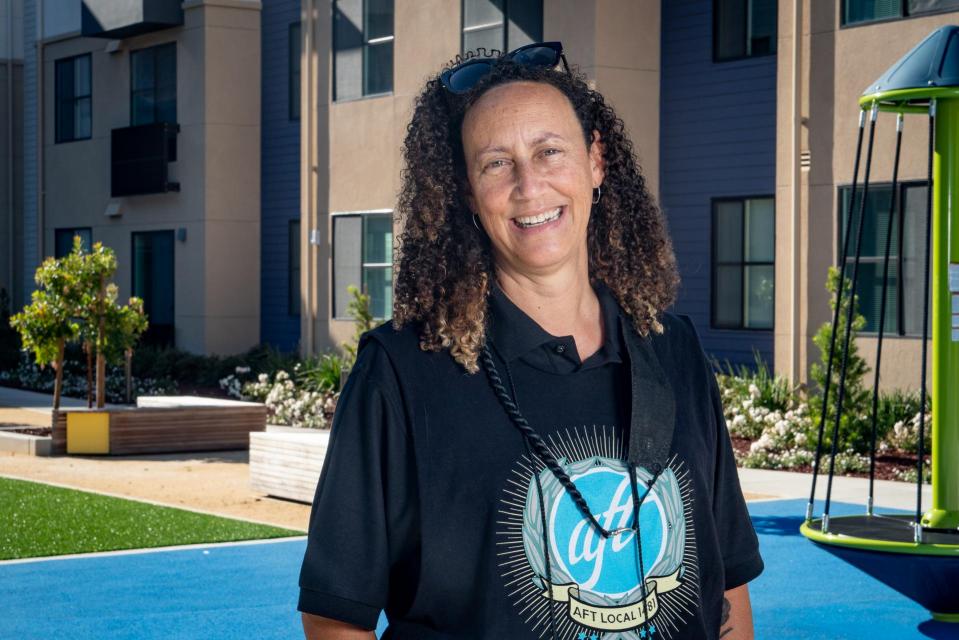 "We took the bull by the horns," said Mike O'Neill, president of the Educational Housing Corporation Board of Directors.
O'Neill is one of two Jefferson Union employees on the seven-member board. A former bus driver, O'Neill now works as a transition navigator in the adult school. He is also vice president of AFT Local 1481, the union representing certificated employees and classified employees who work in the district. What's more, O'Neill serves as an elected city councilmember in Pacifica. He has deep roots in his community.
The district housing project got off the ground when voters approved a $33 million bond in 2018 to cover construction costs. Through organized phone banking, union members urged thousands of people in Daly City to support the bond measure.
"Our community listened to us," said AFT Local 1481 President Monica Casey. "They value their high schools and the teachers and staff who work in them. They want what's best for their kids."
The real estate for the housing was a hilltop parking lot (with panoramic views) at district headquarters, and cost nothing to acquire. The district Board of Trustees borrowed $45.5 million through a certification of participation that will be repaid with income from rent. A management company oversees the complex.
The one-, two- and three-bedroom apartments were going to be assigned by lottery, but in the end everyone who wanted a unit received one. The details are still being worked out, O'Neill said, but educators can stay from five to seven years. The goal is for renters to eventually buy homes. If they separate from the district, they must leave their apartment within 30 days.
O'Neill said the housing board focuses on two numbers.
"We tried to set rents at 57% of market rates, and keep the same ratio of teachers and classified staff renters as in the district overall," he said. "The last report was right on the mark. Rent seems to be working out at 55 to 57%, and our tenants are about 60% certificated and 40% classified."
The district estimates that more than a dozen new hires came to the district specifically because of the promise of affordable rent. The housing crisis generates so much interest that the TV show Good Morning America recently broadcast live from the Daly City site.
* * * * *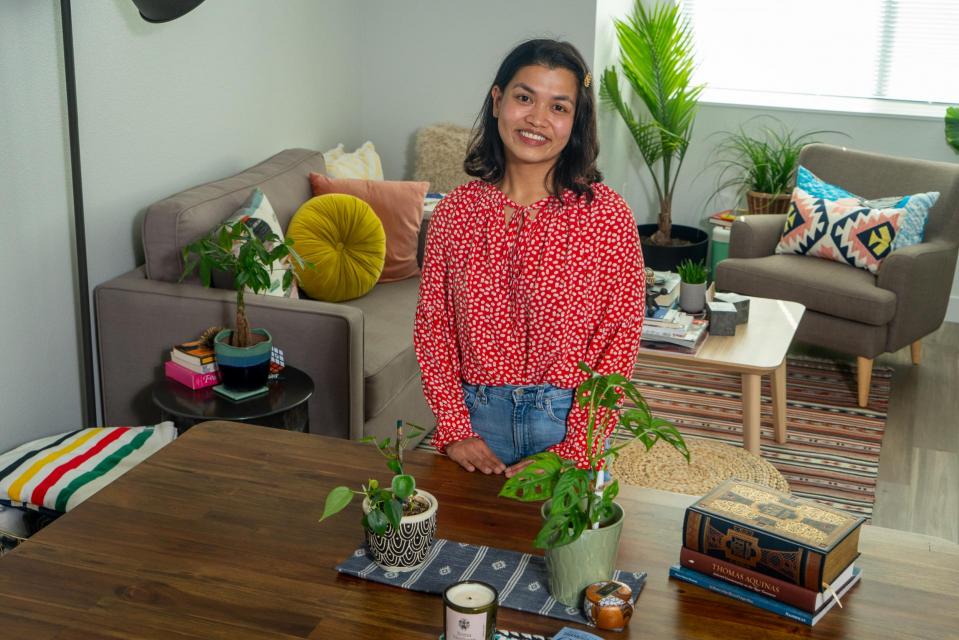 One resident is Alex Daria, a special education paraprofessional at Terra Nova High in Pacifica. Daria was born in San Francisco and raised in Daly City, and still sees her old teachers around town.
Living and working here, she says, "lets me still be part of the community and give back."
Daria and her sister Michelle moved into their two-bedroom, two-bath apartment in May. Alex began working for the district in January. Michelle has been a special education teacher in the district for seven years.
Alex heard about the housing program during an online job fair while applying for work. She jumped at the opportunity.
"This was my chance to actually have my name on the lease," she said. "Most places want to look at your credit score, your income, and other financial details, but the district already knows all about me. And they deduct my rent from my paycheck."
She has even opened a savings account. "I never had one before. Now I put money away. One day, hopefully, I'll be able to buy a house."
Alex loves the new apartment's large windows and insulation. "It's so quiet that I forget I have neighbors, and the windows are great for houseplants that need indirect sunlight."
The complex also features a gym, community room and laundry room, as well as indoor and outdoor play areas for children.
"Everyone is very respectful," Alex said. "I feel like I belong here. I'm comfortable in my space. It's like living with your family again."
* * * * *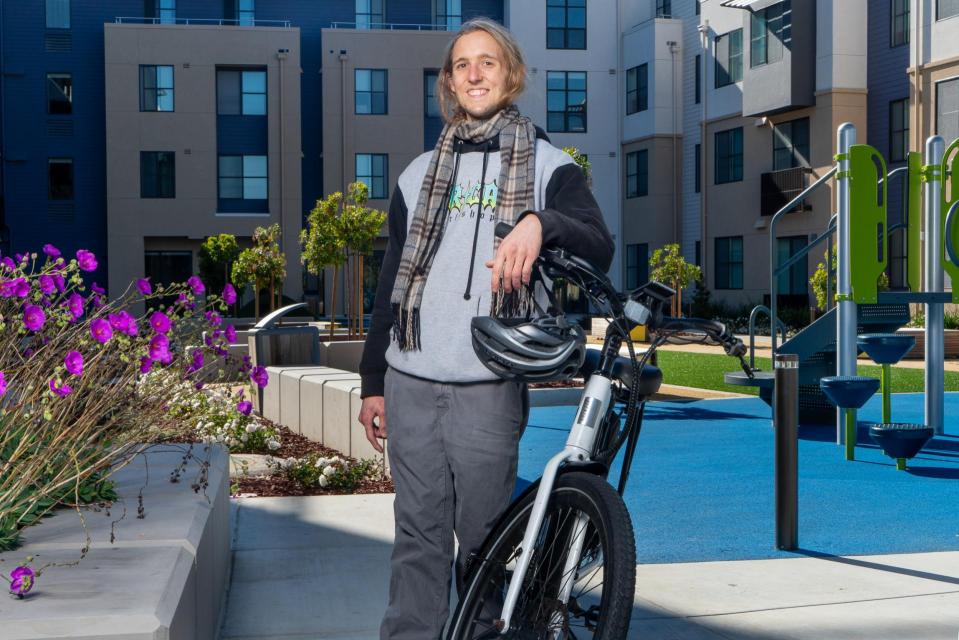 New resident Robbie Rock started teaching ninth grade humanities last year at Pacifica's Oceana High, shortly after finishing his master's program at Stanford University.
One of the biggest draws for Rock was the apartment building's central location. None of the district's five high schools are more than a 15-minute commute away and he doesn't drive. Rock now enjoys cycling back and forth to work daily.
"I fell in love with Oceana," he said.
Rock moved into his one-bedroom apartment in July, after the contract on his previous market-rate rental expired. He said he was nervous at first about being a new teacher in a community of educators.
"But the experience has been completely different. It has been like college again, in all the good ways."
* * * * *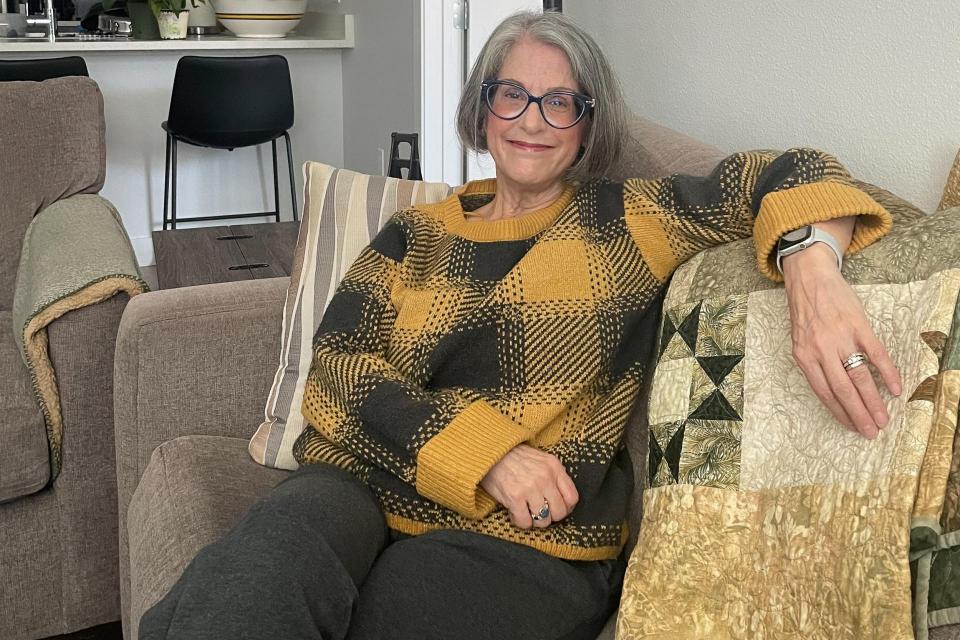 Shirley Cruz is an administrative assistant at Westmoor High who has worked for the district about 10 years. Cruz and her husband, Dennis, a truck driver for San Francisco Unified School District, were born and raised in San Francisco.
"But we can't afford to live there now," she said. "That's why I was excited about this housing project from the minute I heard about it."
The Cruzes moved in on Memorial Day weekend, right after the close of the last school year. "It's nice to live in a place that's lovely and all the appliances work."
At the moment, however, Cruz is quarantined in the couple's new two-bedroom, two-bath apartment. She calls it "comfortably quarantined with COVID."
Cruz called up a famous saying to describe the community. "They say it takes a village to raise kids," she said, "and the district built a village, with all these different groups of people. There are older people like us, and young families. Everyone is very respectful of each other. We all work for the district. And we all want to take care of this village."
* * * * *
Local 1481 President Casey says another phase is coming. The district plans to move its office from the remaining hilltop space and develop another planned neighborhood.
"We are hoping to raise revenue for our district by building housing — with below-market and market-rate options — that the city needs anyway," explained Casey. "It would also have business store fronts on the buildings. This way, over the long term, the district will have a steady stream of income that is not dependent on the state."
— By Steve Weingarten, CFT Reporter