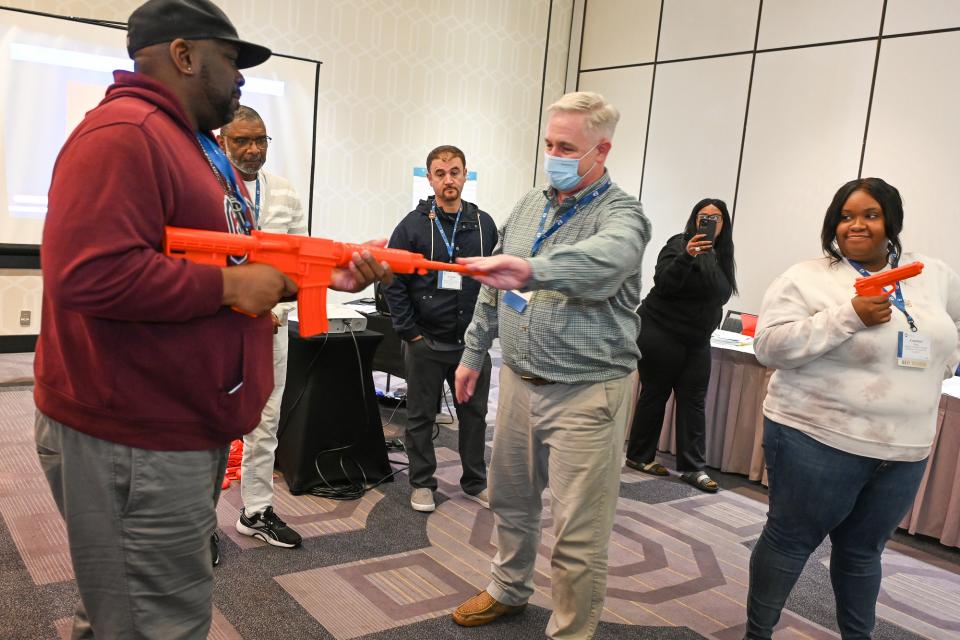 The names of the schools are etched in our minds: Columbine High, Virginia Tech, Sandy Hook Elementary, Marjorie Stoneman Douglas High, Uvalde Elementary. Gunmen with grudges have struck at all grade levels and in every corner of the country.
Most shootings take place at businesses, but news stories more often focus on schools. Deadly shootings are, in fact, tearing up U.S. schools at a record pace. According to Education Week, as of October 24 there have been 40 school shootings this year, with a toll of 34 dead and 88 injured.
The AFT Health Issues Division is helping to meet the growing threat by offering the Active Violence Emergency Response Training program. AVERT debuted at the CFT Classified Conference.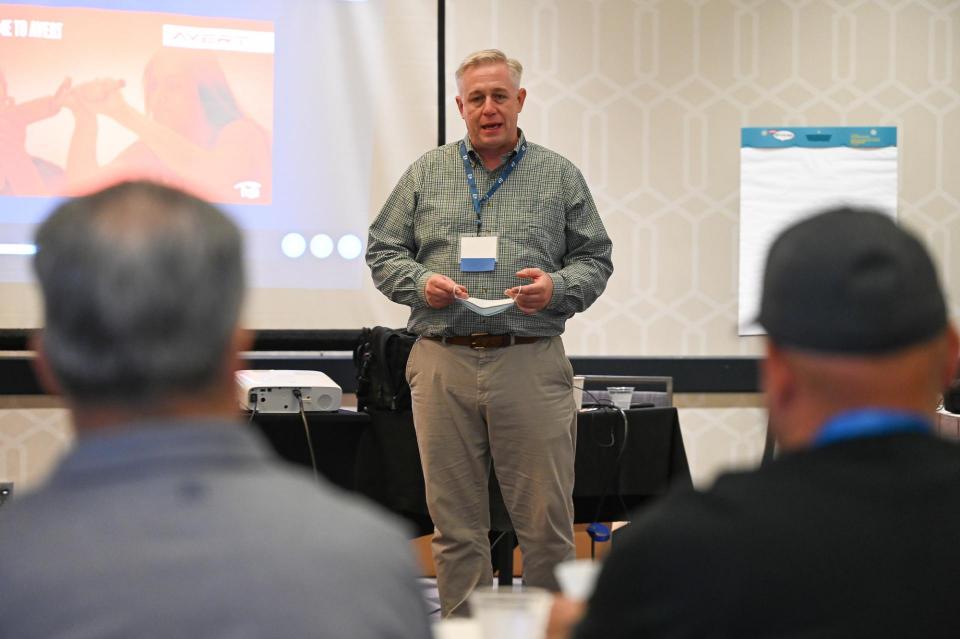 Assistant Director Keith Wrightson walked 28 participants (21 women and 7 men) through a day-long workshop developed with the company that also provides CPR classes for AFT members. At the end of the day, attendees received a Certificate of Completion. Most had previous earthquake and fire preparedness training, and some had participated in active shooter drills.
"When violence occurs," Wrightson said, repeating AVERT's cardinal rule, "every second counts."
AVERT focuses on quick and confident responses before, during, and after an attack.
Use situational awareness to study the layout of a workplace for entrances, exits, and safe hiding places before a problem, as well as being alert for early warning signs of an attack.
Decide whether to escape, evade, or attack the gunman. The first option, escape if possible, has the best chance of a safe outcome.
Apply critical life-saving techniques to stop wounded co-workers from bleeding to death.
"You can't always wait for emergency services to arrive," Wrightson said. "First responders won't enter a crime scene until police are in control."
Once the shooting stops, uncontrolled bleeding is the greatest danger for the wounded. Humans have about five liters of blood circulating in our bodies. "Lose two liters," he said, "and you'll begin to pass out."
To save blood, Wrightson said, work on the most serious wounds first. Participants practiced applying direct pressure on mock wounds sliced into foam tubes.
"Pack gauze in the wound until you can't pack anymore," he said, adding, "A t-shirt works well if there isn't any gauze or the supply runs out."
The most effective device for stopping a serious wound is a "combat action tourniquet," known as a CAT. Tourniquets are used on arms and legs, not torso or head wounds.
A final AVERT session led by UCLA's Labor Occupational Safety and Health Program discussed the importance of tracking incidents and outcomes on campuses, then raising safety issues in contract negotiations.
Redesigning workplaces, improving department policies, and providing proper protective equipment—such as bleeding control kits stocked with gloves, gauze, and tourniquets—can help prevent or lessen the toll of future attacks.
The AFT has also begun offering up to 26 hours of free trauma counseling for all active members who have been bullied, harassed or threatened at work.
"This isn't therapy for typical mental health cases, such as a marital crises or depression," said Mary Pascale, associate director of AFT+ Member Benefits. "But it can be invaluable for a victim or witness to a terror attack or another active shooter incident."
Sessions can be by phone or zoom, Pascale said, adding that information is never conveyed to an employer.
Elizabeth Alvarado, a member of the Palomar College Council of Classified Employees, said she left the AVERT training with "a new awareness, a sense of what you can do in an emergency. I'm more confident that I won't freeze if I see something suspicious or someone hurt. I'll know what to do."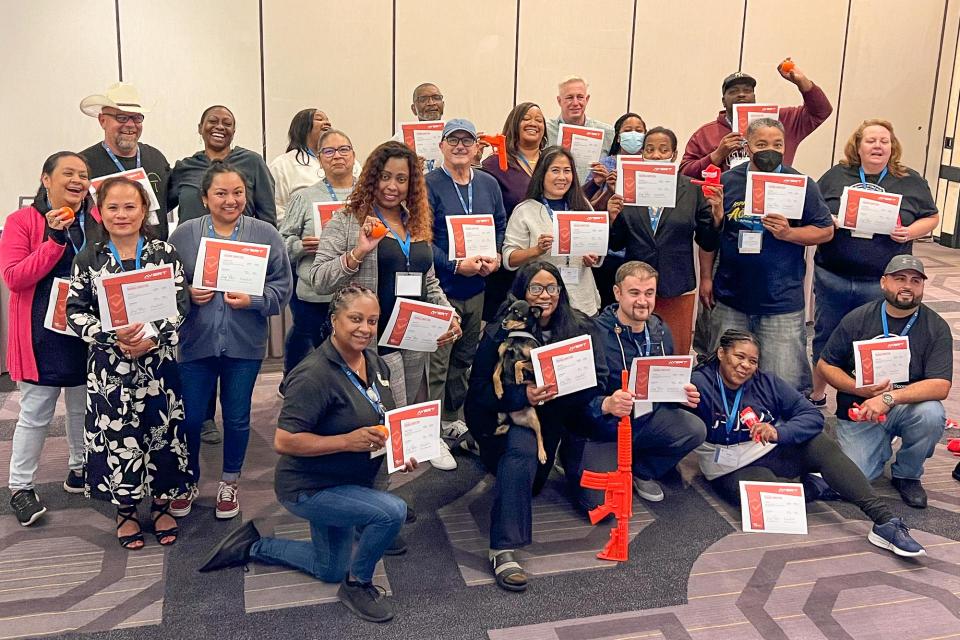 Alvarado is a site coordinator for Gear Up, a grant-funded program at Palomar College promoting post-secondary education in high schools across northern San Diego County. She is currently based at Fallbrook High School.
"Educators are facing something that might never happen," she said, "or could happen tomorrow."
A 16-year-old was recently stabbed on campus, Alvarado said, and three local high schools have been locked down.
"I don't know what information police were acting on, but they obviously thought there was enough probable cause to lock down entire campuses."
The AVERT approach, she added, is very different from the de-escalation tactics she learned in previous trainings.
Most educators, Alvarado said, already feel an instinct to block the doors if there's trouble. "That gut feeling is a warning sign, and you should take it seriously, but the AVERT training was like learning to use another sense."
— By Steve Weingarten, CFT Reporter