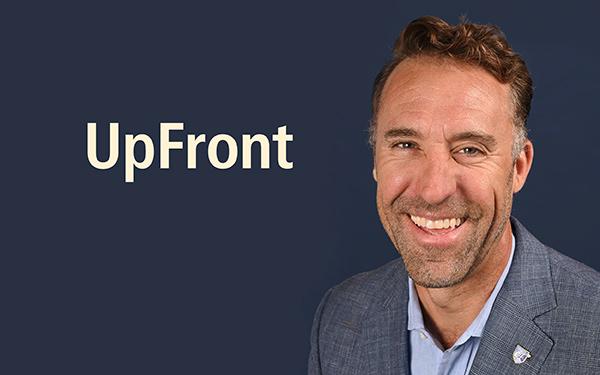 By Jeffery M. Freitas, CFT President
Another school year has started. As an educator, August and September have traditionally been the time when I set New Year's resolutions for the coming academic year. It starts me off on a positive note to identify my goals, my priorities, and the areas in which I want to learn and grow.
I think about our work at CFT in much the same way, and just like when I was teaching, beginning a new school year as an organization is not just the work of one person. Setting goals for the CFT is not just the work of leaders or the Executive Council. Rather it demands real-time feedback from our membership so that we, as a statewide union, can respond to the issues members identify as top priorities. To do that important work, we have undertaken a number of projects to listen to members and respond to what we have heard.
First, CFT conducted a poll of members this May. We wanted to use a scientific instrument to gauge how members are feeling and to assess what the school climate is like these days. Poll results showed that about 60% of our members have thought about resigning and leaving the field of education. However, 95% of CFT members believe the work they are doing is important. Clearly, the union must address the disparity between these two numbers. Our members love and value their work but believe they don't have the tools—or the respect—to do it well.
In addition to the findings gleaned from the poll, we wanted to hear from members directly, so we took to the road to listen to you, one-on-one, for our Back-to-School Tour. Like last year, the leadership of CFT—including Secretary Treasurer Luukia Smith, Senior Vice President Lacy Barnes, and myself— traveled up and down the state to meet with members as they returned to their campuses.
In our visits with more than two dozen CFT local unions, several common themes emerged. For example, we heard from all of you that the teacher and school staff shortage continues to be a very real issue in your workplaces. We learned that pay and benefits are not keeping pace with inflation and the rising costs of groceries and gas. And we heard about the dire state of housing in California and that finding an affordable place to live that is reasonably close to work is a common struggle.
We also heard many positive things. So many educators are excited to be fully back in person with one another and with their students, and there is a lot to look forward to with the start of this new school year. This includes real solutions that have been implemented this year, like the affordable educator housing being offered in Daly City.
Both the poll and the tour made something crystal clear: It's no wonder we have an education staffing crisis in our country. Pay, benefits, housing, class size and caseload, job security are all challenges that must be addressed in a meaningful policy-driven way. The CFT is currently engaging in strategic planning so that we can take all of this member feedback and turn it into action. The purpose of the plan is to clarify our vision of a just education system and society, to prioritize our goals to be turned into action, and to unite our various constituencies to advocate for similar but unique needs.
I would be remiss if I didn't highlight another reality that became evident from the Back-to-School Tour and the stories we are hearing from members, especially with the November election right around the corner. While we have more members than ever before running for public office, we are seeing an awakening of the right wing, which is also running candidates for school boards and boards of trustees.
They want to stop the gains we have made to welcome all students, and the work we have been doing to ensure school books and curriculum reflect the rich (and sometimes troubled) history of our state and country. They want to remove flags and signs that signal open, welcoming classrooms. They want to ban books that address tough topics. They want to change anti-bullying laws to eliminate any reference to intersex, nonbinary, transgender and gender-nonconforming students.
We have been working to make sure that truth is told in our schools, that difficult subjects are discussed openly and honestly, and that our students have the tools they need to become critical thinkers. The books that are available for students must be rich and diverse. And students have so many questions that should be addressed in our schools. That is what makes public schools so special—all students are welcome and respected.
We are working with CFT locals across the state to prepare for the November election by supporting member candidates, pro-public education and pro-labor candidates, and candidates who share our vision for just and equitable public schools.
Despite the struggles and great needs that our members have identified, we have won some major victories in the past year. At the state level, we secured historic increases in funding for education, although much more is needed to bring true educational justice to California. Through collective action, we increased the state fund for part-time faculty healthcare in the community colleges by over 40,000%, a historic victory years in the making that will lead to tangible relief for community college part-timers. This success was built through collective advocacy from the state budget allocation itself to local collective bargaining tables and Contract Action Teams.
Most important is the work we are doing to listen and respond to the experiences of our diverse membership to make our union stronger. There is collective effort within the CFT to fight for education workers to be given the respect they deserve. There is collective effort to work with parents, students, and community members to make our schools and colleges the foundation of their communities. We are all working together to protect our democracy by protecting the public education system.
As we begin another school year, we will diligently move forward together to fight for what we believe in—a fair, just and welcoming education. We are united for education. We are united for justice.