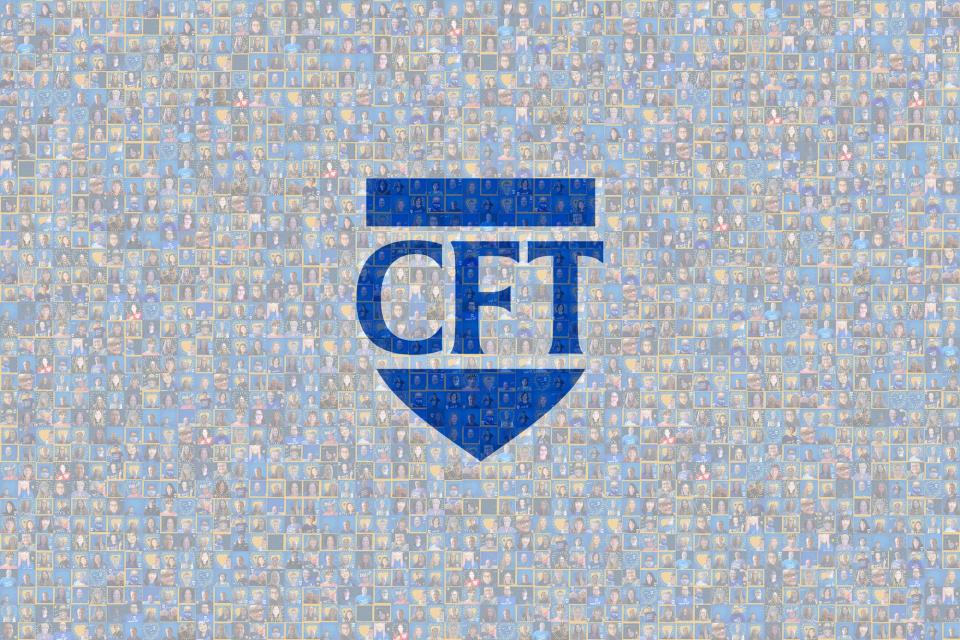 The 78th CFT Convention with the theme Rise Up, Recover, and Rebuild had some firsts: the first one to be biennial rather than annual; the first under CFT's new identity, A Union of Educators and Classified Professionals; the first with Jeff Freitas as the CFT president; and, due to the COVID-19 pandemic, the first one held virtually.
But the Convention, with a record number of 555 delegates, also felt familiar. As in previous years, mornings were full of speakers, recognition of organizing work and political action, and awards to inspire the delegate. In the afternoon, delegates did the work of the union, with elections and resolutions.
Several of the speakers, including AFT President Randi Weingarten and former California Secretary of State, now U.S. Senator Alex Padilla, credited CFT members for continuing their work during the pandemic after the abrupt switch to online education.
Our most prominent Californian, Vice President Kamala Harris, also spoke telling attendees that her first grade teacher in Berkeley came to her law school graduation and said that teachers' commitment to their students often has a lifelong impact.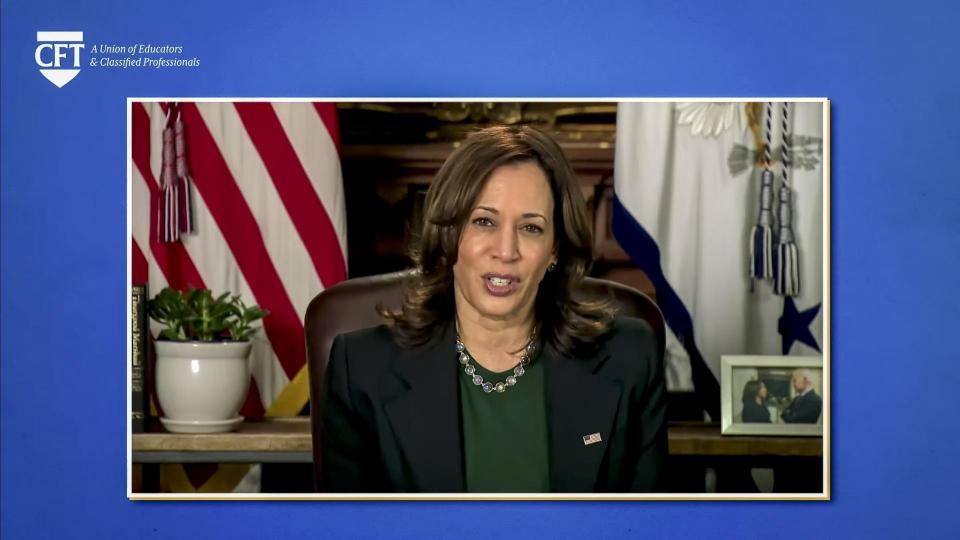 Harris referred to the recently passed American Rescue Plan, which she called a vision of what America could be. The plan will bring $15 billion to California's K-12 schools, Harris said, and do much more for the children in the state, lifting half of those currently living in poverty, out.
Racial equity and social justice were themes of the Convention. Ebony Harper, the director of California TRANScends, talked about how her work is intersectional and not just for trans rights. "I live by the mantra, 'An injustice to one is an injustice to all,'" she said, referring to a famous Martin Luther King, Jr. quote.
Khalil Gibran Muhammad, a professor of history, race and public policy at Harvard's Kennedy School, talked about the need for inoculation against the social pandemic of racism, the same way we need a vaccination against COVID-19. Padilla talked about the importance of voting, saying because of political work to get out the vote, which many CFT members took part in, he'd been sworn in with Georgia's two Democratic senators Raphael Warnock and Jon Ossoff—the first Black and Jewish senators from that state.
Other speakers included Dr. Grace Lee from Stanford's School of Medicine, who serves on the U.S. Advisory Committee on Immunization Practices, talking about something on a lot of people's minds—COVID-19 vaccines and how they work.
Carl Williams, the president of the CFT Council of Classified Employees and an AFT Vice President, joined Freitas onscreen to talk about the union's new identity and the new logo, a contemporary stylized shield, symbolizing strength and equity. Williams recalled how when he proposed a resolution to recognize classified employees six years earlier, Freitas had jumped down from the stage and come on the floor to suggest the formation of a task force to explore changing the name of the union, to make it more inclusive of all members.
Attendees also heard from a panel of four women: Cecily Myart-Cruz from United Teachers Los Angeles, Belinda Lum from Los Rios College Federation of Teachers, Susan Solomon from United Educators of San Francisco, and Mia McIver president of UC- AFT, who talked about the importance of working with partners in labor and in the community on issues like racial justice and immigration as well as education.
"Be unapologetic about trying something new," Lum said. "Our number one rule is you lead with love and be a hope dealer."
The most prestigious CFT honor, the Ben Rust Award, went to Cathy Campbell, former president of the Berkeley Federation of Teachers and former CFT Vice President. After a glowing introduction from current BFT President Matt Meyer, who lauded Campbell's graciousness, hard work and how she never shied away from uncomfortable conversations, Campbell talked about how much the CFT meant to her and how much she appreciated the union's willingness to have women in positions of power. Another award, for Women in Education, went to two recipients: Kati Bassler from the Salinas Valley Federation of Teachers, and Linda Delp, UC-AFT Los Angeles.
Oakland Assemblymember Rob Bonta received this year's Legislator of the Year award, giving his first public address since Governor Newsom appointed him to fill the position of California attorney general, after Xavier Becerra became U.S. Secretary of Health and Human Services.
After an introduction by Peralta Federation of Teachers President Jennifer Shanoski, who called Bonta a fierce advocate for working people, Bonta spoke about his parents, who came from the Philippines. They worked with the United Farm Workers in California, and for voting rights in Selma, Alabama, inspiring his ideas about justice.
"That's who I admired growing up," Bonta said. "That's who I saw fight for everyday people to make their lives better."
In the afternoons, delegates debated and voted on resolutions, including healthcare for part-time college faculty; endorsing A New Deal for Higher Education to address student loan debt, tuition costs and institutional funding; supporting the PRO Act to protect the right to organize; and reforming Social Security, which all passed.
When the Convention was nearly finished, a proposal was made to send four remaining resolutions to the Executive Council. But some delegates rose to speak on the importance of passing a special order of business— a resolution condemning anti-Asian hate after the rise in attacks on Asians during the pandemic and the former president's racist language about COVID-19. Then, on March 16, a man drove to three Asian spas in Atlanta and shot eight people, including six Asian American women.
Freitas asked Senior Vice President Lacy Barnes to chair the Convention while he went to the floor and urged delegates to pass the resolution. He recalled Myart-Cruz's words from earlier in the day to be a co-conspirator, not an ally. UTLA's Linda Cardwell said she thought about author Maya Angelou saying that prejudice threatens the future.
"That is just what happened to the Asians that were murdered. Their futures were taken away from them," Cardwell said. "We have to do away with racism."
The resolution passed with a 97 percent vote.
— By CFT Reporter Emily Wilson