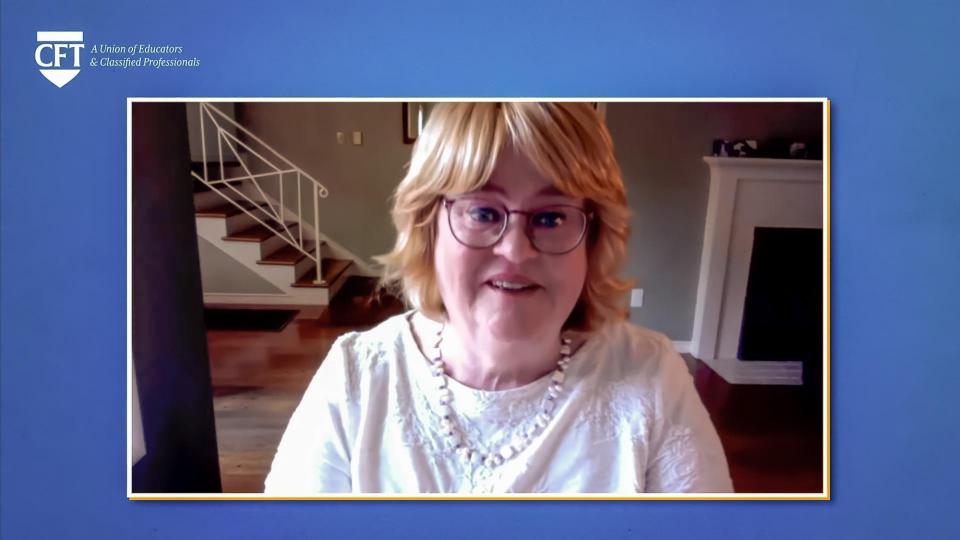 Long-time Berkeley Federation of Teachers president and CFT Vice President Cathy Campbell, the winner of the CFT's highest honor, the Ben Rust Award, opened by thanking classified employees and teachers for all they had done to keep students safe, get them food, and make sure they could learn during the pandemic.
"Our schools never closed," she said. "We have worked our tails off this year to reinvent ourselves and education, and to serve our students and families."
Current BFT President Matt Meyers introduced Campbell, calling her a transformative leader, always three steps ahead. "Equity is at the heart of everything Cathy does," he said.
Campbell said she wanted her speech to be a love letter to unionism and to CFT, which she called the "little engine that can and does."
---
READ MORE ABOUT BEN RUST AWARD HONOREE CATHY CAMPBELL
---
Campbell talked about how she appreciated CFT's willingness to have women in positions of power. It made a big difference when she was starting out as a union leader in 2005, she said, to have women in leadership positions at CFT, such as Mary Bergan as president and Margaret Shelleda as executive director. Both CFT and AFT have majority female membership.
Campbell told women union leaders that they were inspiring the next generation and urged women rank-and-file members to get more involved. She also thanked current CFT President Jeff Freitas, and his immediate predecessor, Joshua Pechthalt, the two she said she'd worked with most closely, for promoting women to leadership positions.
"Just because we are a union that represents a predominantly female workforce, we cannot assume that we will have women in leadership roles," she said. "I urge all of CFT to make sure we do and that we bring this intention to the larger labor movement which has room to grow in this area."
Campbell said she wants people to know the union's history of pushing for positive changes for their members and students, and went on to talk about that history, citing pushing forward Proposition 25 in 2010, which required passing the state budget with a simple majority rather than two-thirds vote. That "ended the days of Republicans in California being able to hold our budget hostage each year in exchange for tax cuts for the rich," she said.
Two years later, former CFT President Pechthalt put forward the Millionaires Tax, and pressed then Governor Jerry Brown to make sure Proposition 30 that ended up on the ballot was more progressive than the one the governor originally proposed.
Also, Campbell said, CFT joined with community allies in 2018 to take on Proposition 13, often called the third rail of politics, so that corporations no longer would have a permanent tax loophole. She said CFT is still on the forefront of change, currently sponsoring the California Tax on Extreme Wealth.
"CFT pushes the larger labor movement in California toward a broader vision of social justice and the energy to do that comes from our rank and file," she said. "As we look at recovery from our global pandemic, we need to fight for a new normal that redistributes wealth, dismantles structural and institutional racism, guarantees healthcare for all people, and creates a fully-funded education system that righteously serves our students and families."