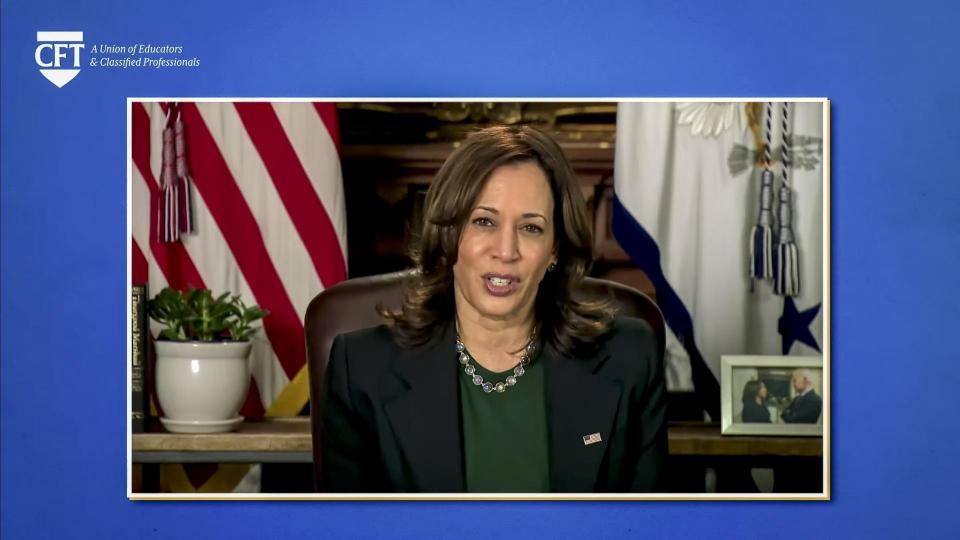 AFT President Randi Weingarten addressed the CFT Convention, expressing thanks and gratitude for all the members have done—pivoting from the classroom to online, providing food delivery, and bringing hotspots to neighborhoods. Education workers did all this while taking care of their own children, living in homes with multiple generations, being at risk due to pre-existing conditions, and mourning people who had died from COVID, Weingarten said.
"We see a lot of light and a lot of hope with every shot in the arm, with the Biden American Rescue Plan," she said. "But let's remember we've been living through multiple crises, not just the pandemic, but everything that the pandemic has exacerbated in terms of inequality, the economic devastation it caused, the climate crisis, and through all of this many of you have suffered through wildfires and drought and racism."
Weingarten said she looked forward to the change in administration with a Democratic majority in Congress, a first lady who's a community college teacher, a Secretary of Labor, Marty Walsh, who Weingarten called pro-union and a Secretary of Education, Miguel Cardona, who started as a public school teacher.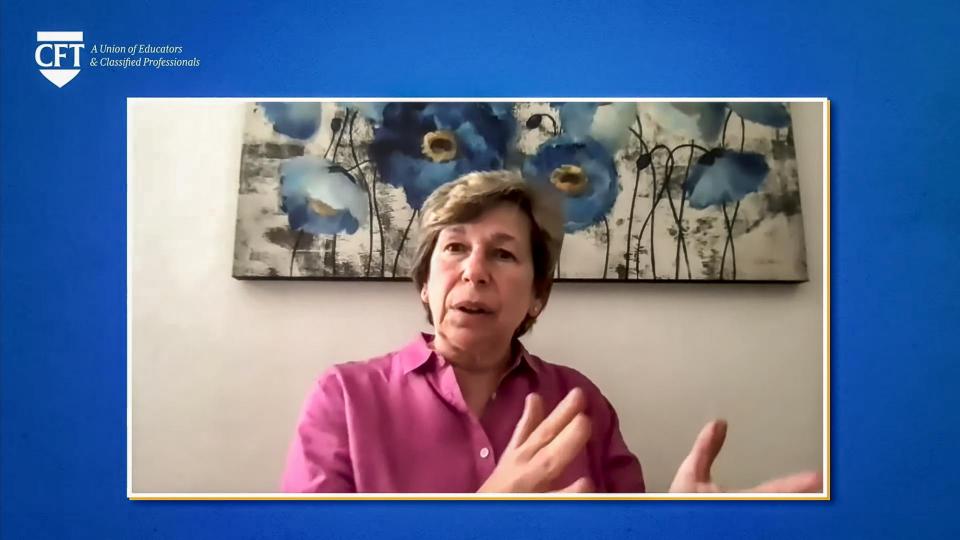 A member of that new administration spoke at the convention—Vice President Kamala Harris—who acknowledged the importance and influence of teachers, saying that her first-grade teacher from her public school in Berkeley had come to her law school graduation from UC Hastings, San Francisco.
Like Weingarten, Harris talked about the American Rescue Plan, and what a difference it will make.
"When we were preparing to take office President Joe Biden promised that help was on the way," she said. "Now that help is here."
After thanking members for their work during the pandemic, a fraught Presidential Election, and the recent mass shootings in Atlanta and Boulder, Weingarten's colleague, AFT Secretary Treasurer Fedrick Ingram emphasized the magnitude of that help.
"It's mind blowing when you think about it," he said. "The American Rescue Plan will provide $170 billion in funding for public schools and colleges and $40 billion in childcare. There's $3 billion for disabled students and a $10 billion investment to expand COVID testing in schools."
Harris also spoke about the money the legislation provided for pandemic relief, such as getting more vaccination sites and more doses for adults.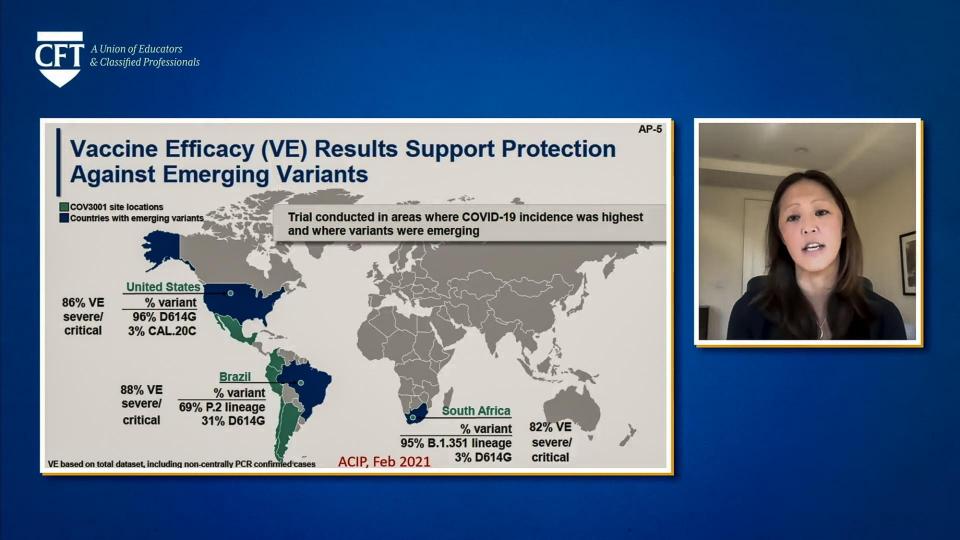 Stanford's School of Medicine's Dr. Grace Lee, who serves on the U.S. Advisory Committee on Immunization Practices, explained to Convention delegates about different vaccines—Moderna, Pfizer, and Johnson & Johnson and how effective they are—even, it seems, against the variants.
"It's important to remember that none of these vaccines can cause COVID infection," she said. "They really only produce a small part of the virus that our body can use as an instruction manual for developing immunity."
Lee said some typical side effects after vaccination may include fevers, headaches and fatigue, but that just means your immune system is doing what it should. She said that people should keep using other protection measures, such as masking, social distancing and hand washing.
"It is clear that things will continue to get better if we follow our public health advisers and follow the science," she said.
Once the pandemic is over, Weingarten said, we have to make sure we don't go back to how things were. She talked about making schools centers of the community, cancelling student debt, and ensuring a living wage for all education workers.
"Next year will be the year where we either change public education, where we really plant the seeds for the freedom to thrive that's based upon opportunity and justice, or we just have status quo," she said. "That's going to take the collective wisdom of all of us."