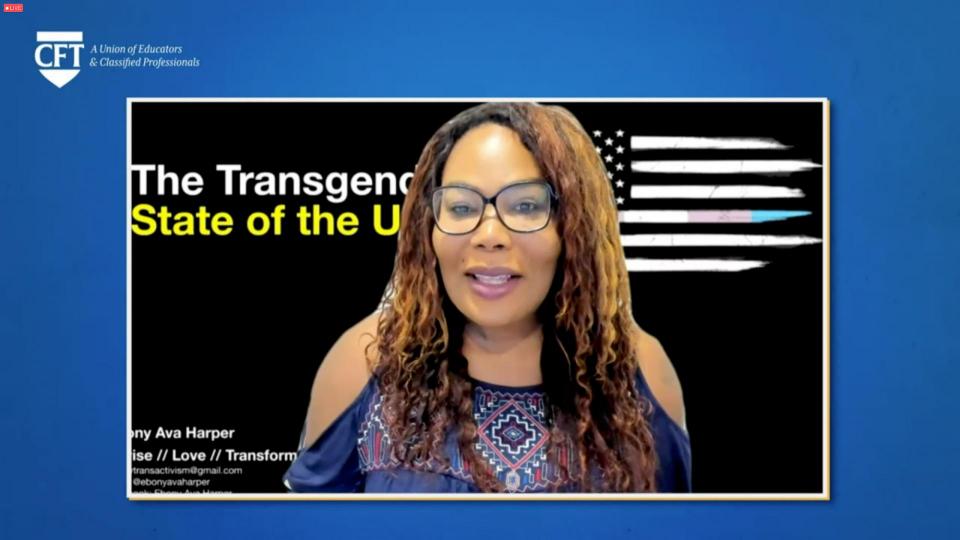 The director of California TRANScends, Ebony Ava Harper, addressed the CFT Convention on Friday morning, March 26, talking about working for climate and disability justice and race equity, as well as trans rights.
After some mutual gushing with CFT President Jeff Freitas, with both talking about how starstruck with one another they had been since meeting when they both received the Sacramento Stonewall Democratic Club's Four Freedoms Award in 2019, Harper, the daughter of Jamaican immigrants, talked about becoming an activist. She said it started when she came out as trans in the early 1990s and saw a lot of friends dying from AIDS and the systemic oppression against gay and transgender people.
"I often say that trans people are born activists," she said. "We have no choice in the matter."
Harper said that with the Black Lives Matter movement after the murder of George Floyd in Minneapolis in May, she's gotten more political, and that she's felt compelled to protest when she hears about Black trans women being murdered around the country.
"I thought I have to advocate for my community and stand up for our rights, and there's inequality happening for LGBT people of color all across the nation," she said. "So these are issues that are strong to my heart, and that's where my activism stems from."
Harper said she started California TRANScends to do policy work around the state, but she believes in working on issues that affect all marginalized people, not just for trans rights.
"I live by the mantra an injustice to one is an injustice to all," she said referencing a Martin Luther King quote. "I just believe in basic human dignity. That's where my fight comes from, and that spans from climate justice to disability justice."
Harper said that, like many activists, a lot of her work has moved online due to the pandemic, with travel and in-person organizing having dried up, but Harper said she felt it was important to organize a socially distanced Rise for Trans Lives event. Harper said she sometimes feels Black trans lives are sidelined, and she'd like to see them included more in the Black Lives Matter movement.
Freitas asked Harper for advice for education workers who wanted to stand by transgender people, and Harper suggested reading about their history, loving unconditionally, and going to protests and actions with masks and staying socially distanced. In response to what she'd like to see in the coming year, Harper had a simple answer.
"I'm looking for more unity, and not just in the trans community — I'm looking for it to span across gay, Black, trans, Jewish, you name it," she said. "Like Stevie Wonder says we're in need of love today, and he wrote that song over 40 years ago, and it still rings true in our hearts."