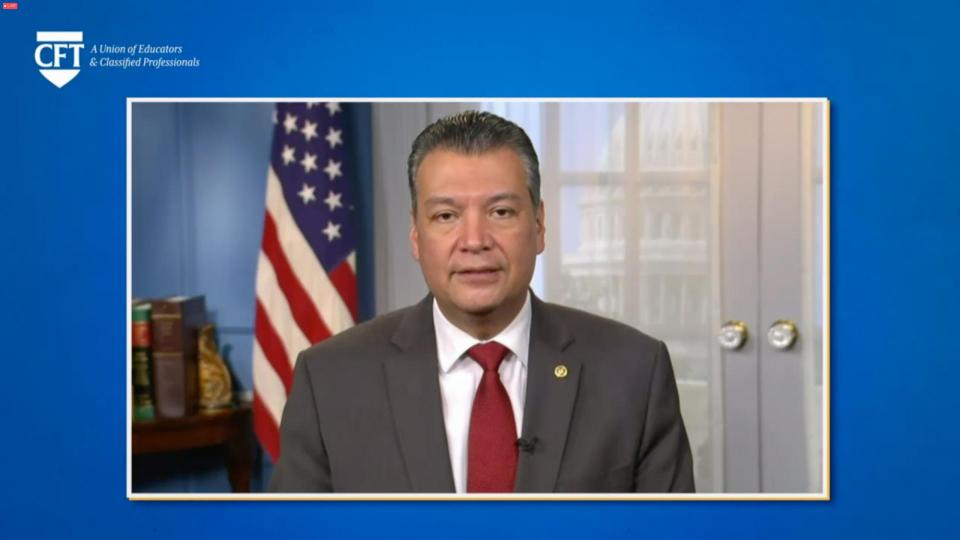 Alex Padilla, California's Secretary of State until Governor Newsom appointed him to the U.S. Senate seat left open by Kamala Harris when she became vice president, addressed delegates on the first morning of the CFT Virtual Convention.
In his introduction, CFT President Jeff Freitas noted that as Secretary of State, Padilla was strong advocate of voter rights, working to make elections more accessible and inclusive, leading to an election with the highest percentage of eligible voters since 1952.
Saying he was a proud graduate of the Los Angeles Unified School District, Padilla told the members, he shared the goals of the CFT to Rise Up, Recover and Rebuild, the theme of the Convention.
Padilla said the CFT members had done heroic work during the COVID-19 pandemic to pull together and deliver distance learning, provide meals and school supplies to students, and keep the facilities clean.
"You have been on the frontlines of the COVID-19 pandemic," he told the delegates. "You have never wavered in your support of students and school communities. As we begin the process of safely transitioning back to in-person instruction, I want to thank you for all you've done to keep our schools open virtually and all the ways you've continued to support California's students during this difficult time."
Padilla also thanked delegates for their work to elect Joe Biden and Kamala Harris, along with two democratic Senators in Georgia.
"I was sworn in alongside senators Rafael Warnock and Jon Ossoff," he said. "Visualize that—the first Latino senator from California was sworn in next to the first Jewish and the first Black senators from Georgia, both who are now partners in the fight for justice."
A working majority of Democrats in Congress led to the passage of the American Rescue Plan, Padilla said, calling it one of the most progressive and important pieces of legislation passed in generations. He noted that the bill will provide $15 billion to California schools to reopen safely, as well as lifting more than half a million of the state's children out of poverty.
Padilla credited his teachers for where he is, saying they encouraged him to vote and to be active in his community. His commitment to supporting AFT and CFT goals in the nation's capitol come from them, as well as his parents, he said.
"My priorities and my work as a U.S. senator was shaped by my own family's story," he said. "When my parents arrived to this country, to California, they had little formal education, but they brought with them big dreams and an incredible work ethic as they searched for a better life. They instilled in me the importance of service to others and getting a good education."