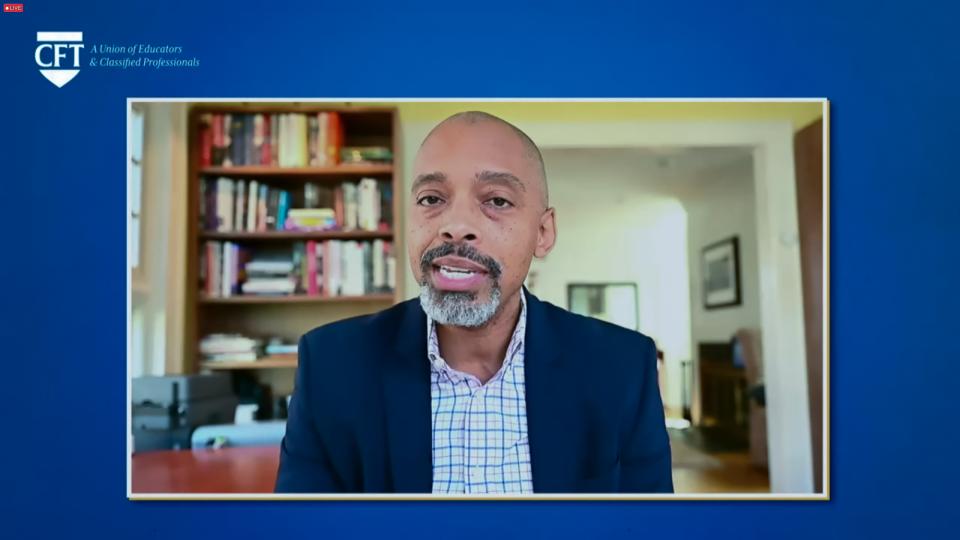 A history professor at Harvard's Kennedy School, who teaches classes such as Race, Inequality, and American Democracy and the former Director of the Schomburg Center for Research in Black Culture, with his work featured in the New York Times' 1619 Project, and Ava DuVernay's documentary about mass incarceration, 13th, Khalil Gibran Muhammad seems like a good choice to as a speaker about racial justice at the CFT Convention.
Muhammad, who grew up on the South Side of Chicago, told a story about his mother getting a job as the first Black teacher at a school on the North Side in 1977 when she was barely 20. She had gotten permission to enroll him in kindergarten as the first Black student, but when he showed up, he found he was definitely not welcome, with the school community telling the principal, "Correct your mistake."
Until he was in his senior year of high school, taking a class in African American literature, Muhammad says he didn't read a book by a Black author.
"I went to a majority Black school in Chicago," he said. "But I was never meant to see myself in the curriculum."
Muhammad talked about the power of a 1995 Toni Morrison essay, "Racism and Fascism," included in her book, The Source of Self- Regard. Muhammed said if every school child could read the essay, we'd be living in a different world.
"It's about the intertwined nature of racism and fascism, and how they isolate and demonize," he said. "They reward mindlessness and maintaining silence at all costs."
It wasn't until he got to college that he started to learn about diverse perspectives, Muhammad said.
"Centering whiteness as universal is a form of denial," he said. "It's a form of erasure."
Muhammad gave some examples of American students not learning Black history, saying that 16 states had no requirement for teaching civil rights; only 8% of students identified slavery as the cause of Civil War; history books that call the survivors of the Middle Passage "immigrants;" and a children's book called A Birthday for George Washington that had a cheery view of slavery in the White House.
This needs to change, Muhammad said. And it needs to start in the classroom.
"We need to inoculate students against all forms of biases," he said. "What if we treated racism like the public health epidemic it is. Just as we need vaccines to keep our bodies healthy, we need social vaccines to keep our democracy strong."
Like learning a foreign language or to play a musical instrument, it's better to start young, Muhammad said.
"Frederick Douglas said it's easier to build strong children than to repair broken adults," he said. "Democracy is contingent on learning from the past. So CFT, rise up, recover, and rebuild, and lean into rebuilding. And remember good will is not a substitute for good work."