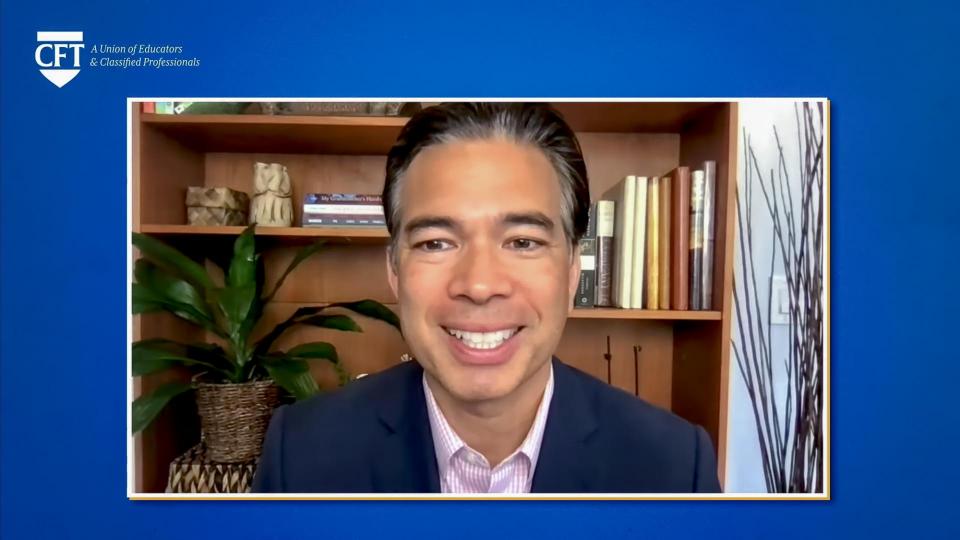 This year's Legislator of the Year award went to Oakland Assemblymember Rob Bonta. In his first public address since Governor Newsom appointed him to fill Xavier Becerra's position as California attorney general after Becerra became Secretary of U.S. Health and Human Services, Bonta spoke to the CFT Convention.
A graduate of Yale Law School, Bonta became the first Filipino American in the state Legislature when he was elected in 2012, and if confirmed, he would be the first Filipino American attorney general of California.
Jennifer Shanoski, president of the Peralta Federation of Teachers in Bonta's East Bay district, said he'd been a champion for working people and public education. She talked about how he grew up seeing his parents fight for farmworkers, and how he'd taken on causes like immigrant rights and ending private, for-profit prisons. She said Bonta was also a strong voice for public education, and was one of the authors of a 2020 bill sponsored by CFT, AB 2088 the California Wealth Tax, which would have generated approximately $7.5 billion a year for needs like healthcare, education and housing.
Shanoski said she, along with members of her local union, had first-hand experience of Bonta's advocacy as he often showed up to their events and actions. The legislator was also willing to meet her for runs so they could talk over issues, she said.
Bonta started his address by saying he admired CFT's commitment to justice and to doing what's right.
"There's so many people in California and throughout this nation that are overlooked, that are being hurt or preyed upon or victimized," he said. "Our world has more injustice than it should, and it needs more warriors for fairness and equality and justice and opportunity and inclusion, and that's what you represent, and I appreciate you so much."
Bonta talked about how his parents, who left the Philippines in 1972 to come to California, living in the Central Valley, and working with the United Farm Workers. Before he was born, his father went to Selma, Alabama, to join Martin Luther King's civil rights organizing and fight for voting rights after Bloody Sunday.
It was his parents and their work who inspired him to fight injustice, Bonta told the delegates.
"That's who I admired growing up," Bonta said. "That's who I saw fight for everyday people and to make their lives better."
Bonta said his mother became a citizen so she could vote for him when he ran in his first city council election. She joined him at the site of San Francisco's International Hotel for Newsom's announcement, the location where she'd linked arms with other activists fighting the evictions of senior Filipino residents in 1977.
Bonta said he will continue fighting for the CFT as the state's top attorney.
"You inspire me with your fierce fight for justice, unapologetic and unrelenting," he said. "We need more of that in this state and this world. Continue to consider me your partner. I want to fight with you."