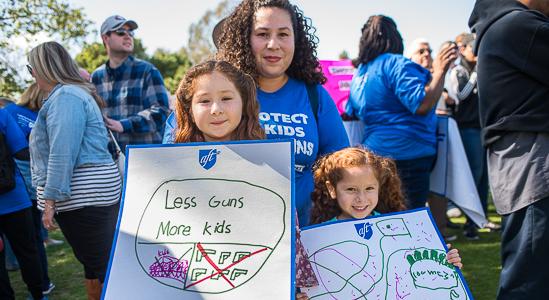 Through speeches, chants and signs, the crowd of thousands at the March for Our Lives in Santa Ana made it clear what they wanted: common-sense gun control.
At the rally organized in response to the shootings that killed 17 at Marjory Stoneman Douglas High School in Parkland, Florida, students, teachers, and community members, along with Lt. Gov. Gavin Newsom, spoke to the crowd, talking about people they loved who had been shot, how they didn't want to be afraid to go to school, and how the United States has more than 90 gun murders a day.
Facebook Gallery: Delegates join March for Our Lives
Many got emotional as they talked about losing a family member or friend to gun violence. Several people spoke about a 2011 shooting at a hair salon in Seal Beach where nine people were killed, the deadliest shooting in Orange County's history. Gordon Gallego, wearing a t-shirt that read, "Thoughts and prayers are not enough," remembers hiding in the bathroom that day and seeing the blood seep under the door. Every day he thinks about his co-workers who were killed, he said.
AJ Frazier, a Marine before becoming a security aide with San Francisco Unified, said he would never want to carry a gun at a school. Frazier, a member of United Educators of San Francisco, spoke about his only son who had been shot in the head seven times sitting in his car.
"I never knew the man my son was meant to be," he said "No one should ever have to go to the police department to identify their only child."
Another CFT member, Kimberly Claytor from Newport Mesa Federation of Teachers, talked about how glad she is to see young people like her students leading. Like Frazier, Claytor has personal experience with gun violence. Her son committed suicide with a firearm, something that more than 20,000 people a year do.
Newsom, who the CFT has endorsed in his run for governor, said hearing from young people determined to change things was refreshing.
"This is an antidote to the cynicism and fear for what's not happening in Washington," he said. "You have a voice – you are not bystanders in this world."
After a shooting at an elementary school in Stockton in 1989, which killed five children and wounded 30 teachers and students, California enacted a ban on assault weapons – and that made a big difference, Newsom said.
"The gun murder rate dropped 67 percent," he said. "That ain't fake news, folks, those are facts. Gun control saves lives."
After the rally, about 5,000 people marched around Centennial Park. Scott Lee, a librarian and president of the Antelope Valley College Federation of Teachers, said it was important to show up.
"I think some of the ideas they are coming out with about arming teachers are just idiotic," he said. "There's this kind of ridiculousness that arming everyone is the way to solve the problem."
Lee said he's never had gun violence at his workplace, but there was a shooting at the Sacramento Public Library that killed two people in the early 1990s. When he worked there years later, people still talked about it, he said, and remembered the sound of gunfire.
Some signs at the march read, "Actually, guns do kill people," "Go get 'em, kids" "I refuse to play dead," "The only gun I want in my classroom is a hot glue gun."
Tracey Iglehart with the Berkeley Federation of Teachers, agrees with those sentiments. As a teacher and a union member, she needed to be at the march, she said.
"If the goal of public education – and I believe it is – is to inform citizenry to be able to participate in democracy, then this is a proud moment for teachers," she said. "We're doing it."
Eric Montijo, the president of Oxnard Federation of Teachers and School Employees, was glad to see all the young people at the march and hopes they will make a difference in the next election. Belinda Lum, a sociology teacher at Sacramento City College, wanted to march to support the young people.
"It's important to stand in solidarity with youth who are taking the lead on something that has been a problem for decades," she said.
Maria Recinos, a retired bus driver with the Orange Unified School district came to the park with her kids and grandkids. She's marching for them, she said.
"Because first is the safety of every child in this world," she said. "They need to go to school, and the parents think it's safe. I really hope this is the beginning of a change and this world becomes a better place for the kids."
Kimberly King, Peralta Federation of Teacher's diversity chair and a psychology and ethnic studies teacher at Oakland's Laney College, also feels hopeful.
"I'm so impressed and honored to be here," she said. "I feel like this might be what the civil rights movement was like. These young people are standing up to the politicians saying you have our thoughts and prayers. They're seeing right though that."