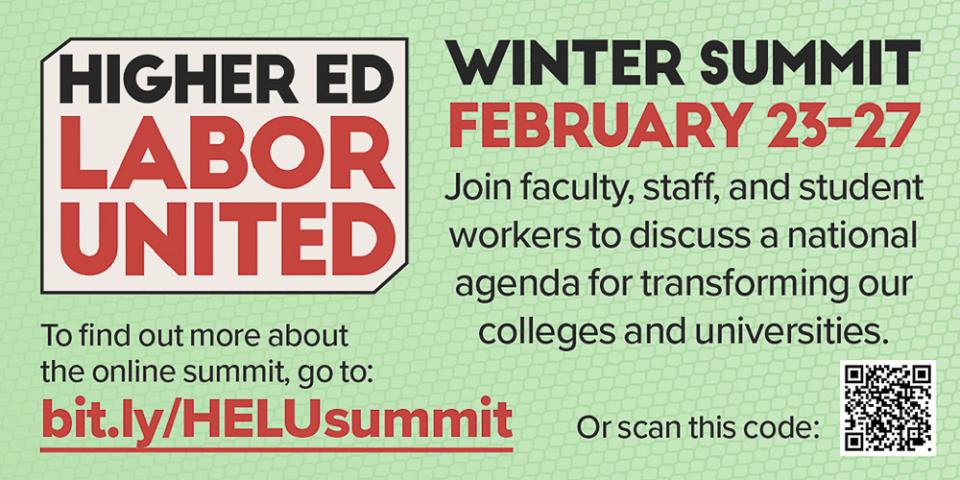 HELU, or Higher Education Labor United, a cross-union and cross-sector coalition, held its Winter Summit virtually on February 23-27, pushing forward with the larger goals of reclaiming the promise of higher education, and promoting socio-economic and racial justice embodied by the New Deal for Higher Education campaign and Scholars for a New Deal in Higher Education.
Having come into full fruition in July 2021, the HELU coalition has grown to include members from 133 local unions or organizations representing more than 550,000 workers and 300,000 students across eight national unions, 30 states and the District of Columbia. As a young organization, having just crafted a Vision Platform, HELU went into its Winter Summit with the intention of explaining the platform, promoting socio-economic and racial justice, and taking important steps towards creating actionable plans centered around three main areas: national coordinated organizing, policy development and advocacy, and national political engagement.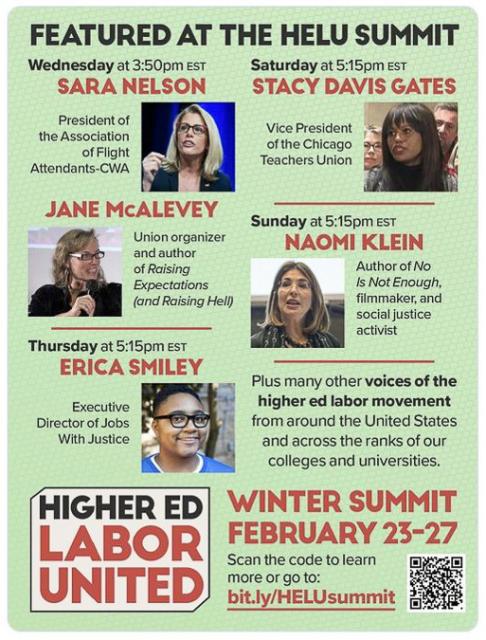 The summit featured a star-studded cast of labor and progressive activists such as Jane McAlevey, Naomi Klein, and Stacey Davis Gates of the Chicago Teachers Union, but a significant portion of the plenary activities were devoted to inclusive team building centered on anti-racism and social justice practices. This is in line with HELU's vision statement which speaks to prioritizing people and the common good, and "envisions institutions that redress systemic oppression and pursue equity along lines of race, gender, class, sexuality, nationality, indigeneity, age, (dis)ability, and immigration status for students and higher ed workers across all job categories."
Key to shaping these activities was Naomi Williams, an active member of Rutgers AAUP-AFT who teaches Labor Studies from a working class perspective focusing on issues of racial and social justice. As one of the Winter Summit program coordinators, Williams hosted a plenary focused on "Anti-Racism and Social Justice in Our Movement," featuring a discussion led by Erica Smiley with Jobs For Justice, an activist panel presenting plans from Scholars for a New Deal in Higher Ed and New Haven Rising, and a caste-discrimination in academia presentation by the California Faculty Association Asia Pacific Islander Desi American (APIDA) Caucus.
Williams began her movement work while she was a graduate student at the University of Wisconsin at Madison. There she saw that when new people came into the union and spoke up, they would be effectively silenced, and then "no longer be there." Williams sees anti-racist and social justice work as key to keeping incoming people involved and truly building a stronger and more inclusive progressive movement.
Similar concepts and training were at the heart of CFT's Leadership Conference with the theme "Organizing for Racial and Social Justice in Education. The March conference offered training sessions on "Understanding Implicit Bias and Stereotypes," and "Dismantling the Intersections of Male Supremacy Culture and White Supremacy Culture in Our Workplaces."
CFT Senior Vice President Lacy Barnes said the leadership of CFT is committed to engaging issues of race and social justice, "not just because it is the right thing to do," she said, "but because these issues are woven within the essence of what CFT stands for in its fight for worker justice, and there can be no worker justice without fighting for issues of racial and social justice as well."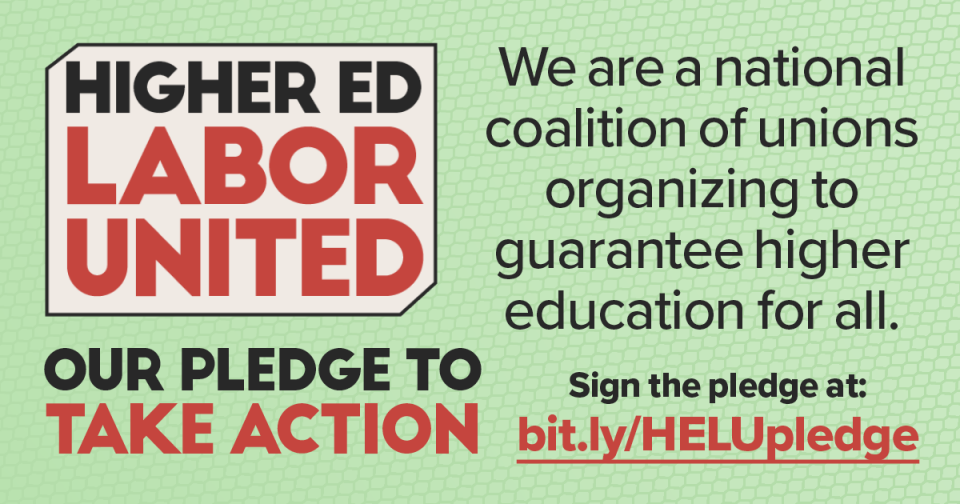 Part-time faculty involvement was key to the HELU Winter Summit, and perhaps the strongest example of this was the successful work of Ariana Jacob, president of the AFT Portland State Faculty Association. Jacob was the lead coordinator of HELU's policy development and advocacy plan. Her involvement, she says, grew out of how she was "inspired by the opportunity to work with a coalition of other unions across job categories," and "wanting to help adjuncts."
This past year, Oregon-AFT sponsored SB 551 in the Oregon Legislature which made it possible for part-time faculty currently not receiving health insurance to get coverage provided they teach five FTE at one, or in total at multiple, Oregon community colleges or public universities for three of the four previous academic terms.
As for the political advocacy plan, Jacob directed those in the summit workgroup to consider what was needed from other organizers to flesh out options for how HELU could support local unions with their organizing and enlisting allies to reach their legislative goals. Through HELU, Jacobs says, "union policy advocates can be a shared knowledge base through which we can make tangible change."
In the wake of the summit, HELU's Organizational Structure Committee is moving forward on a more formalized governance structure and bylaws, at the same time supporting advocacy campaigns for unions like the Eastern Michigan Federation of Teachers. HELU encourages other higher education labor groups to reach out for input and support.
— By Geoff Johnson, assigning editor of Part-Timer, member of the CFT Part-Time Faculty Committee and the AFT Guild, San Diego and Grossmont-Cuyamaca Community Colleges