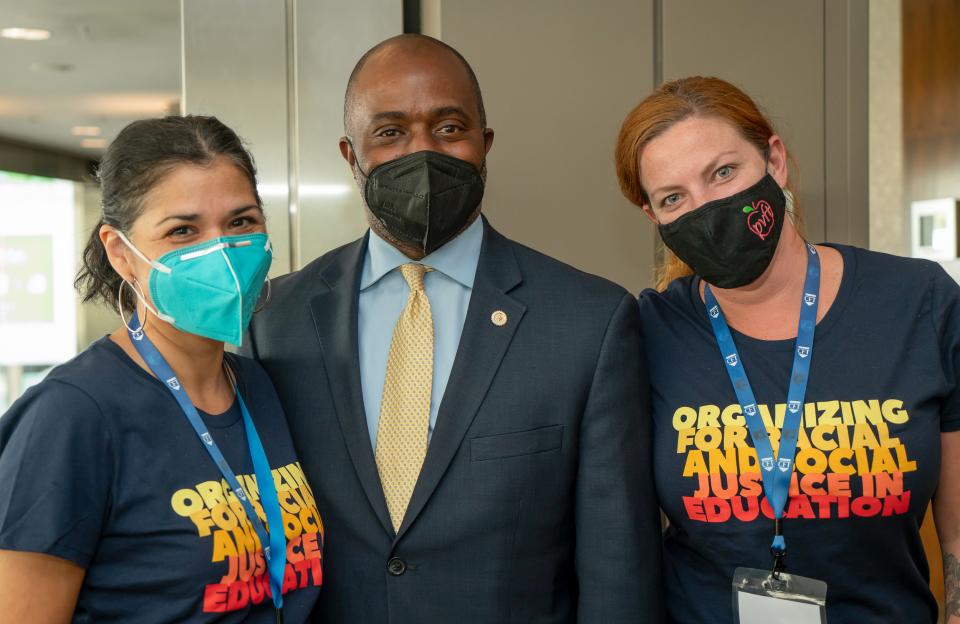 About 200 CFT members from around the state converged at San Francisco's Hyatt Regency for a Leadership Conference — the first time they'd been able to join together for such an event since the state shut down for COVID on March 13, 2020.
Seeming excited to see one another in person, attendees went to workshops, many dealing with racial and social justice issues, and heard from speakers including JEDI (Justice, Equity, Diversity and Inclusion) Organizer Cynthia Eaton, State Superintendent of Public Instruction Tony Thurmond, and AFT President Randi Weingarten.
Eaton told the CFT Leadership Conference attendees that she realized she'd spent the last quarter century being wrong after she read a book a colleague gave her, Equity Talk to Equity Walk.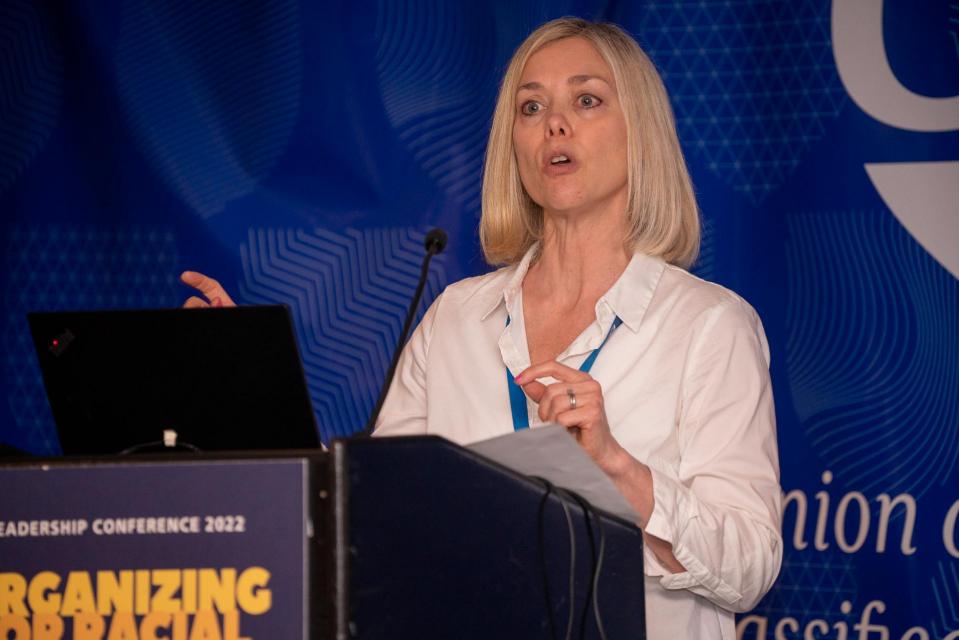 She told them a little about her background growing up in upstate New York. On Saturday mornings, instead of watching cartoons, she would go to the dump to look through the trash for receipts her mother could send in for rebates. At 15, she left home to sleep on others' couches, worked at a hotel as a maid and taking the room keys to use the shower.
Eaton went to college and became an English professor at Suffolk County Community College, where she's also secretary of her union. She says she talks about class with her students, giving them assignments like writing about the wealth gap and lack of upward mobility.
After reading Equity Talk to Equity Walk and the focus on racial inequity in the summer of 2020 after George Floyd was murdered by a police officer in Minneapolis, Eaton says she realized it was about race rather than class. The JEDI Institute, she said, came out of a Zoom meeting where she asked for professional development. It's a collaboration between union members and administrators, which makes JEDI effective in its mission to stem declining enrollment and promote racial equity, she says.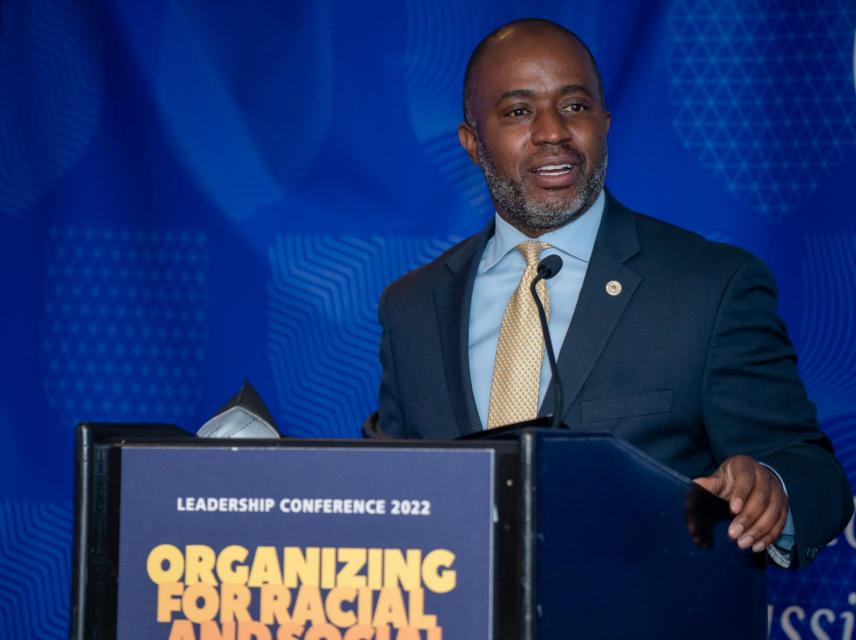 In the first year, the 40 participants all developed a JEDI project, and they got a back-to-school AFT grant of $35,000 to support the institute. They are also making a website so colleagues can share videos or write up their strategies. "I spent a quarter century being wrong," she said. "I anticipate teaching another quarter century, and I hope to get it right."
In his address, Thurmond talked about how more than 140,000 students lost a caregiver during the pandemic. It highlighted inequities, he added, such as 1 million kids not having access to internet, and he's proud to have secured $6 billion to provide broadband to all students.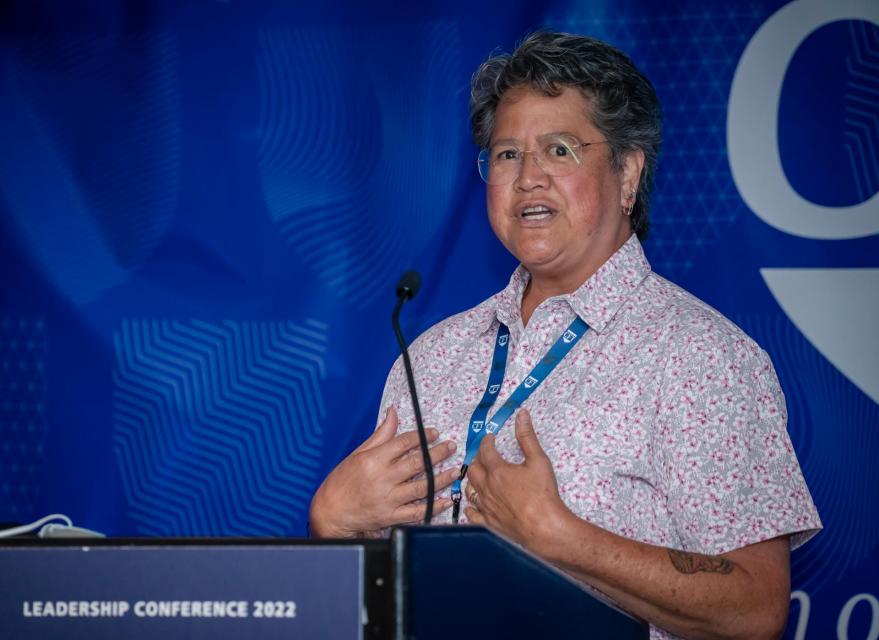 Another accomplishment he mentioned was an ethnic studies curriculum for California high schools, which Thurmond says benefits all students, not just students of color.
Thurmond, who grew up getting government assistance (he talked about how government cheese made the best grilled cheese sandwiches), said he felt ashamed when he would have to show an orange ticket to get a free meal at school, and other kids would tease him. But now California has adopted a free lunch program for all 6.2 million students. Kids won't have to be embarrassed that way, he said.
Thurmond thanked CFT President Freitas and Weingarten for their emphasis on community schools, and he talked about programs his office is working on such as dual immersion language schools, paid internships for high school students in tech jobs, and a task force to make sure children learn to read by third grade.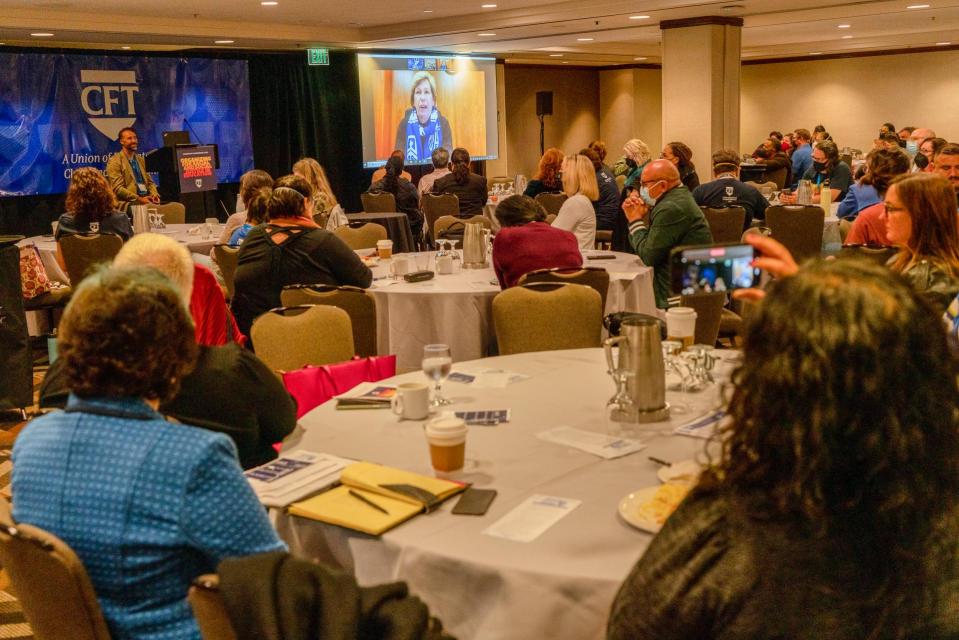 Weingarten Zoomed in from Minneapolis, where she was supporting the Minneapolis Federation of Teachers and Education Support Professionals, who are striking over wages and class sizes.
Weingarten talked about some wins, such as the national union's successful lawsuit against Betsy de Vos, then the U. S. Secretary of Education, when over 98% of people applying for Public Loan Service Forgiveness had their claims rejected. The union's victory will mean those applicants who were denied are getting a second look, and some have already had thousands of dollars of debt forgiven.
Times may seem dire, but Weingarten claimed to have a lot of hope, saying parents strongly support public schools. She talked about polling that found 72% of parents say their public schools provide a good to excellent education, 82% think public schools handled the pandemic well, and 83% are satisfied with the efforts to keep kids safe.
Weingarten also said that though conservatives like to blame public school unions for the schools being closed, a greater number of charter schools — 82% kept their doors shut compared to 77% of public schools, with private schools nearly as high, at 73%.
The pandemic showed how important physical schools are as centers for neighborhood, she said.
"You know American can't get back on their feet without you," she told the attendees. "You're the heartbeat of the community."
— By Emily Wilson, CFT Reporter