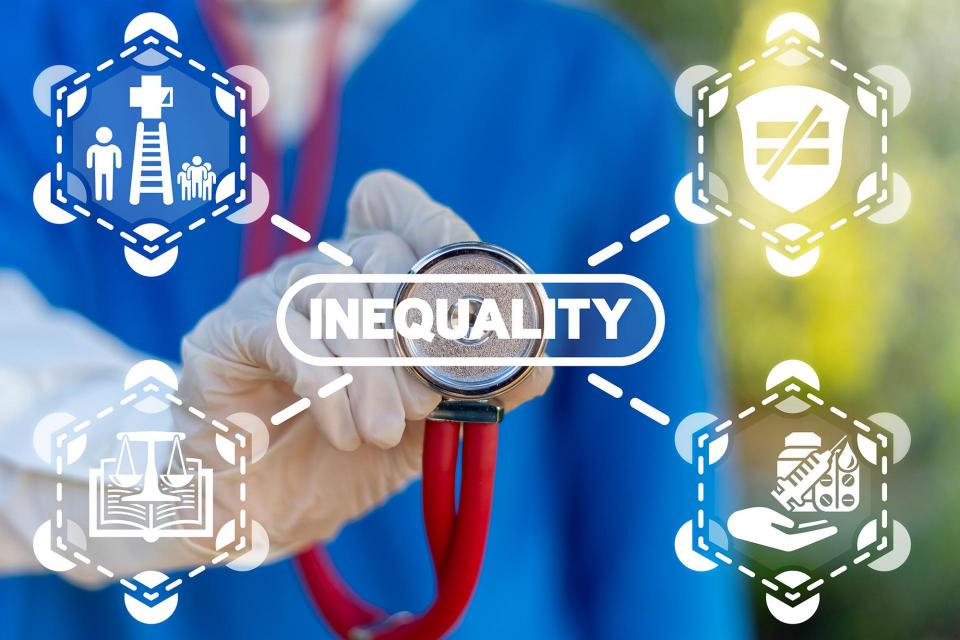 The pandemic has pushed many harsh realities in higher education to the forefront, none more so than the inadequacy of healthcare for part-time faculty. With the cost of an average COVID hospitalization, according to a number of sources, running in excess of $20,000, the financial effects alone on an uninsured part-timer contracting COVID can be devastating. Add a possible uninsured family member or members to the mix, and the reality becomes even more frightening.
This situation is reflective of what CFT has long recognized as a core part-time faculty issue — the widespread lack of healthcare, and it is what has led CFT, with the guidance and support of President Jeff Freitas, to launch a campaign to secure healthcare for part-time faculty. To Freitas, it's about "efforts matching actions."
With an official launch this fall, the campaign is itself born out of earlier actions and plans put on hold by the COVID-19 outbreak. By late 2019, CFT plans for a part-time faculty conference in spring 2020 were put in motion, along with plans to develop a campaign.
CFT surveyed part-time faculty members before the lockdown in early 2020; the results revealed that over 73% of respondents thought the establishment of a statewide pool for healthcare was either important or very important. Unfortunately, the pandemic, and resulting concerns over mass job loss due to enrollment decline and a perceived funding shortfall, forced CFT to temporarily sideline plans and focus instead on protecting jobs.
Yet interest in securing part-time healthcare has not abated; it has only grown. Linda Chan, co-chair of the CFT Part-Time Faculty Committee, says, "The lack of healthcare for part-time employees is just another symptom of the continued disrespect, disregard and pure exploitation of part-time employees."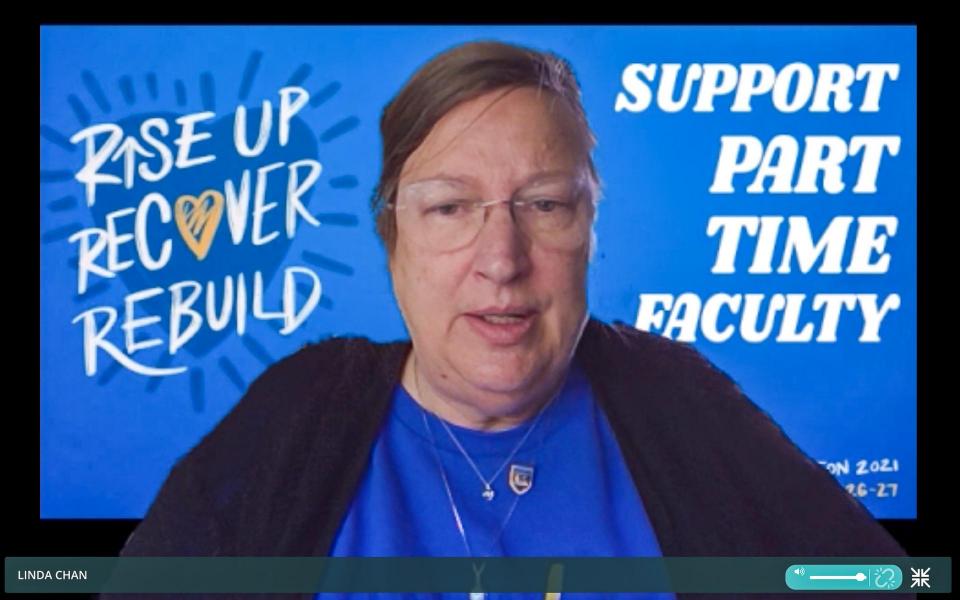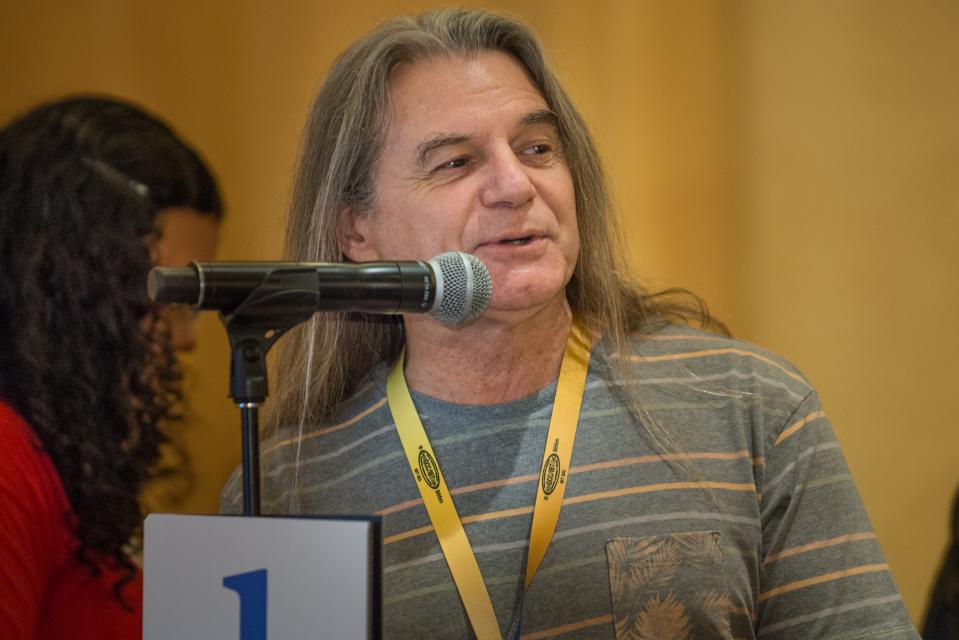 Chan, also a CFT vice president and leader of the Citrus College Adjunct Faculty Federation, says, "Part-time employees — 'adjuncts' — are human beings and should not be treated as expendable byproducts of an institution. They deserve at the very least, the basic right of healthcare."
At the CFT Virtual Convention this spring, Chan supported passage of a resolution asking the California Community College Chancellor's Office to "ensure funding for districts to provide health insurance for all part-time faculty, with a gradual increase in support… so that part-time faculty have ongoing access…with decreasing cost to individual members."
Two years earlier, CFT State Council passed a similar resolution calling for CFT to sponsor legislation "to establish a permanent healthcare program for part-time faculty and their dependents."
Both local leaders and part-timer advocates acknowledge the issue of improving healthcare for part-time faculty statewide is complex, and will take extensive research and time. Health benefits vary widely from local to local, with everything from zero coverage to fully paid benefits for a part-timer including family coverage if they can maintain an annual specified load of say 50% or higher.
In some cases, locals have chosen to have districts fund part-timer benefits by accepting lower salary increases over the years, while others have pressed for salary increases with a mind towards higher CalSTRS retirement benefits, but have only been able to get a limited pool of money for part-timer healthcare.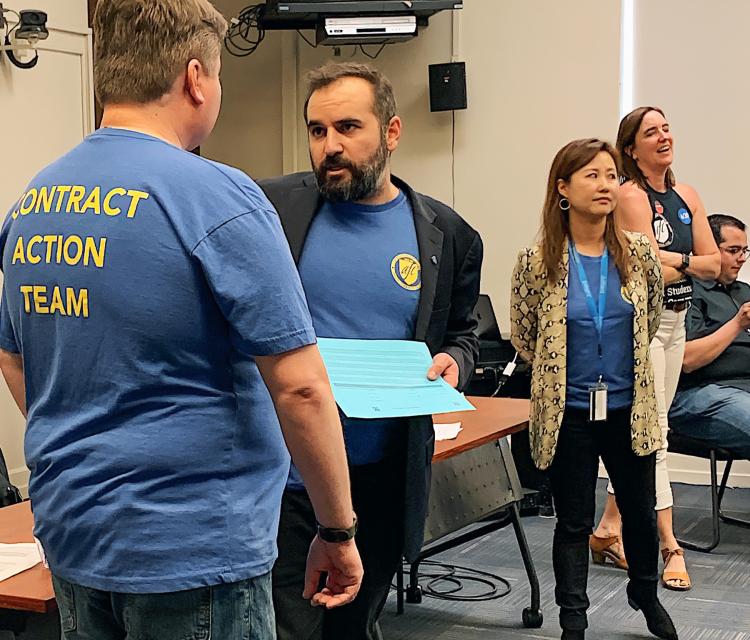 In support of the healthcare campaign, CFT has reactivated a part-time faculty organizer position with the hiring of Chase Golding. Previous to his new role, Golding was organizing director for the Los Angeles College Faculty Guild where he developed and directed the contract campaign for AFT Local 1521. As part of the campaign, Golding helped organizing leads build Contract Action Teams on all nine L.A. campuses, and coordinated member activism in the workplace with negotiating team strategy at the bargaining table. Among the achievements Golding points to are the district's first ever class size cap and progress towards a more equitable salary schedule between full- and part-time faculty.
In terms of foundational philosophy, Golding believes that in addition to securing material gains and promoting an issue or agenda, organizing campaigns should build a power base and organizational structure that increases member participation and strengthens the union in the process. As part of CFT's campaign, Golding is also working on the conference for part-time faculty now tentatively scheduled for early March. (You may contact him at cgolding@cft.org.)
Though planning is still underway, another CFT campaign goal is to survey part-timers and ask about their individual situations regarding healthcare coverage, from whether they have coverage from a district, through a spouse, or another employer, to how their possible lack of or limited healthcare coverage is impacting their lives.
The serious lack of data is a big concern, says John Govsky, Cabrillo College Federation instructor, also a CFT vice president and co-chair of the CFT Part-Time Faculty Committee. "The fact that we don't know how many of the potential 40,000 adjuncts statewide have health insurance coverage makes it all too clear that a survey on part-time healthcare needs to be done," he said.
Data from the survey will be used to help plan next steps, strategies which range from statewide actions to sponsored legislation. Campaign success will require the collective efforts of part-time faculty and their local unions up and down the state. There will be challenges for certain, but determination can prevail.
"Healthcare should be a basic human right and not an end product to a financial means," concludes Chan.
— By Geoff Johnson, assigning editor of Part-Timer, member of the CFT Part-Time Faculty Committee and the AFT Guild, San Diego and Grossmont-Cuyamaca Community Colleges