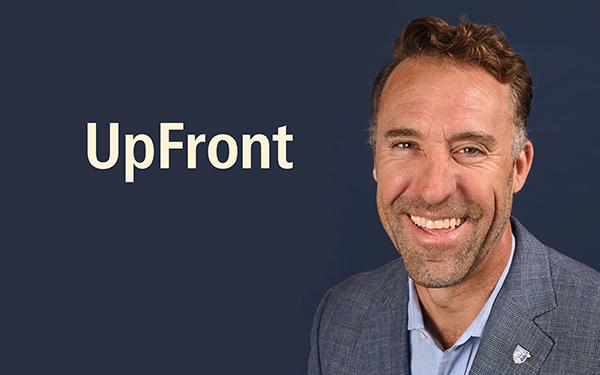 By Jeffery M. Freitas, CFT President
When I decided to become a teacher, I was focused on helping students and meeting them where they are. I became a mathematics teacher — slopes, quadratic equations, fractions, square roots and all. But I entered into the profession because I was interested in who my students are as people, not just in class. I wanted to understand their hopes and dreams and help them become the people they wanted to be.
Over the last 28 years that I have spent as a teacher and a public education advocate, there have been countless attacks on educators and public education. Critics have questioned our professionalism, attempted to narrow curriculum, and made moves to corporatize our public schools with phony reform efforts like charter schools, vouchers, and high-stakes testing. And now they are attacking the very parts of students' education that helps them understand themselves, their peers, and the world around them. Recent right-wing attacks are going further than ever before to put barriers between educators and students, and the effects will only harm and further divide our communities.
Book banning in this country (and others) is nothing new, but recent attempts to limit what students can read are overreaching like never before. The New York Times has enumerated several examples: In Wyoming, a county prosecutor is going after local library employees for books like Sex Is a Funny Word and This Book Is Gay; in Oklahoma, legislators are trying to ban books in public school libraries that focus on sexual and gender identity.
Other statewide policies are being implemented that will have devastating effects on public education and support for LGBTQ students. In Florida, I can't explain what is happening any better than Nadine Smith, executive director of Equality Florida: "[Governor Ron] DeSantis is taking a page from Anita Bryant's playbook, using anti-LGBTQ legislation as a springboard to serve his national political ambitions, from banning books and electronic monitoring of teachers to whitewashing history and allowing the state to dictate our healthcare decisions, DeSantis is committed to an agenda of censorship and surveillance that intrudes on all aspects of our lives." The recent passage of a "Don't Say Gay" bill in the Florida Legislature will allow parents to sue schools or teachers that include curriculum about LGBTQ topics.
And Florida is not alone. In Texas, Governor Greg Abbott has declared that gender-confirming care for kids is considered child abuse, the first directive by any governor to restrict transgender rights and the rights of parents to provide appropriate medical care to their transgender children. This order would place new restrictions on mandated reporters, and it threatens licensed educators and medical professionals with penalties if they fail to report parents for providing such care. Another fake division between educators and students and families. A similar proposed law has popped up in Idaho. It also seeks to ban gender-affirming medical care for transgender children, but this one takes the extra step of making it a felony if parents cross state lines to seek out care for their children elsewhere.
These attacks on LBGTQ students, educators, and curricula are only the newest attempts by cynical forces to restrict information and support on critical issues. In school board meetings throughout the country, right-wing activists have used the framing of Critical Race Theory (or CRT) as a catchphrase to prevent instruction on true history or discussions of diversity and inclusion in our K-12 schools. Book banning has featured prominently in this space as well, with books like Toni Morrison's Beloved and Nicole Hanna-Jones' The 1619 Project appearing on banned lists. In Tennessee, the McMinn County Board of Education voted to remove the Pulitzer Prize-winning graphic novel Maus from an eighth grade module on the Holocaust.
Attempts to restrict curricular control in K-12 are most prominent in the news, but we are hearing about them in higher education as well. A bill that would have ended tenure in South Carolina's public colleges stalled this year. The bill's Republican sponsor has said he will reintroduce it next year. In Texas, Lt. Governor Dan Patrick pledged to end tenure at public colleges after faculty members at the University of Texas in Austin publicly stated that instructors should control classroom topics and be able to teach race-related topics like critical race theory. These efforts are blatant attempts to control information and abrogate academic freedom. Should they come to pass, they will serve only to harm students and divide communities.
Let me be clear: These are nothing more than attempts to limit vibrant discussions and to cut off supports for those students and communities who most need it. People who are threatened by diversity and by truth can see no way out of their fear except to build walls around it. And it is our job to fight back.
Luckily, we live in a state that values inclusion and care for our most vulnerable citizens. Governor Gavin Newsom said of Florida's "Don't Say Gay" bill: "This is nothing short of a state-sponsored intimidation of LGBTQ children. It will put kids — who are already navigating stress — in physical and psychological danger." And when it comes to providing a full and truthful curriculum that values accurate history and highlights diversity, Governor Newsom and State Superintendent of Instruction Tony Thurmond worked to make California the first state in the nation to require Ethnic Studies courses for graduation. At a time when so many states are seeking to roll back progress, it is reassuring that our state's top officials continue to look forward.
At the local level, school board elections are more important than ever before. We have all seen the viral videos of irate people abusing board members from the microphone and demanding that the board curtail educator rights. However, we know that these individuals, while certainly loud, are in the minority.
A poll conducted by AFT in January showed that parents are remarkably supportive of their children's schools and teachers. This poll demonstrated that "72% of parents say their school provides excellent or good quality education, and 78% endorse the quality and performance of their teachers."
Furthermore, a CBS news poll from February showed that Americans in general favor the teaching of accurate history: "The poll finds that 83% of Americans say books should never be banned for criticizing U.S. history; 85% oppose banning them for airing ideas you disagree with; and 87% oppose banning them for discussing race or depicting slavery." And when it comes to LGBTQ rights and support for transition-related care for minors, a 2021 poll conducted by PBS showed that 66% of Americans — across political parties — oppose legislation that would prohibit gender-affirming care for kids.
These polls do not lie. Despite the actions of a few state governors and the disproportionate elevation of a handful of voices, parents and the general public support protections for LGBTQ students and a fair and accurate teaching of race and of our history. We cannot let a vocal few dominate these conversations. Our communities are with us, and we must continue to advocate for what is right.
One concrete way to do this is to work with your local union to advocate for strong school and college governing board members in this year's elections. Identifying and recruiting strong advocates for public education, and for staff and student rights, will be critical to continuing the significant progress we've made in California and to holding the line when it comes to a rollback of that progress. Many of you already serve on governing boards.
Many locals have already begun making plans for their upcoming district board elections, and I am proud to acknowledge that many members are taking the initiative to run themselves. CFT members all across the state are stepping up to run for their local school and college boards as well as other elected offices. Ingrid Gunnell, a United Teachers Los Angeles member who is running for the Glendale Unified School Board said it best: "This is not the time to settle for anyone who is not 100% in for public education."
Another way to support our school communities is to collaborate with community partners on contract campaigns, as we have done in L.A. and Berkeley. Join the voices of staff, students, and (in K-12 settings) parents to fight for what is fair for everyone. Community schools are one educational model we can use to combine our voices because it speaks directly to the standard that teachers and staff working conditions are students' learning conditions. Through a community school model, we can negotiate for more counselors, nurses, and paraprofessionals, and ensure that schools are providing the resources that students need, now more than ever.
Together we will continue to fight for what is right for our school communities, what is right for our students, and what is right for our members. If we fail to value diversity, inclusion, and opportunity, we fail our students. If we fail to break down those walls and barriers that are keeping us from connecting with students, the system will fail. Working together and with community partners, we will not fail. The challenges ahead are great, but I look forward to fighting together, for and with each other — our members, our students, and all of our communities.