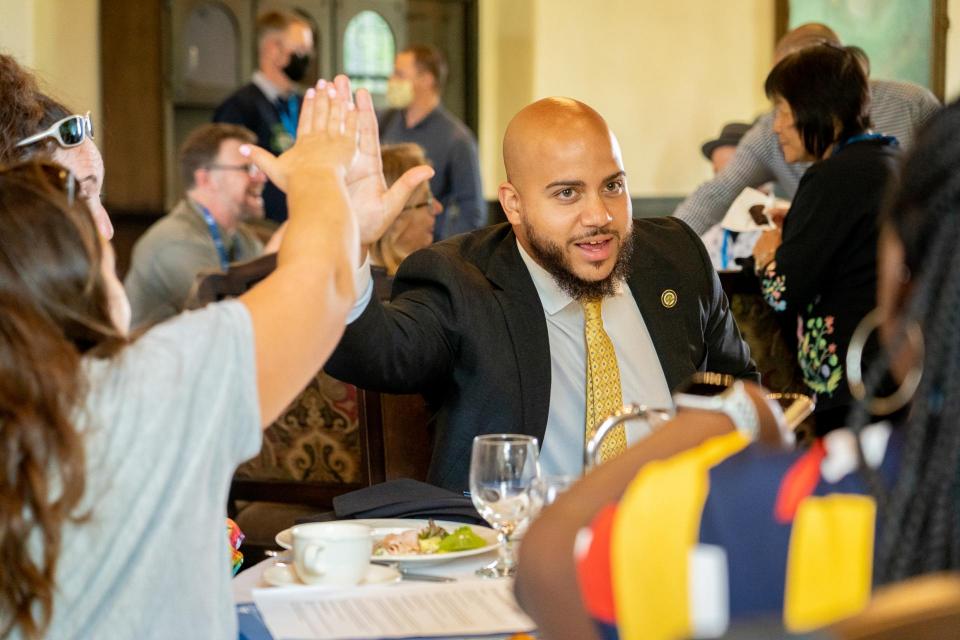 California community college adjuncts saw the single greatest gain for part-time faculty ever—$200 million in ongoing annual funding for part-time faculty healthcare—but felt bitter disappointment when CFT's sponsored bill to lift the teaching cap to 85% of a full-time load died for a second time on Governor Newsom's desk.
The annual infusion to the Part-Time Community College Health Insurance Program—representing more than a 40,000% increase over the previous $490,000 allocation—was driven both by CFT's strategic plan to address adjunct issues and by the CFT Legislative Committee's effort to address the governor's concerns cited in his veto of the workload cap legislation a year earlier.
Last fall, Newsom vetoed CFT's first bill to increase the workload cap (AB 375) saying it created "significant ongoing cost pressures." This was due to claims by the California Community College Chancellor's Office that it would cost more than $400 million for part-time faculty healthcare, assuming that all adjuncts would somehow exceed the 85% FTE threshold and thus require coverage under the Affordable Care Act. Still, Newsom said he was "committed to considering options to support our community college part-time faculty" in his forthcoming January budget proposal.
Already committed to seeking funding for part-time faculty healthcare, CFT began researching the cost of providing quality health insurance to all part-time faculty teaching in excess of 40% FTE and estimated a cost of $200 million. Last December, CFT ran a letter campaign that generated more than 3,000 letters to Governor Newsom in just two weeks. The result was the governor allocating $200 million in ongoing annual funding to the Part-Time Community College Health Insurance Program.
Initially the allocation was put into a "50/50 fund," meaning that districts opting to provide health insurance to part-time faculty would be compensated for only 50% of their expenditure. In many fiscally conservative districts, the 50% compensation figure would not be enough to incentivize districts to offer healthcare (just as the 50/50 fund for part-time office hours has not led to all districts offering paid office hours).
To address this, CFT crafted language, lobbied for, and won it in a recently signed budget trailer bill. AB190 encourages districts to provide healthcare coverage to part-time faculty by reimbursing districts for 100% of their healthcare costs provided they:
offer health insurance to all part-time faculty with an assignment equal or greater than 40% of a full-time assignment;
offer part-time faculty the same health insurance benefits provided to the full-time faculty in the district;
limit individual premiums paid by part-time faculty to no more than the premium paid by full-time faculty in the district; and
offer health insurance coverage to all multi-district part-time faculty with total teaching assignments equal or greater than 40% of a full-time assignment.
The annual $200 million to fund part-time faculty healthcare costs, coupled with districts being reimbursed up to 100%, represents a seismic shift. To underscore the importance of this shift, more than half of California's 72 districts offer no or minimal healthcare coverage for part-time faculty, and none meet the AB 190 threshold of full-time equivalent coverage at 40% FTE. All California districts stand to make improvements in healthcare coverage for their part-time faculty.
This fall adjuncts experienced a reversal of fortune in the State Capitol when Governor Newsom vetoed AB 1856, which would have allowed part-time faculty to teach up to 85% FTE. Like its predecessor bill a year earlier, AB 1856 sailed through both the Assembly and Senate without opposition.
In his veto message, the governor asserted his commitment to support part-time faculty, as demonstrated by the annual funding for healthcare, but he expressed concern the $200 million may not be enough, and concluded that AB 1856 would "create $26 million to an excess of $150 million of Proposition 98 General Fund cost pressures not reflected in the state's current fiscal plan."
Same as last year, the governor's numbers are driven by a Chancellor's Office projection that raising the teaching cap to 85% FTE would trigger the Affordable Care Act, and obligate districts to provide coverage to all 37,000 of the state's part-time faculty at a cost of $11,000 per person, for a total of over $400 million.
However, the truth is there are not enough available sections for all part-time faculty to teach at 85% FTE. For example, in the San Diego Community College District only 20% of part-time faculty teach a load in excess of 60%.
Some of the rationale for the ACA trigger is based on the conclusion that while faculty receiving an 85% FTE would still be under the 30 hour per week threshold in terms of instructional or formally assigned hours, additional paid work like office hours, shared governance, and professional development would have to be factored in, and these additional hours would trigger the ACA threshold.
Again, these assumptions are based on all part-time faculty in California somehow receiving 85% FTE assignments when, in fact, only a minority would, putting the real costs of cap lift legislation below the $200 million pledged annually for healthcare.
Many part-timers, such as Part-Time Faculty Committee Co-Chair John Govsky, expressed deep frustration in the veto, but Govsky also found a hopeful note. "The fact that legislation to lift the cap has passed through the Assembly and Senate without opposition before being vetoed at the last minute makes me believe that ultimately the cap may be lifted."
What's more, in each of his veto messages Governor Newsom did not reject the idea of raising the cap, but rather, expressed cautious concern regarding costs. If part-time faculty healthcare can be successfully negotiated at local bargaining tables and provided through the cash infusion to the Part-Time Community College Health Insurance Program, this could allay the governor's concerns and clear a path towards lifting the cap.
— By Geoff Johnson, assigning editor of Part-Timer, member of the CFT Part-Time Faculty Committee and the AFT Guild, San Diego and Grossmont-Cuyamaca Community Colleges