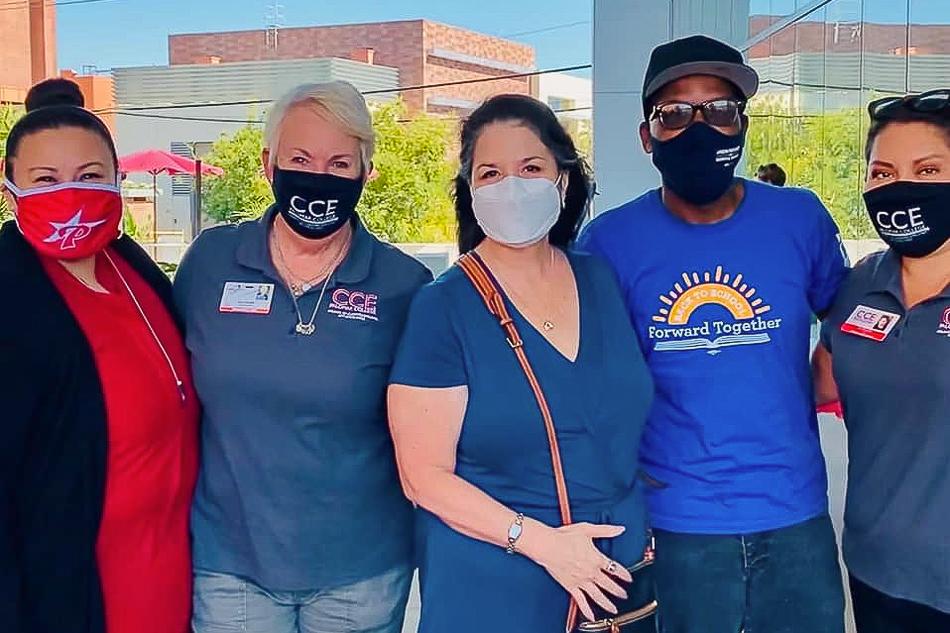 After more than a year of Delta and Omicron surges and other COVID-19 pandemic obstacles, officers of the CFT Council of Classified Employees embarked on a statewide listening tour of AFT local unions representing classified employees.
"There will never be a perfect time, so we just hit the road," said CCE President Carl Williams. "Our members have heard what we have to say. Now they want to be heard."
The message from northern San Diego County to San Francisco and Berkeley, Williams said, is "people are pressing through the pandemic, standing strong and — as always — helping our students."
The local unions Williams visited, along with CCE Southern California Vice President Tina Solórzano Fletcher and CCE Secretary Patti Serafin, are reeling from multiple common woes. Severe staff shortages top the list, followed by salaries falling behind inflation.
Williams is also an AFT Vice President and said the information gathered will help the national task force he co-chairs — the AFT Teacher and School Staff Shortage Task Force — to develop a strategy for the crisis. Other education experts, including State Board of Education President Linda Darling-Hammond, are also involved in the AFT work.
"Filling our schools is all hands on deck," he said. "We'll take all the help we can get."
Palomar College Council of Classified Employees, AFT Local 4522
The listening tour got rolling in October, when Williams and Solórzano participated in a National Custodian Day program at Palomar College in northern San Diego County.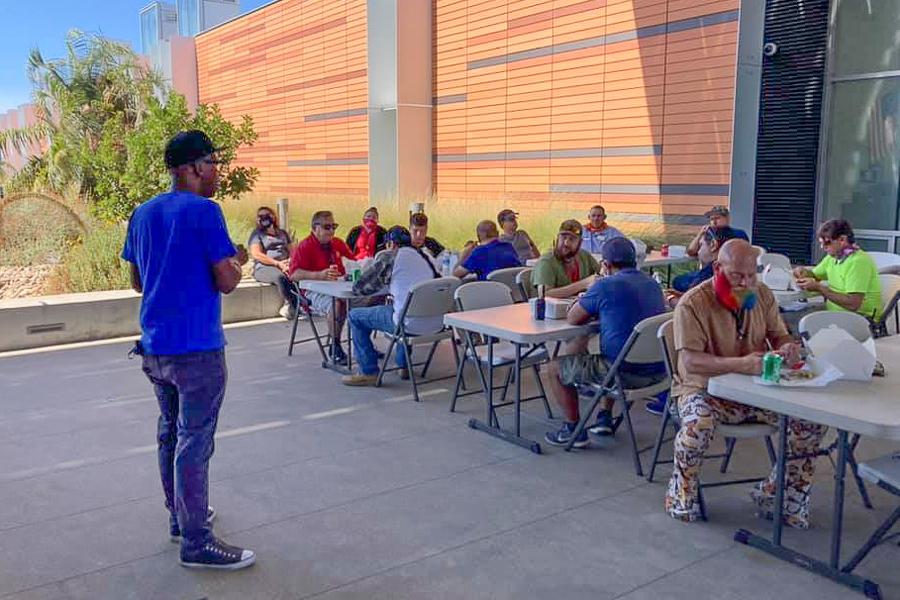 Their hosts were Palomar Council of Classified Employees President Anel Gonzalez and Serafin, the local's vice president and head of its Committee on Political Education. Dozens of Palomar custodians and other union members attended, as did District Superintendent Star Rivera-Lacey.
"It was really great to hear Carl talk about how classifieds fit into the big picture of education," Gonzalez said.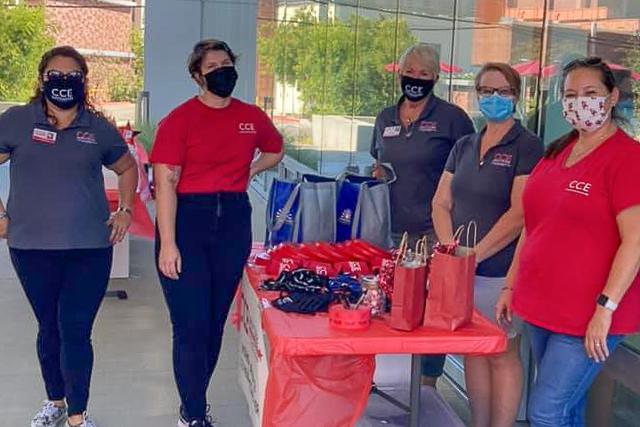 Palomar classified staff numbered about 400 before the pandemic, but at one point the personnel shortage surged to about 100 vacancies. Many critical positions remain unfilled.
"I am always amazed at how much classified employees accomplish, even working from home," Gonzalez said. "Now that we're back on campus, though, I think those unfilled positions will be impossible to hide."
Economic pain is another common denominator for classified employees. Even before the pandemic, wages for many Palomar entry-level custodial staff were only a notch above poverty level, and many employees work two or more jobs. During the Custodian Day event, a facilities worker asked Williams, "If we're so essential, why are we paid so little?"
United Educators San Francisco, AFT Local 61
In December, CCE Northern California Vice President Janet Eberhardt welcomed Williams, Solórzano and Serafin to her home local, United Educators of San Francisco.
"We were all looking with open eyes and listening with open ears," Eberhardt said.
UESF represents both certificated teachers and the 1,600 paraprofessionals who work in the San Francisco Unified District. Sean Nunley-Willis, the local's vice president of paraeducators, said the para shortage surged to about 200 vacancies last year, but now averages from 130 to 150 openings. Special education paras are the district's greatest need.
"Children were the last to be vaccinated, so we are still dealing with Omicron," said Nunley-Willis, a coach with the district's Para Leadership Network. "If you think wearing a mask is hard, imagine being a child with disabilities."
One goal of the listening tour was to raise awareness about the resources the state federation CFT and national AFT can provide local unions. Solórzano said visitors and hosts climbed a steep learning curve together.
"We're learning how the locals are doing, and they're learning how we can help them," she said. "For being our first visits, they all went quite well."
Nunley-Willis, for example, recently took office and didn't know CFT often provides financial support for members to attend conferences and some trainings. The new officer said the listening tour showed him "how deep our organization is."
Berkeley Council of Classified Employees, AFT Local 6192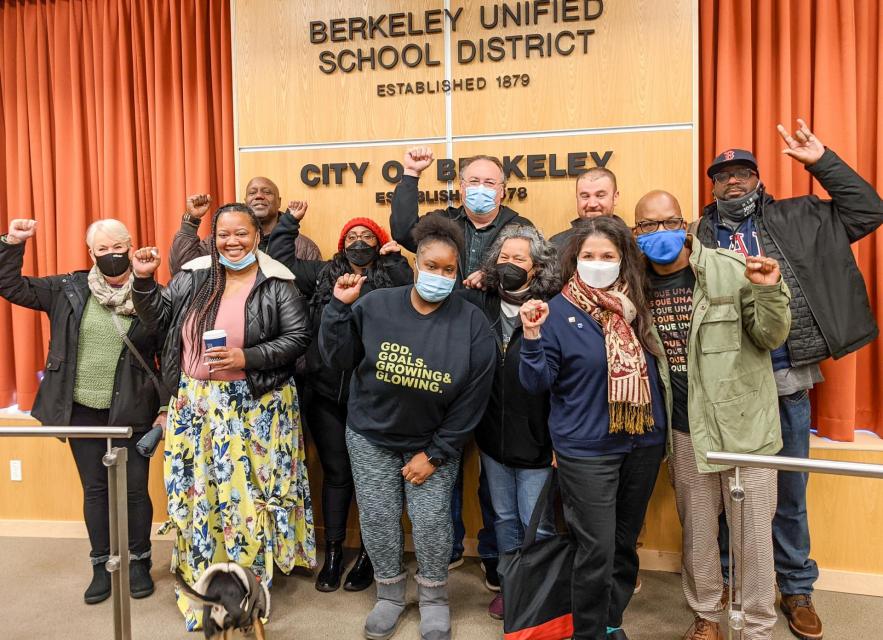 Across the bay, Local 6192 President Frank Hernandez III and eight executive board members met with the visiting CCE leaders in a Berkeley Unified School District conference room.
Berkeley's main concern is also a crippling staff shortage and its effect on coworkers who remain on the job and are asked to do more and more work. An estimated 110 of 740 classified positions in the district's 16 schools and three other worksites are unfilled.
The problem, Hernandez said, is the vacancies are concentrated among the classified employees who work directly with students. "Forty to 50 of those openings are for special education instructional assistants. Our before and afterschool programs were hit hard."
Hernandez said the district's slow hiring process works against them. "Applicants won't wait two or three months to receive a call back. These are classified workers who can walk into a fast food place and get hired on the spot — often at the same wages."
Additionally, district administrators have contracted out special ed para positions at up to double the expense of hiring full-time employees, he said.
Berkeley members received a 4.5% pay boost last year — including a 3.5% bonus — and unions representing faculty, principals and supervisorial staff followed a similar path. Those one-year contracts have now expired and all parties are returning to the table.
Members listed pay raises as the top priority in a recent bargaining survey. "I'm not surprised," Hernandez said. "Inflation is out of control."
— By Steve Weingarten, CFT Reporter

Reserve your spot on the CCE Listening Tour!
The CCE officers look forward to visiting locals across the state that represent classified employees and paraprofessionals. Contact CCE President Carl Williams to set up a stop on the listening tour.