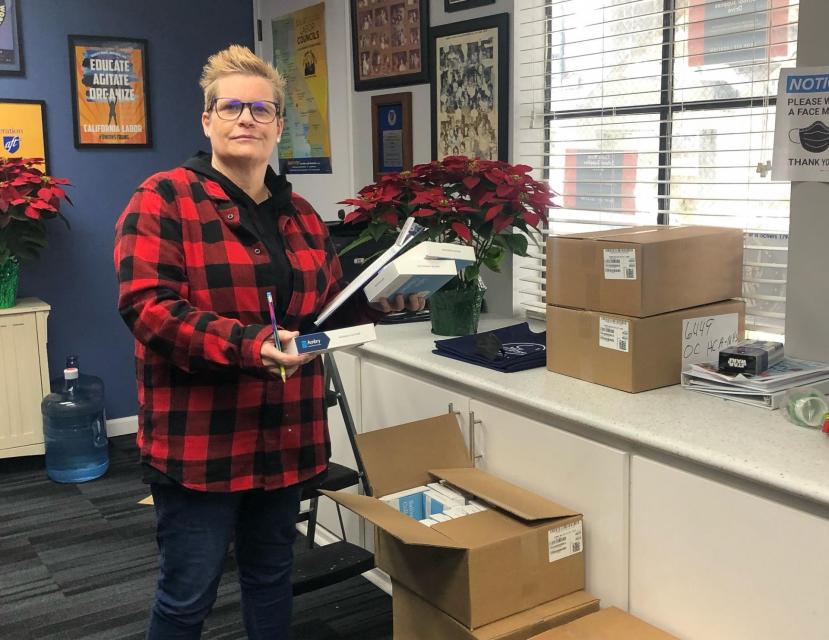 For years, California elementary and secondary schools have had teacher shortages, particularly in areas of special education, math, and science, but it's grown worse since the pandemic started, with fewer teacher candidates getting credentials, and 26% more teachers retiring in 2020 than the year before.
In the majority of districts around the state, CFT saw firsthand that many schools have shortages of teachers, paraeducators, custodians, and bus drivers, leading to kids — particularly those in special education — not getting enough attention, classrooms that haven't been cleaned, and everyone feeling burned out. Finding enough substitutes during a global pandemic has been especially difficult. Local unions are watching, monitoring, and taking action.
* * * * *
Sarah Auwarter, the president of Newport-Mesa Federation of Teachers, AFT Local 1794, with approximately 1,000 members, says things haven't been as bad in her Orange County district as for some — at a meeting of CFT's EC/K-12 Council at the beginning of the year, she learned many of her colleagues had been asked to leave their duties to sub in classes. Auwarter hasn't been called on to do that yet, but getting subs is much more challenging now.
"We have enough employees in positions — it's a desirable place to live, and we have a strong union with pretty good pay, but one of our main issues so far is a huge sub shortage," she said. "In the past on a very high absence day, if there were 140 sub positions that needed filling, they could all be filled. Since the pandemic, when 140 were needed, only about 88 were available — that was on the worst day."
This shortage wears on staff and teachers who get pulled away from their special assignment work to fill in, Auwarter says.
"It adds to a sense of 'What's my day going to look like?'" she said. "For example, when a PE teacher or a music or science teacher is absent that is going to be lowest priority for the district to fill, so the kids miss their time out for science or P.E. or music, and a lot of teachers are not getting prep time."
* * * * *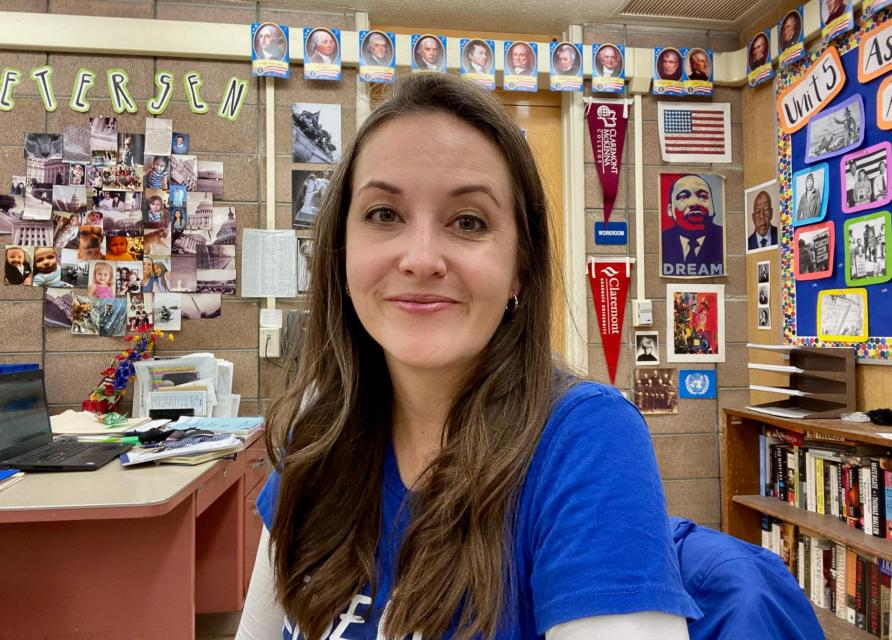 In the rural Central Coast area of Lompoc, Skyler Petersen, president of AFT Local 3151, says the district has struggled to fill a few teacher positions as well as to find paraeducators and custodians —but the lack of substitutes has been the most severe.
"It's a big source of frustration," she said. "There's been a stretch where teachers are told to sub during their prep multiple days a week and it does a lot to drive down morale."
Not having enough paraeducators is also a problem for the local with 450 members and about 9,000 students.
"Paraeducators support our most vulnerable students, especially in elementary schools," she said. "We've been having some issues such as these students lashing out physically at teachers and students. Having paraeducators consistently to support these students would make a world of difference."
Custodians have been scarce as well, which can lead to classrooms not being cleaned. And Petersen, leader of the Lompoc Federation of Teachers, says it's been difficult to fill some teacher positions. What she hears from her members as they're in the middle of contract negotiations is the need to increase salaries.
"If we want to be competitive and allow people to live more comfortably a higher salary would reflect the work they are doing," Petersen said. "There's a feeling they're not being respected, and more compensation would go a long way."
In another rural district about an hour from Yosemite, with about 50 teachers, Debbie Hopper, president of the Sonora High School Federation of Teachers, AFT Local 3187, says the district isn't fully staffed.
"We're having a hard time hiring positions like paraeducators and we have open positions for custodians, and we just had a teacher leave," she said. "Normally, we have a fair number of applicants, but there's a teacher shortage, and we don't have many people applying."
Like Petersen, Hopper says the district needs to raise salaries to attract teachers to the foothills district.
"I think the conditions have become pretty difficult to work in," she said. "We've not kept up with cost of living."
---
What does classified work look like 20 months into the pandemic?
---
* * * * *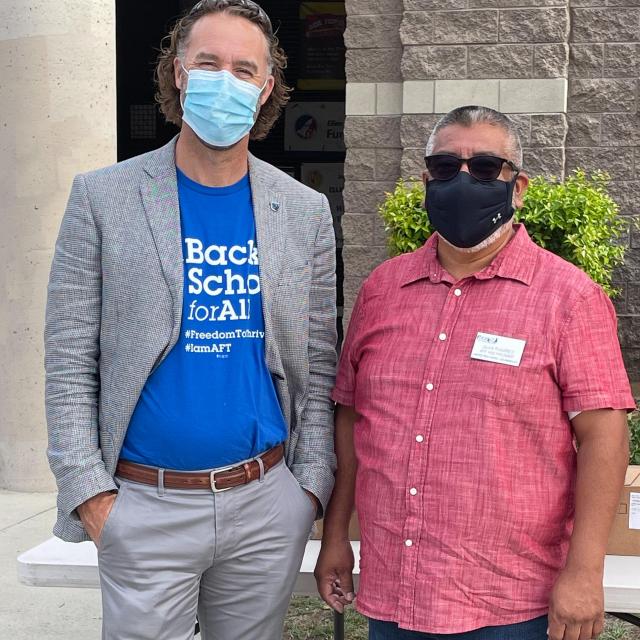 In United Teachers Los Angeles, with 35,000 members at about 900 schools, the union's AFT President Juan Ramirez says they've also struggled to find substitutes.
"That's the one we feel very urgently," he said. "Many of our teachers are covering for other teachers during their one free period."
Ramirez also thinks more teachers are retiring from Los Angeles Unified.
"We have these retirement meetings at UTLA, and they've been very well attended," he said. "It's up from last year."
He thinks COVID — and how teachers and school staff have been treated during it — is part of the reason people are leaving earlier than they might have planned.
"A lot of the blame for how things are being run falls on the teachers," he said. "Maybe with COVID, it makes them rethink."
Ramirez, also a vice president of the CFT and the AFT, says CFT leaders have been talking about ways to deal with the teacher and staff shortage. The governor signed an executive order in August to allow retired staff and teachers to come back to the classroom, but Ramirez says they haven't seen the effects yet. Other ideas they've been talking about include people with a bachelor's degree getting an emergency credential, paying off student loans, or helping teachers buy a house.
Ramirez likes the Classified School Employee Teacher Credentialing Program, a CFT proposal that continues to be funded by the state, to help classified employees get their credentials. Just before the pandemic the program has already helped 300 classified employees become teachers, with 2000 more in the pipeline.
"That's a great idea," he said. "If you want good candidates, get someone already involved in the schools."
By Emily Wilson, CFT Reporter