Prop 15 Toolkit
The resources you need for Election 2020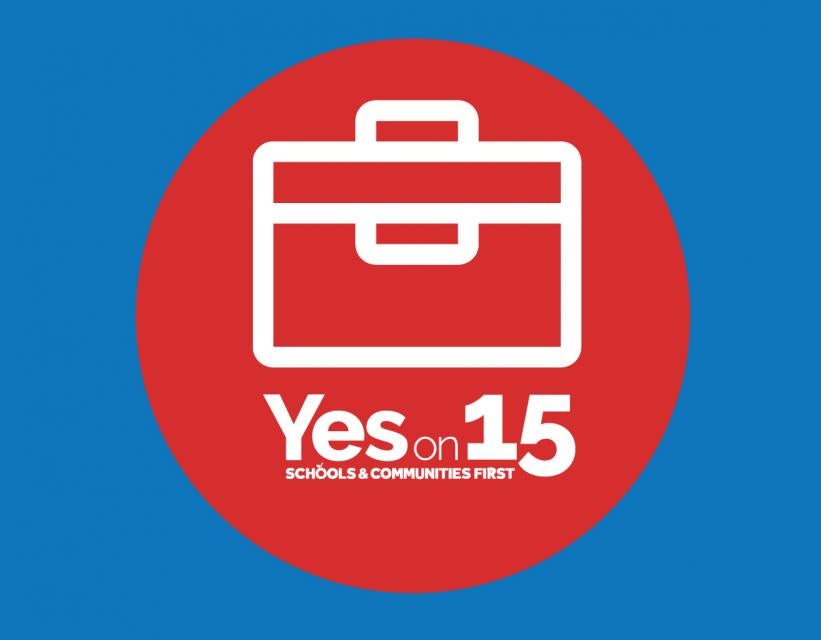 Proposition 15, the California Schools and Local Communities Funding Act of 2020, is fair and balanced reform that raises revenues to invest in schools and vital services for our local communities.
Here you will find downloadable digital materials to support and help pass Prop 15 on November 3. Local unions may order some analog campaign materials too.
Flyers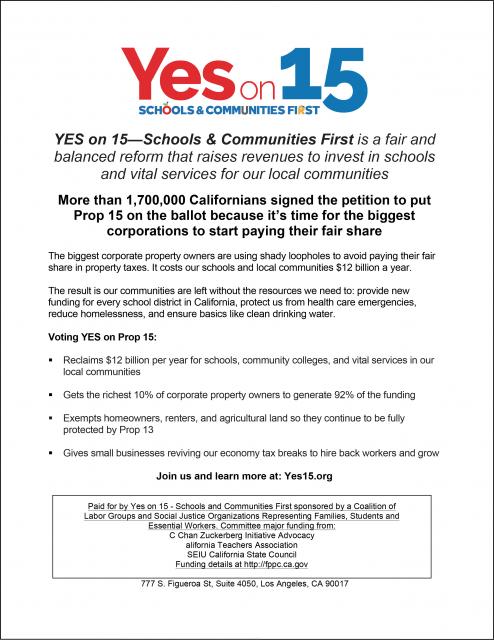 This one-page flyer for Prop 15, also known as Schools and Communities First, is available in five languages. (Note: For bilingual communities, the non-English versions also include the English version.)
FAQs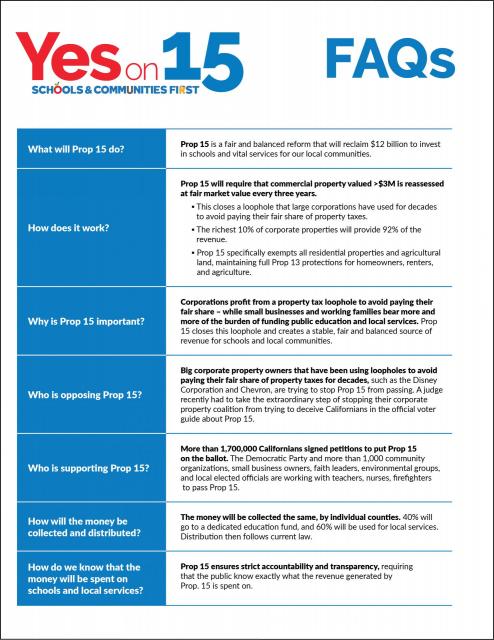 What Will Prop 15 Do?
The basics of how Prop 15 works.
Prop 15 Will Help Small Businesses Grow
How Prop 15 will preserve our small businesses.
Infographic: Who is impacted by Prop 15?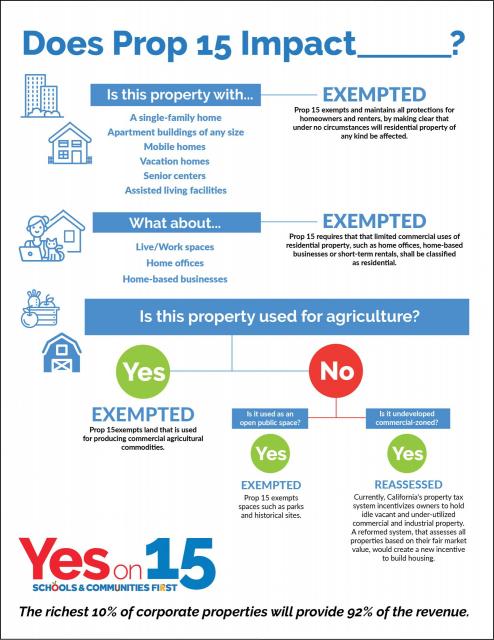 Policy Briefs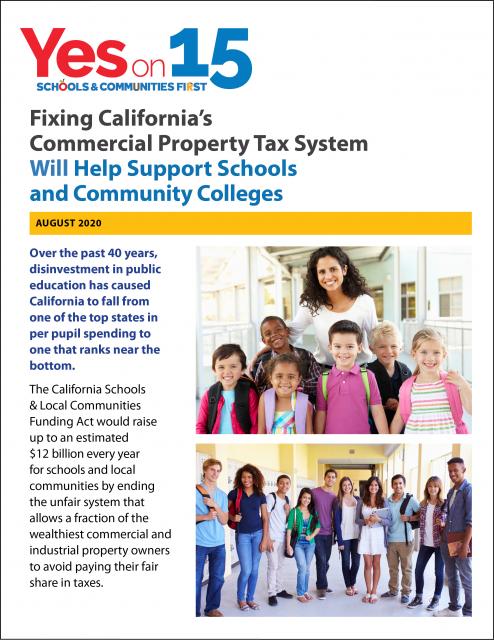 FOR EDUCATION
GENERAL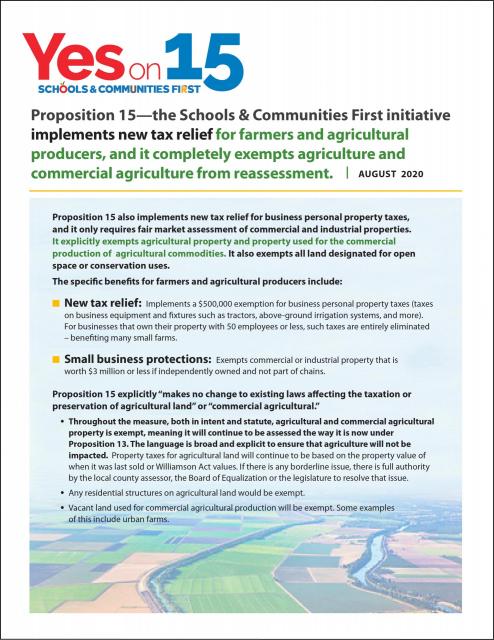 SPECIFIC TOPICS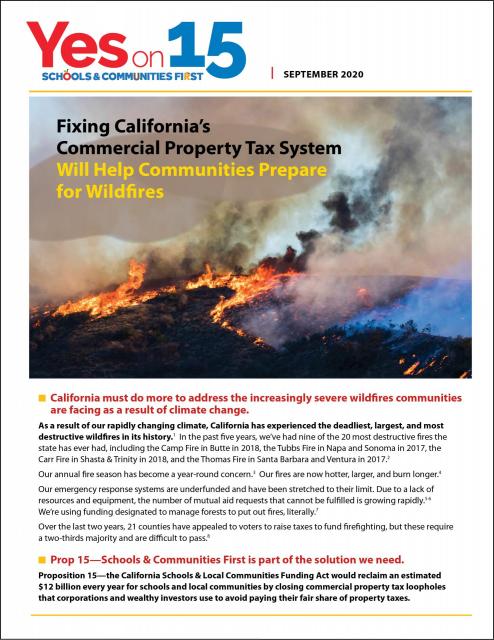 Revenue Estimates by County & District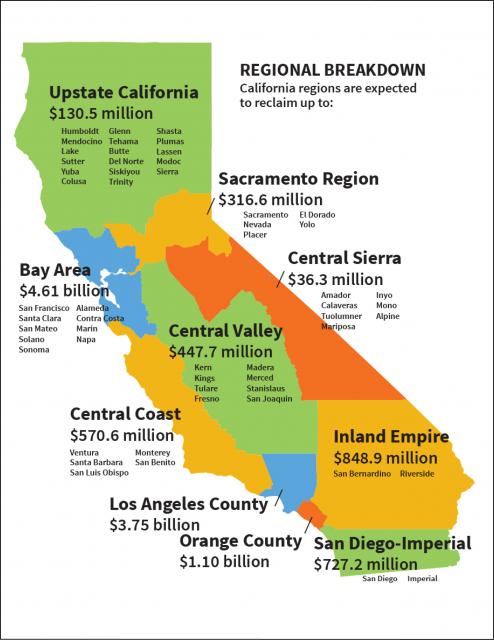 Below you will find revenue briefs for the most populous counties in California. Each brief lists school and community college districts in the county and how much revenue Prop 15 will generate for each district.
Underassessed Properties by County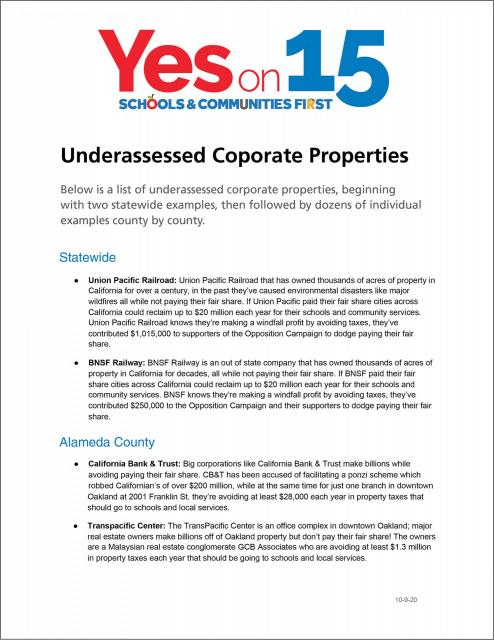 Underassessed Commercial Properties in California
Download this list of underassessed corporate properties, beginning with two statewide examples, then followed by dozens of individual examples county by county.
Graphics
AFT TOOLKIT
AFT has created dozens of social media graphics and many new Zoom backgrounds.
ZOOM BACKGROUNDS
PROP 15 LOGOS

Be a Smart Voter!
VOTER REGISTRATION & BALLOT INFO
The California Secretary of State is the official go-to place for info about the November 3 Presidential Election. The pandemic has led to several new developments, including every registered voter being sent a mail-in ballot.
CFT ENDORSEMENTS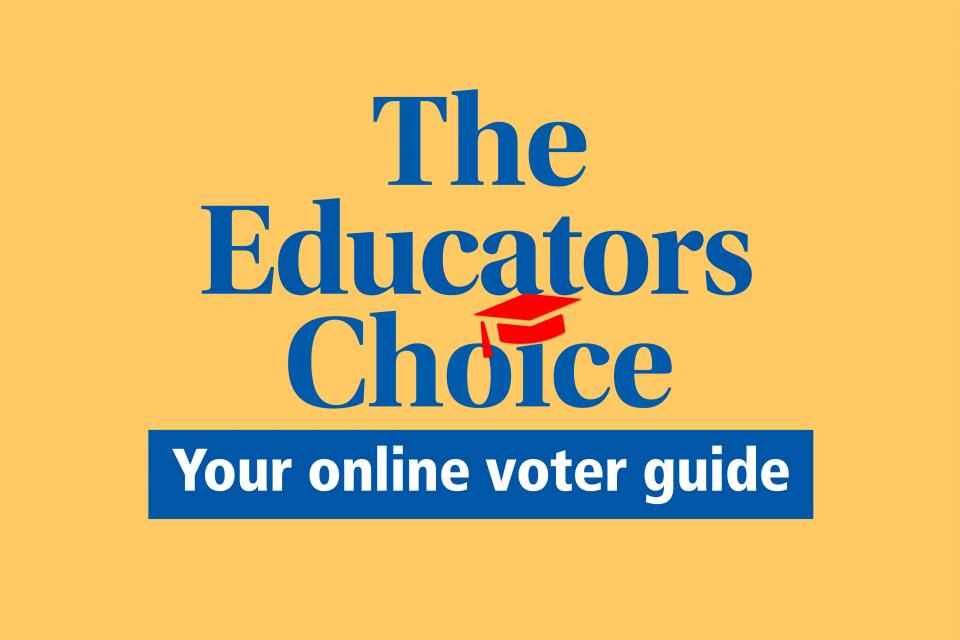 CALIFORNIA VOTER GUIDE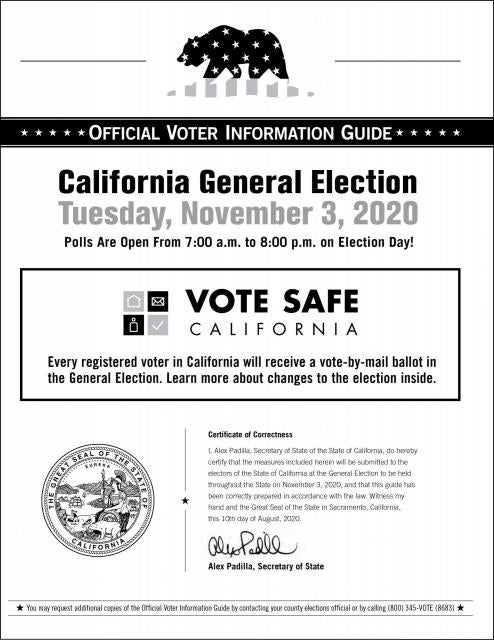 Prop 15 Ballot Summary & Full Text
This is the official Prop 15 summary, as prepared by the California Attorney General, that you will see on your November 3 ballot.
"Increases funding for K-12 public schools, community colleges, and local governments by requiring commercial and industrial real property be taxed based on current market value, instead of purchase price. Exempts from taxation changes: residential properties; agricultural land; and owners of commercial and industrial properties with combined value of $3 million or less. Any additional education funding will supplement existing school funding guarantees. Exempts small businesses from personal property tax; for other businesses, provides $500,000 exemption. Increases property taxes on commercial properties worth more than $3 million providing $6.5 billion to $11.5 billion in new funding to local governments and schools."