Zoom Backgrounds
Member-produced backgrounds for Election 2020
Make your message heard in Election 2020! CFT members are encouraged to use these images as a Zoom background.
The backgrounds were created by Danielle Short, a member of the AFT Guild, San Diego and Grossmont-Cuyamaca Community Colleges, Local 1931. Short, a former classified employee in the district earned a law degree, and is now counsel for the AFT Guild. In one background, Short integrated an image of John Lewis, which was created by artist Rafael Lopez, husband of the Guild's faculty member Candice Lopez.
Just click on the images to download directly from your browser.
Register to Vote
Inspire meetings with this quotation from the late Congressman John Lewis: "Voting and participating in the democratic process are key. The vote is the most powerful nonviolent change agent you have in a democratic society. You must use it because it is not guaranteed. You can lose it."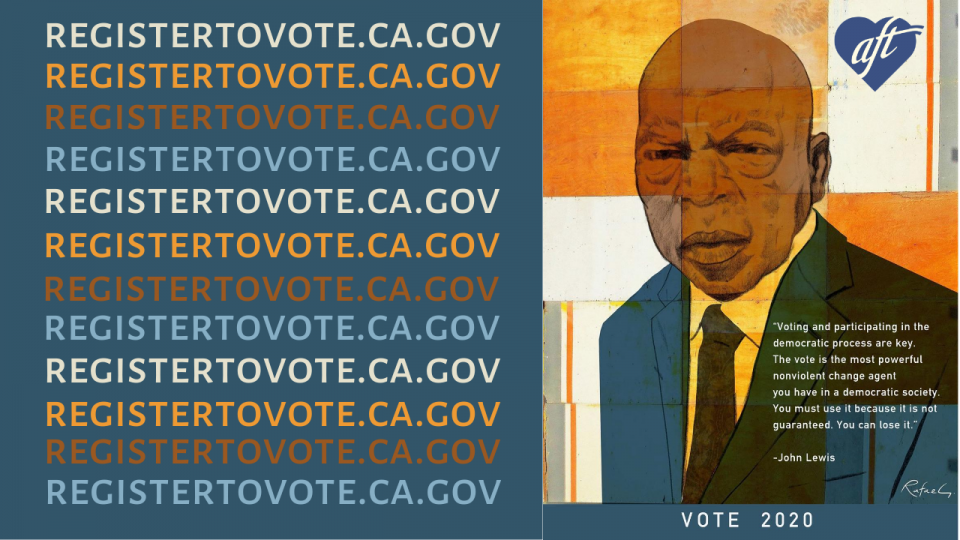 Yes on Prop 15! Yes to Schools & Communities First!
Help in our fight to fund public education and public services! Use this background to promote CFT's priority measure Prop 15, also known as Schools and Communities First, now on the November ballot.